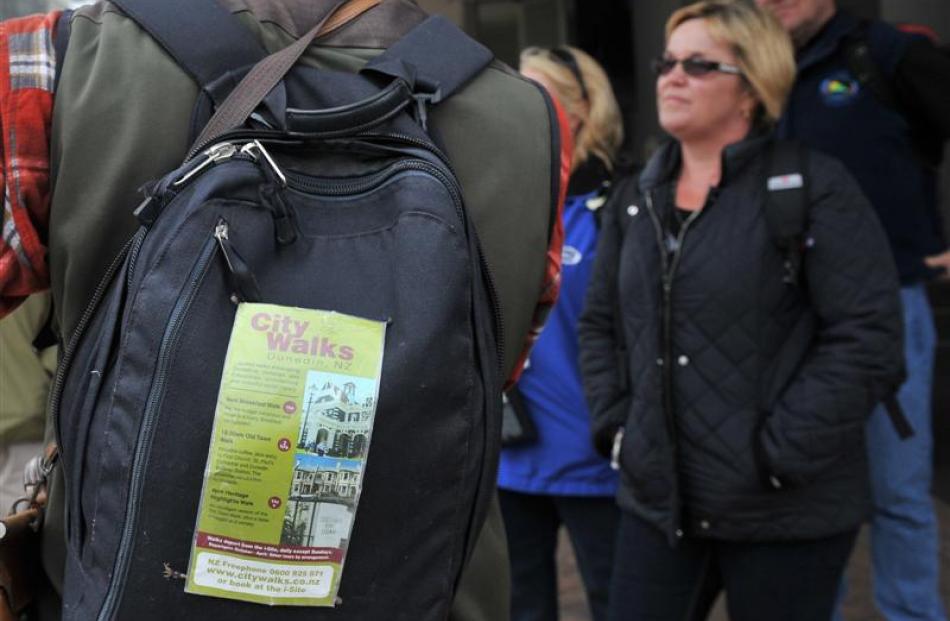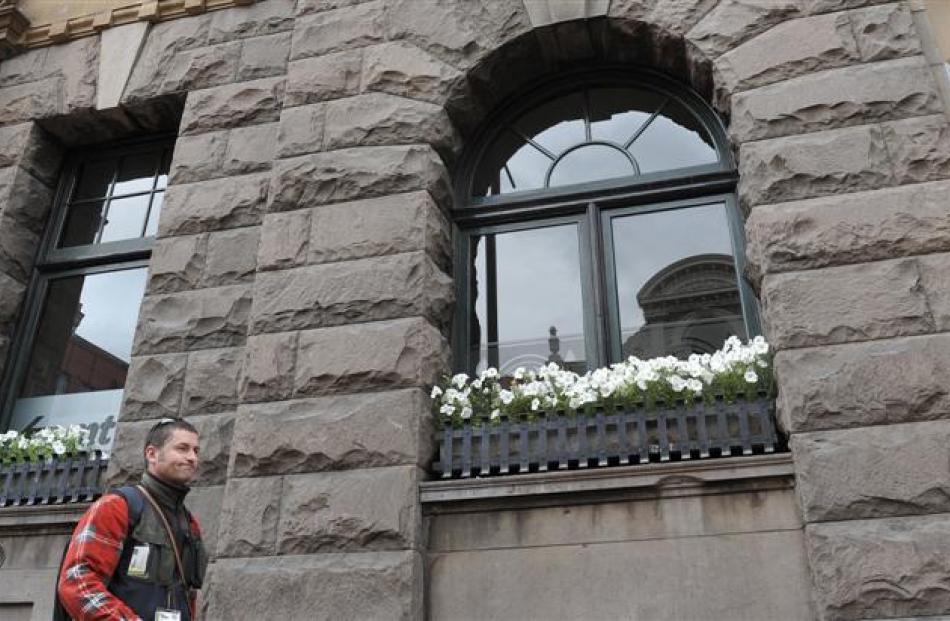 In Athol Parks' Dunedin the whole city is an art gallery in which buildings whisper their secrets and footpaths bustle with everyone who has ever lived here. Bruce Munro joined one of Mr Parks' City Walks inner-city tours before next week's Dunedin Heritage Festival.
The wall we are staring up at is surprisingly plain.
Surprising because this, says Athol Parks (42), is his favourite wall in the whole city.
It is the exposed brick side wall of the Bracken Court building in Moray Pl, Dunedin.
Out front, the three-storey facade is a fine example of well-proportioned classical Victorian architecture - all squared columns, decorative capitals and large arched windows. But around the corner where Mr Parks, the founder of City Walks, is directing the attention of a tour party of six Australians, the building betrays its early 20th-century origins as a wool merchant's warehouse.
For 50m, the plain orange bulwark stretches back towards the rear walls of Octagon-fronting bars. Revealing more of its height the deeper one goes, each of the building's five storeys has pairs, trios and quads of regularly spaced, deep-set, vaulted windows whose top arches are fashioned with purpose-made, wedge-shaped bricks.
It is simple, solid and pleasing to the eye - like a straightened section of the Colosseum.
''I love the repetition,'' Mr Parks says gazing upwards.
''To me there is a spare beauty in those Romanesque arches.
''There is a sense of solidity and lack of pretension that I think is fitting for Dunedin.''
The two-hour tour which began in the Octagon is nearing its halfway mark as the group follows Mr Parks from Bracken Court further around Moray Pl.
Already we have visited Robbie Burns in the Octagon, stared up at Dame Kiri Te Kanawa's likeness in the stained glass of St Paul's Anglican Cathedral, passed the Fortune Theatre, which began life as a Wesleyan Church built of Leith Valley stone, and continued down Moray Pl to the former Jewish synagogue-turned-Freemason temple-turned-art gallery-turned-private residence.
The Jewish community, represented by names such as Hallenstein, de Beer and Fels, played an influential and enduring economic and philanthropic role in early Dunedin, Mr Parks says.
Now, crossing the street to the First Presbyterian Church of Otago, he explains a large hill covered this site when Free Church of Scotland settlers first arrived in Dunedin in March and April, 1848.
To sit atop that hill, the 29-year-old architect Robert Lawson had designed an extremely un-Presbyterian, almost ethereal church. But by the time Mr Lawson's winning design was being built, convict labour had lowered Bell Hill by 12m to provide fill for the reclamation of the harbour below. Although not as prominent as Mr Lawson first envisaged, the cathedral-like structure remains impressive.
As we enter the neo-Gothic church, Mr Parks remarks that the Rev Dr Thomas Burns - the congregation's first minister and the settlement's spiritual father - was a stern and formidable figure whose temperament brought him into regular conflict with others.
Mr Parks produces from his satchel a reproduction of a 19th-century pencil-drawn caricature of a man with a wooden leg riding a donkey. This is John de la Condamine Carnegie, who became a bitter opponent of the Rev Burns in early Dunedin, he says.
Mr Carnegie had been a minor on board the Philip Laing when it sailed with the first settlers bound for what was to become the Edinburgh of the South. He was among several ''friendly'' couples aboard the ship whom the Rev Burns coerced in to marriage during the voyage.
Out in the grounds of First Church, Mr Parks points back up along Moray Pl.
''I love that skyline,'' he says.
The gap in the commercial high-rises affords a sight-line that takes in Victorian shops and town houses, the green belt and the old town's Catholic Quarter.
It was there another early architect's designs came to life in the form of St Joseph's Cathedral and the adjacent St Dominic's Priory.
Both the miniature French Gothic cathedral and the priory, which was the largest non-reinforced concrete building in the southern hemisphere, were designed by Francis Petre.
''In the 1860s and '70s the cityscape was largely a blank slate. The opportunities were there to do something pretty remarkable,'' Mr Parks says.
''The view from here shows the Presbyterians weren't the only show in town and Lawson wasn't the only capable architect.''
It was the relationship between Mr Lawson and Mr Petre that helped inspire Mr Parks to begin his City Walks tours. That and his landlord's dogs.
Raised in the Catlins, Mr Parks studied history and politics at the University of Otago.
An oral history project on the pie cart at the Oval, in Princes St, made him realise history could come alive. This spurred him to begin researching Victorian Dunedin as the setting for a yet-uncompleted novel, at the heart of which is the relationship between Dunedin's two renowned early architects, Mr Lawson and Mr Petre.
''I'm speculating on that relationship,'' Mr Parks says.
''When Petre arrived in Dunedin, First Church would have been basically completed and other work by Lawson would have been there ... I'm sure Petre would have been inspired by what he saw around him.
''Later, Lawson's career went a bit pear-shaped with the Seacliff Hospital project. I think he was made the fallguy.
''When he returned to Dunedin 10 years later, not long before his death, he was welcomed by his peers, who included Petre.''
As the characters came to life for Mr Parks, so too did their buildings.
''Architecture is the most public art form, but most people pay it little regard. If, however, you come to appreciate it and learn about it, it enriches your life.
''We are not Rome or Venice, but there's enough here to inspire me every day.''
Mr Parks is quoting Thomas Bracken, who penned not only New Zealand's national anthem but many poems including Dunedin from the Bay.
Go Trav'ler, unto others boast
Of Venice and Rome;
Of Saintly Mark's majestic pile
And Peter's lofty dome;
Of Naples and her trellised bowers,
Of Rhineland far away: -
These may be grand but give to me
Dunedin from the bay.
The landlord's dogs played the muse to Mr Parks when he was living in Port Chalmers in 1995.
''I had to walk the dogs around the streets a couple of times a day, and I thought wouldn't it be great to show people this place. But I thought there would be no market for tours.''
The idea percolated for a decade before it got one final push that launched City Walks in 2006.
''I woke up one morning and realised if I was going to have to work for most of the rest of my life I might as well do work I enjoyed.''
So for six months of each year, six days a week, he offers three walking tours a day around the inner city.
''Every walk is different ... Special things happen almost on a daily basis.
''It's a pleasure to pass through Dunedin's very fine built environment.
''We're lucky it has been preserved ... and I want to share the joy I experience.''
His goal with every tour is to convey Dunedin's colourful history and how that continues to shape the city's character today.
''I want to help visitors understand what makes Dunedin special. For example, the human scale of the place - that for a small city we are blessed with a number of strong institutions and resources, so it's a creative place.
''I'm not trying to put a shine on it, just convey what we've got. And that excites them. The quality of life here is almost unparalleled, and people recognise that immediately.''
The six Australians on this tour - two middle-aged siblings and their spouses on a cruise down New Zealand's eastern coastline, plus a freelance journalist and her partner on a working honeymoon - appear engaged, but are all shivering a little in the cool autumn wind.
All except Shane Arnold. Despite hailing from Echuca, north of Melbourne, his fleece jacket remains strapped to his backpack.
''I work at the local Fonterra yoghurt factory,'' Mr Arnold explains.
''I'm in and out of the chiller all day long.''
On the corner of Princes and Dowling Sts, heading downhill towards the Exchange, the group pauses for a moment of irony - the long-vacated Salvation Army fortress, once a bastion of the temperance movement, sitting below the puffing smokestack of the busier-than-ever Speight's Brewery.
Even Mr Arnold seems pleased when the group enters the former Bing Harris & Co building in the Exchange and makes its way through to the adjoining Clarion buildings for a warming cup of coffee.
The cafe is one of several businesses that occupy these renovated and revitalised heritage buildings.
It is a sign of an exciting ground-swell of enthusiasm and activity focused on Dunedin's built heritage, Mr Parks says.
The discovery of gold in Otago in 1861 transformed Dunedin into the nation's leading city within a few short years. But when the economic impetus shifted north, Dunedin entered a time warp.
It meant many of the city's grand historic buildings were retained, although about half a dozen - including the Stock Exchange and the AMP building on the corner of Dowling and Princes Sts - were demolished in 1969.
That was a wake-up call to heritage enthusiasts, Mr Parks says.
''At that time the city council seemed hell-bent on wrecking everything,'' he says.
''Now the city has acknowledged its built heritage is important. That it is something we should protect, celebrate and leverage.
''I think now the council is doing everything it can to encourage these moves.''
Mr Parks' heroes are the developers who are leading this charge. People like Ted Daniels who spent $3 million restoring the Bracken Court building after it was gutted by fire in 2005, and is now restoring the Princes St Standard Insurance building (formerly the Canton Restaurant) to its original glory.
Or structural engineer Stephen Macknight who has bought and restored, or is restoring, several heritage buildings such as the Bing Harris & Co and Clarion buildings, the New Zealand Insurance building (on the corner of Crawford and Rattray Sts) and the Donald Reid warehouse (bounded by Cumberland, Jetty and Vogel Sts).
''It's a leap of faith for them. And then others in adjacent buildings follow suit. You can see that happening now in Vogel St.
''It used to be viewed as the nasty developers against the heritage enthusiasts. But now they have come together and you can feel the energy and goodwill.''
Mr Parks points out the warehouse precinct, where much of this energy is focused, as the group follows him in the opposite direction towards the tour's end at Dunedin Railway Station.
Built in 1906 it was the last ''really grandiose'' historic building to be constructed in the city.
It is near the end of the tour season. Soon Mr Parks will return to driving taxis for another six months. The taxis provide a better, more steady income but there is no doubt that in October he will be back for his eighth season of walking tours.
''I'm inspired every day, reflecting on the faith and dedication of the pioneers who built this city. And I'm excited about what is happening now. That's what keeps me going.''
---
Take a walk
On Anzac Day, Athol Parks is leading two free 90-minute walking tours of the warehouse precinct, centred on Vogel St. Departing Toitu Otago Settlers Museum, Mr Parks will be accompanied by property developers who will talk about what is happening in the precinct now. The first tour, at noon, will be accompanied by Stephen Macknight, and the second, at 2pm, will be accompanied by Lawrie Forbes.
---
Dunedin Heritage Festival
The Dunedin Heritage Festival is an annual celebration of the city's architectural heritage.
Dunedin boasts the country's largest concentration of Victorian and Edwardian buildings, a variety of which will be open to the public during the festival which begins on Anzac Day, April 25. Music, drama, tours, Anzac Day commemorations and school holiday activities are planned for this four-day, citywide event.
Thursday, April 25
Events will be centred on Toitu Otago Settlers Museum, the railway station and Queens Gardens area. There will also be free walking tours of the warehouse precinct, free tours of the restored National Bank in Princes St, an Anzacs at Gallipoli tour of the Northern Cemetery, the RSA Choir Anzac Revue concert in the Dunedin Town Hall, and an evening hair-raiser ghost walk.
Friday, April 26
Head to the Octagon on Friday for old-fashioned family games and activities. There will also be tours of St Paul's Cathedral and the newly refurbished Dunedin Town Hall, a walking tour of Dunedin's neo-classical architecture, a talk by architect Ian Athfield and a night-time coach tour of Dunedin, including Larnach Castle.
Saturday, April 27
University of Otago tours will cover the heritage and future of the country's first university. Other events include guided tours of the Fortune Theatre, Knox Church and Olveston; entry by donation to the Gasworks Museum; and an after-dark Sea Ghost Tour of Port Chalmers.
Sunday, April 28
Olveston hosts a variety of ticketed tours and a free talk by Dunedin City Council heritage policy planner Glen Hazelton. There will also be an open day at the Central City Fire Station, children's activities in the Otago Museum animal attic and Speight's Brewery tours.
For more information and a full schedule of events and prices, visit online at www.dunedinnz.com/heritagefestival/home
---