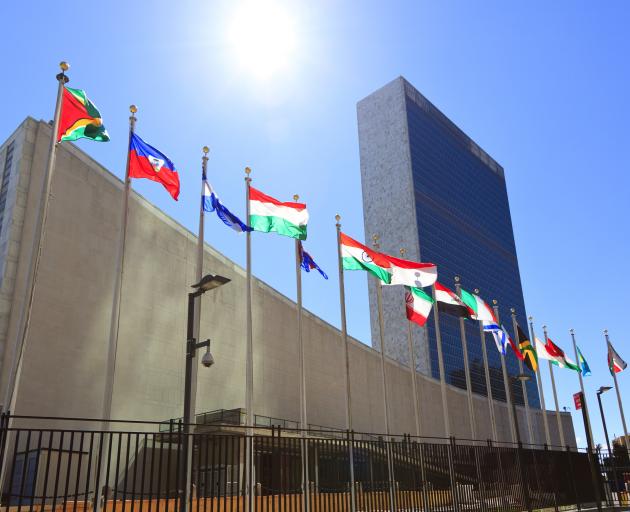 It was the trip of a lifetime: to New York and a seat at the United Nations as part of the 61st Commission on the Status of Women. Otago Daily Times editorial executive Helen Speirs had an insider's view.
For more than two incredible weeks in New York I didn't stop pinching myself from the moment I woke up and opened the blind of my midtown Manhattan hotel room window onto a commanding view of the  Chrysler building, three blocks away.
The sense of unreality continued every morning as I made my way - steaming coffee in gloved hand alongside the mass of other morning commuting pedestrians - from the hotel several blocks away to the United Nations on First Ave, on the bank of the East River.
I quickly worked out a favourite route, along Lexington Ave and down East 43rd St, which led directly towards the striking glass monolith that is the 39-storey Secretariat Building, the centrepiece of the headquarters of the UN, co-designed by French architect Le Corbusier, and the then (working) home to our own Helen Clark, head of the UN Development Programme.
I never got over the fact the United Nations was my ''workplace'' for two weeks. (Although the Secretariat Building itself was out of bounds, the General Assembly and Conference buildings held most of the events and a chance to look around the General Assembly hall and Security Council chamber were some of many highlights).
Not only was I at the UN, but I was in New York for the first time: the city of so many famous songs, movies and novels, of monumental architecture and history. The combination made it the trip of a lifetime. I was conscious throughout my stay of how fortunate I was, and was therefore determined to make the most of every minute and every experience. It became apparent it wouldn't only be the city that would never sleep...
THE COMMISSION
I was at the United Nations as a member of Presbyterian Women Aotearoa New Zealand's (PWANZ) delegation to the 61st Commission on the Status of Women.
The commission is a function of the United Nations Economic and Social Council (Ecosoc).  Established in 1946, it is the global policy-making body exclusively dedicated to promoting gender equality and the empowerment of women.
The commission sits for two weeks every year and includes high-level ministerial sessions and other interactive discussions and expert panels. Some 8000-9000 people (predominantly women), a mix of government representatives from UN member states, UN entities and accredited non-governmental organisations, meet to share ideas, push for change, monitor progress, seek accountability, reaffirm previous global commitments and set the global standards for further work.
The discussions centre around three themes. This year's priority theme was ''women's economic empowerment in the changing world of work''. The outcome of the commission's consideration of the priority theme takes the form of an ''Agreed Conclusions'', document, negotiated by all member states.
NGOs can also contribute to this by submitting initial written statements to the draft conclusions document, making oral interventions to the commission and continuing to make written suggestions for change as the draft document is negotiated during the two-week session.
I found this a fascinating process, where every word of every clause is negotiated by NGOs and member states; the original draft document of only a few pages  increases and decreases as amendments are made and whole sections added or single words deleted.
The Agreed Conclusions are not legally binding, but become part of the foundation for gender advancement for member states. They are one thread of a giant tapestry, an overarching framework of interrelated global laws and conventions to protect women and achieve full human rights. These include the  Universal Declaration of Human Rights, the Beijing Declaration and Platform for Action, the Convention on the Elimination of all Forms of Discrimination Against Women (Cedaw) and the Sustainable Development Goals  (developed from the Millennium Development Goals), of the Agenda for Sustainable Development, adopted in 2015. The 17 goals are to be implemented by the 193 UN member states by 2030 and are billed as a ''roadmap'' for  sustainable social, economic and environmental progress worldwide. The overriding commitment catchphrase is to ''Leave no-one behind''.
Goal 5  (to achieve gender equality and empower all women and girls, and commonly referred to by the catchphrase ''Planet 50/50 by 2030'') and Goal 8 (to promote sustained, inclusive and sustainable economic growth, full and productive employment and decent work for all) were the most relevant to the commission and its themes this year, although the interrelation of all goals was regularly emphasised.
THE PEOPLE
The commission itself consists of 45 members who hold four-year positions on the basis of equitable geographical distribution. Five bureau members are the front face of the discussions, which this year were chaired by Antonio de Aguiar Patriota, of Brazil.  Delegates were also addressed by UN Secretary-General Antonio Guterres, UN Under-Secretary-General and UN Women executive director Phumzile Mlambo Ngcuka and UN Assistant-Secretary-General and UN Women deputy executive director Lakshmi Puri.
Interactions with these high-flyers were fascinating. Ms Mlambo Ngcuka was omnipresent and inspirational, and delegates were clearly impressed with the credentials of the well-spoken and gentle Messrs Patriota and Guterres, who, with his senior leadership team also addressed a special NGO meeting (reportedly the first time a Secretary-General had exclusively addressed civil society at a women's commission).
The Secretary-General spoke of the ''battle'' to achieve parity which he said was ''essential'' in government, parliament, police, on boards, in all areas of politics, economic and social life. To achieve that he said ''men need to stand up for women'' and commented that ''my experience is when we have gender parity society is better''.  (An open challenge about Mr Guterres' gender was humorously made, and humorously received with the comment ''the best thing I can do [for gender equality] is to resign tomorrow''!) It was made clear by many speakers that men were, of course, equally important in the advancement of women.
The official New Zealand Government delegation to the commission was led this year by Jo Goodhew, who was standing in for Women's Minister Paula Bennett. Her national statement to the commission included mention of the Government's establishment of a working group to recommend pay equity principles, encouraging private sector employers to reduce the gender pay gap, and encouraging wider uptake of flexible working hours for women.
More than 30 other New Zealanders attended as individuals or part of non-government organisations with special consultative status to the UN. They included representatives from Pacific Women's Watch NZ, Girl Guiding NZ, the YWCA, Soroptomists International, Graduate Women International and Presbyterian Women Aotearoa NZ (PWANZ).
Our  12-strong PWANZ delegation, many of whom were current or former Dunedin residents, was led by Presbyterian minister the Rev Carol Grant, of Dunedin, and was the fourth (and final) such trip for her. The Rev Grant had selected Presbyterian church clergy, women outside the church who had applied for the opportunity to participate, and invited two others, myself and Dunedin City Council chief executive Sue Bidrose to accompany her.
The trip gave us privileged access to influential and inspirational women, world leaders, global discussions and an insider's view of one part of the vast machine that is the United Nations. We could not help but come back empowered, energised and enthused, with ideas, skills and the will to make a positive difference for women in our networks at a local level.
Commission on the Status of Women
WHAT
The 61st Commission on the Status of Women.
WHERE
The United Nations, New York.
WHEN
March 13-24, 2017.
WHO
Representatives from 162 member states (including 89 ministers) and more than 3900 NGO/civil society  representatives from more than 580 organisations and 138 countries attended this year's session.
WHY
To identify and consider gender gaps and disparities and provide a framework for ways to overcome them.
HOW
By focusing on three themes.
Priority theme: women's economic empowerment in the changing world of work.
Review theme: challenges and achievements in the implementation of the Millennium Development Goals for women and girls.
Emerging issue: the empowerment of indigenous women.
THE ISSUES
Major gender gaps identified included those relating to wages, income, pension, social security, workforce participation, recruitment, retention, promotion, re-entry, leadership, occupational segregation, the burden of unpaid care work, access to economic and productive resources.
Multiple barriers include technological change, the informality of work, poverty, inequality, isolation, climate change, food security, violence and  conflict, humanitarian, migration and refugee crises, economic slowdown, health, sanitation, education, transport, as well as attitudes, policies and practices in the state and private sectors.
AGREED CONCLUSIONS
The final outcome document, or Agreed Conclusions, of the commission reaffirmed previous global women's rights and gender-equity commitments, as well as establishing new pathways for action.
The document was adopted by consensus.
It has been described as a ''progressive'' and ''groundbreaking'' text, which makes important gains including in the areas of unpaid care and domestic work, equal pay, women and girls with disabilities and indigenous women and girls, sexual and reproductive health rights.
Member states must continue to implement gender-responsive policies in line with the Agenda for Sustainable Development, which envisages a Planet 50/50 by 2030.
CSW61 Bureau members
• Chairman Antonio de Aguiar Patriota (Brazil, Latin American and Caribbean States Group).
• Fatma Al Zahraa Hassan (Egypt, African States Group).
• Sejla Durbuzovic (Bosnia and Herzegovina, Eastern European States Group).
• Jun Saito (Japan, Asia-Pacific States Group).
• Andreas Glossner (Germany, Western European and Other States Group).
New Zealand Government delegation
• Rangitata MP Jo Goodhew (delegation leader, above, standing in for Women's Minister Paula Bennett).
• Pacific Peoples Ministry CEO Pauline Winter.
• Pacific Peoples Ministry deputy CEO Catherine Neil.
• Women's Ministry international policy director Helen Potiki.
• Women's Ministry senior policy analyst Bindu Armstrong.
• NZ Permanent Mission to the UN deputy permanent representative Carolyn Schwalger.
• NZ Permanent Mission to the UN second secretary Laura-Lee Sage.
PWANZ DELEGATION
Members of the Presbyterian Women Aotearoa New Zealand delegation to CSW61 were:
• Rev Carol Grant, of Dunedin (delegation leader).
• Rev Jin Sook Kim, of Dunedin.
• Rev Saifaleupolu Siitia, of Auckland.
• Lay minister Lyn Heine, of Greymouth.
• Student and church youth leader Rachel Tombs, of Dunedin.Police constable Rebekah Kitto, of Dunedin.
• Police sergeant Kate Saxton, of Wellington.
• Victim Support SI homicide specialist Chiquita Holden, of Wellington.
• GP Chitra Karunanidhi, of Wellington.
• School pupil Mira Karunanidhi, of Wellington.
• Dunedin City Council chief executive Sue Bidrose.
• Otago Daily Times editorial executive Helen Speirs.
(All attended in a personal, not professional, capacity, as members of PWANZ.)