As Plastic Free July rolls around again a new book details why the issue is so urgent, writes Ruth Blunt. 
With Plastic Free July just days away, there is excitement in the air.
What started off with just 40 people in Perth in 2011, has grown into a massive worldwide movement, with more than 2million people choosing to refuse single-use plastics for the month of July.
It has never been easier to ditch single-use plastics as more and more options are available to us here in Otago. There are bulk-bins stores where you can take your own containers, cafes promoting the use of reusable cups and some great events happening all over the region through the month to help people go waste-free.
It has also never been so important to rethink our shopping habits and aim to bring less of those unnecessary plastics into our homes as our oceans suffocate under the weight of our waste.
Political scientist Michiel Roscam Abbing outlines the scope of the plastic problem and more in his new book Plastic Soup: An Atlas of Ocean Pollution.
If you're taking part in Plastic Free July and really want to know your enemy, Abbing's 124-page investigation into how plastic has damaged our environment, polluted our waterways, and impacted on wildlife is essential reading.
MAPPING THE PLASTIC PROBLEM
The term plastic soup was coined in 1997 by Charles Moore to describe the plastic waste he encountered while sailing from Hawaii to California.
The origins of plastic soup are many and varied but its effect is always devastating. From plastics that ensnare birds and animals and fill their stomachs to the microplastics we can't even see, it is in the air we breathe, the water we drink and the food we eat. So what can we do about it?
Abbing's book, full of beautiful, if disturbing, images and infographics, has some answers. He details, through stories and illustrations, how cheap and plentiful plastics have permeated our lives and environment. Some of the material he covers is familiar and some of it opened my eyes. All of it is a call to action. I came away with a few insights, which are worth repeating here:
Bottling 1litre of water in a single plastic bottle requires about 3litres of water. With refill stations (some call them taps) it's easy to just bring your own reusable bottle and ensure there's more water out there for us to actually drink.
Millions of microfibres are shed during a 5kg washing machine cycle which are too small to be captured by wastewater plants and so end up in our waterways. But researchers have found that figure is much less when you wash at lower temperatures, on a short cycle and use liquid detergent.
Microplastics are found in the air. These originate from degraded plastic litter, synthetic clothing and carpets. A French study estimated between 3tonnes and 10tonnes of synthetic fibres fall out of the air annually. So choose natural fibres for your clothing where possible.
When a plastic bag sinks in the sea it covers a small piece of the seabed, blocking oxygen, light and nutrients from that spot and killing the micro-organisms - the basis of the marine food chain - that live there. (Hooray for the plastic bag ban, though other single-use plastics such as cereal and frozen-food packaging have the same effect.)
About 90% of the microplastics in the western world end up in wastewater. The sewer sludge that remains after wastewater treatment also contains microplastics, which is bad news for our soil as sludge is used as fertiliser all around the world.
Before you despair about the extent of the global plastic crisis Abbing's two-part book brings us some solutions.
He outlines the innovations addressing the scourge of plastic pollution: such as systems that convert plastic into oil; a laser identification process that replaces plastic stickers on fruit and veg; and the growing list of products made of reclaimed ocean plastic.
He highlights the beautiful and confronting work of environmental artists who use litter in their work and the exhibitions putting plastic pollution front and centre.
He inspires with news of how innovators are tackling the plastic soup problem, detailing campaigns: such as Beat the Microbead, which wants a worldwide ban on microplastics in cosmetics; Ocean Clean Wash, which is working to tackle microplastics at the source; and Plastic Free July, the global event with more than 2million participants who choose to refuse single-use plastic for the month.
While advocating for legislative changes, such as extended producer responsibility, container deposit schemes, bans on plastic bags and tackling illegal dumped shipping waste, Abbing also urges us to take advantage of the simple things we can do on an individual level.
When you and I (and him and her and they) say no to that disposable cup, bottle or straw, and take our own reusable bags when out shopping; when we all get a bit more organised and a bit more wise, we can leave those throwaway products on the shelf and save on energy, resources and pollution.
There is optimism in the pages of Plastic Soup. People have the power to make a change and I for one am excited about what I can do to avoid being a contributor to plastic soup.
GOING PLASTIC-FREE IN OTAGO
Plastic Free July provides the perfect platform to start, or reinvigorate, a life without unnecessary plastics and does so with the support of a community, as well as providing plastic-free tips and advice.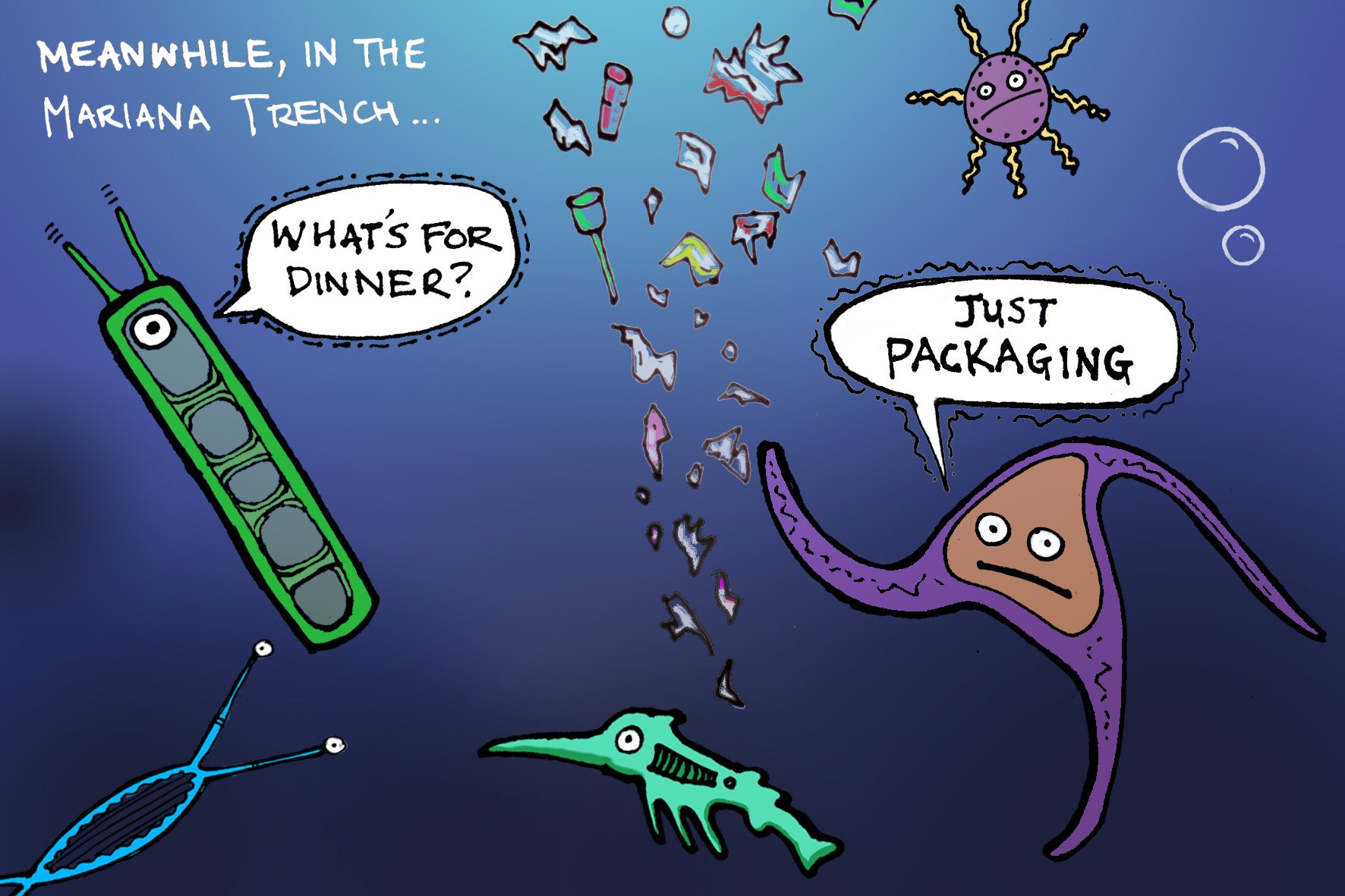 It's tricky doing your weekly grocery shop without putting masses of plastic packaging in the trolley. Thankfully, the amazing team at The Rubbish Trip have done the legwork for you. They have compiled regional waste-free shopping guides for Otago to help you on your waste-free way. Check out the guide for your area at therubbishtrip.co.nz.
Here in Wanaka, Wastebusters and Plastic Free Wanaka are building on last year's hugely successful event with the second annual Waste Free Fair on Sunday July 14, from 1-4pm at the Lake Wanaka Centre. The free event will provide plenty of solutions, advice and inspiration for those who want to cut out plastic waste. We'll have bulk bins, produce bags, cleaning products, honey-wrap demos, waste-free wedding ideas, the Japanese folding art of Furoshiki and much more.
Over in Queenstown, Sustainable Queenstown has two events lined up during Plastic Free July aimed at stemming the tide of plastic. On July 25, Plastic Free: Pint-sized play & short stories will be held at Smiths Craft Beer Brewery, and on July 27, Sacha Watkins from Clean Conscience will present DIY Cleaners: The Zero Waste Approach workshop at Sherwood Hotel.
In Alexandra, Plastic Free July Central Otago have several events planned for the month, including workshops on how to make honey wraps and reusable sanitary pads. Business waste audits will be held in Alexandra and a Fast Fashion v Sustainable Fashion event held in Maniototo. More details on those and other events will be available on their Facebook page soon.
There's a fantastic range of workshops, tours, film screenings and talks happening in Dunedin during July to help you on your plastic-free journey. Learn about identifying microplastics on our coastlines with the Royal Albatross Centre and Sustainable Coastlines, join Stitch Kitchen for one of its workshops or settle in at the Otago Museum for a film screening. There's lots more to do in Dunedin so go to www.dunedin.govt.nz for more information.
So get inspired, get active and start refusing single-use plastics. As Abbing writes at the close of his book: "We must not saddle future generations with the plastic soup crisis".
Ruth Blunt is communications co-ordinator at Wastebusters.