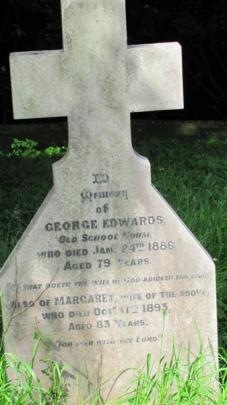 It had been gnawing at him for years but Otago Daily Times columnist and former sports editor Brent Edwards finally made it back to Wales, the land of his forefathers. It was a journey that more than fulfilled his wishes.
I've always felt an affinity with the Welsh. Initially, it was through their rugby and their music but it was only from my teenage years onwards that I realised Welsh was actually in my blood.
My father told me early in my life that my grandfather had been born in Wales but he never made a big deal of it.
One of the reasons, undoubtedly, was that his father, John George Edwards, died when he was just eight so the relationship between father and son never had time to develop and mature.
My grandfather worked as a carpenter at Ocean Beach Freezing Works in Bluff and lived in the nearby settlement of Greenhills, where he ran a small farmlet.
He was described as a very direct man and as a stickler for good manners. He was an aficionado of Shakespeare. He read widely and was self-educated but, like many of his era, he suffered through lack of money and opportunity.
His life ended prematurely in 1928 when, returning from work in Bluff, he fell from the train and was killed. He had been feeling faint and had stepped outside for some fresh air when the accident occurred.
So I never met my grandfather. I felt a little cheated, though obviously not nearly as much as my father, his two brothers and two sisters who spent their formative years helping to make ends meet in the Depression without a head of the house.
It was the death of my own father in 1993 that reawakened my interest in our family ancestry and my determination to find the Welsh town from where my grandfather originated.
It became part of my bucket list but, until last year, it had been a mission unfulfilled.
I spent time in Wales during the 1999 Rugby World Cup but I was simply too busy to think of anything except the next deadline.
We had family holidays in Devon, which is half a day's drive away, but dovetailing the needs of three children meant it remained on the back burner.
But earlier last year as we planned our next trip to Britain, my cousin, Heather Adams, of Invercargill, a meticulous researcher, sent me screeds of information on our ancestors, including the birthplace of our grandfather.
So Wales became part of our itinerary for our latest trip, and at last I would satisfy my curiosity.
We left Exmouth on a Saturday morning and drove into Wales. We headed for the small town of Welshpool, near where my grandfather and his forefathers used to live at Leighton Hall Estate.
It was a grand estate but my forefathers, Thomas and George, were not part of the landed gentry. They earned their living as handymen.
We stayed not in Welshpool but at the Talbot Hotel in the tiny village of Berriew, five minutes' drive from the estate.
It is one of the jewels in the crown of mid-Wales with its quaint black and white cottages, its majestic church and the River Rhiw flowing through it. Berriew has two pubs, a few shops and a strong community spirit. It has several times won the Best Kept Village in Wales award.
The Talbot is a gem. The floorboards might not be quite creak-free but the place is chock-full of character, the staff and patrons are friendly and interested and we did not lack for directions.
We find Leighton Hall Estate, which is set in rolling countryside with a superb view over the surrounding countryside and which has its own coat of arms at the entrance.
We visit the nearby churchyard and there, after a search of 10 minutes, we come across the grave of my great-great-grandfather: George Edwards, died January 24, 1886, aged 79, and his wife, Margaret, died October 17, 1893, aged 83.
It seems almost surreal to have finally tracked down missing links of our family tree. I stand and look over the verdant countryside and wonder what life was like here for them.
There's a lump in my throat which is hard to explain. It's like the end of the journey, though there are still plenty of family mysteries to be uncovered.
I wonder what persuaded my great-grandfather and his family to leave Wales for New Zealand. I suppose they went in search of a better life but the peace and solitude of the rolling estate seems just about as good as it gets to me.
We go back to our little pub where we have arranged to meet friends from north Wales for Sunday lunch. We eat roast Welsh lamb, which is succulent and decidedly cheaper than New Zealand lamb. Afterwards, we wander around the little village and do some souvenir shopping for our children and grandchildren.
The next morning it is time to leave Wales, land of my grandfathers. My wife Liz has bought a tape of Welsh music which we play as we drive through the villages, and the larger towns of Abergavenny, Newport and Pontypool on our way back to Devon.
Truly, it has been a memorable weekend. More puzzles in the jigsaw have been solved but, more than that, there is a sense of belonging, that the keys to my Welsh heritage have been unlocked.
I just wish my father and his two brothers, who were denied the chance to visit the land of their forefathers, could have shared the moment. It's little wonder, I suppose, that the Welsh national anthem, Land of my Fathers, always strikes an emotional response in me. For Wales, indeed, is where it all began.