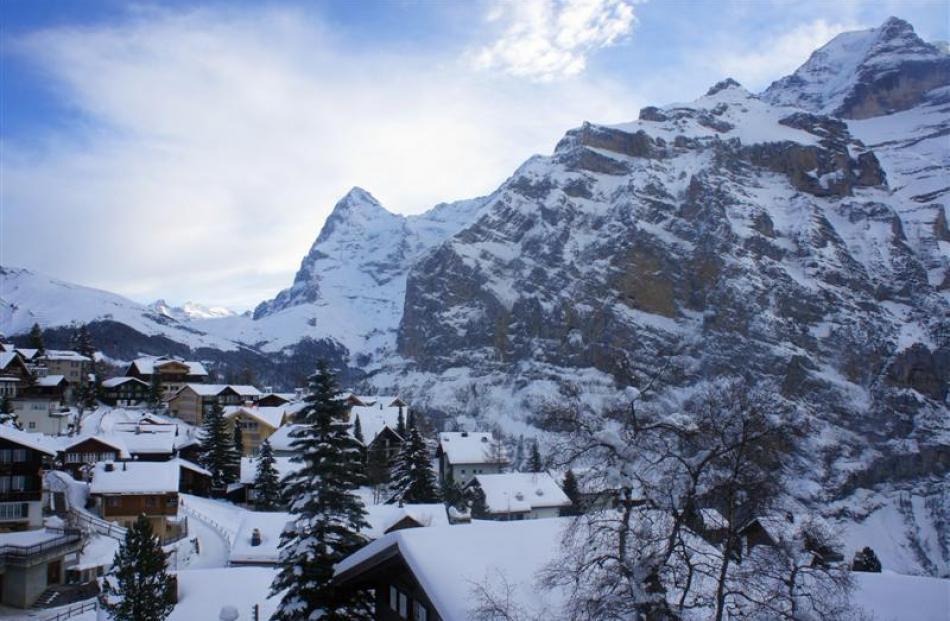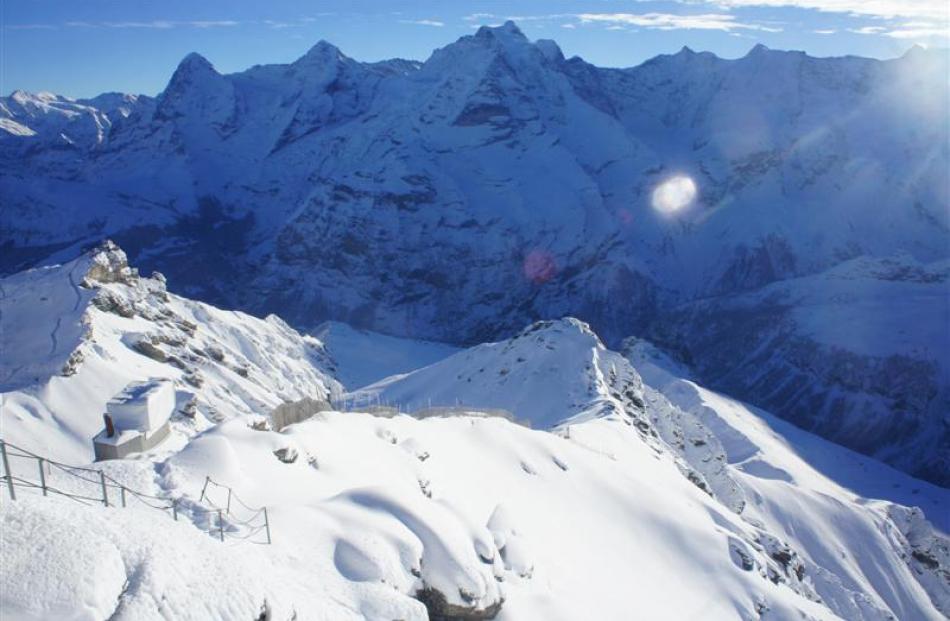 During a lengthy European OE, former Otago Daily Times reporter Joe Dodgshun supposed he would spend his Christmases surrounded by snow and winter traditions. Having supposed completely wrong, he journeyed to the clifftop village of Murren, in the Swiss Alps, in search of a white Christmas, just like the ones we never knew.
Sometimes I wish I could corner the genius who brought Bing Crosby records to New Zealand and give them a piece of my mind.
I'm Dreaming of a White Christmas has absolutely nothing to do with the realities of a Kiwi December.
Instead of sleigh bells in the snow, it's scorching sand between the toes, blowflies-a-buzzing and inappropriately heavy food.
Like most of us, I spent my formative festive seasons soaking up northern hemisphere carols - and indeed, dreaming of a Christmas in the snow.
Ever since wanderlust drew me to Europe several years ago, I have been searching for my chance.
Munich, capital of the southern German region of Bavaria and home to one of the most lavish Christmas markets in the world, just had to be my ticket to that cliched winter wonderland.
So I departed from the frosty Netherlands in late December 2012 with high hopes and woolly mittens in hand.
And arrived just in time to experience one of the warmest Decembers in Munchener history.
We ate turkey, drank piping-hot gluhwein laced with flaming whisky and then went outside to play football and drink beer in T-shirts and shorts.
The fact is, Bing's ballad of frosty longing may be spot on; European Christmases have largely become a thing of the past.
The UK, for example, has experienced widespread yuletide snow in only four of the past 51 years - something that is decreasing with global warming - and snow dumps on the European continent tend to arrive more often in the new year.
Luck, however, was on my side. Some of my dearest Kiwi friends decided to visit Switzerland for Christmas 2013 and together we would travel into the Swiss Alps, to the tiny mountain village of Murren, which sits perched 1600m above sea level on a precipitous plateau.
Real Christmas would be unable to elude me this time.
Except on arrival in Zurich, one thing was once again notably absent: winter.
As we travelled towards the Swiss capital of Bern, to scatter the ashes of my friend's father in the Aare River, the skies remained clear, the air not holding a hint of chill.
As our train cut through German-speaking Switzerland, the sun had already fallen below the jagged peaks of the Berner Oberland, casting only a tantalising silhouette of what lay in store.
The landscape passed in darkness until we stepped out deep in the Lauterbrunnen Valley, at the verdant foot of sheer cliffs stretching into the night.
As nattily dressed conductors assisted one friend in a wheelchair into the cable car, then a mountain railway carriage, we jolted on upwards, the cabin occasionally illuminating dusky rock on one side and little aside from unfathomable drops on the other.
We disembarked, finding that one should be careful what one wishes for; weeks-old snow lay in an icy carpet all the way through the village of Murren, at the other end of which lay our hotel.
Nonetheless, we grinned with excitement as the alpine wind whipped our cheeks rosy-red, and started tugging the wheelchair through the slush.
Murren was otherwise still on the evening of December 24; warmth and light trickled out of the richly decorated alpine lodges of those celebrating Christmas early, as is the tradition in Germanic countries.
Many buildings and hotels lay silent, their usual occupants still celebrating far below and beyond the valley.
And traffic? No cars run in Murren.
Past the fairy light-lit ski shops and village bakery, we took our saturated shoes off under the pitched eaves of Hotel Alpenruh and basked in the glow of the communal Christmas tree.
The rest of the night was consumed in devouring a four-course meal, including the Berner specialty of rosti, a formidable dish of grated fried potato fortified with cheese and bacon.
For once, the stodginess of Christmas dinner suited perfectly.
Collective jaws dropped when we stepped on to our balcony the next morning; tiers of pitched rooftops sloped down towards the valley floor, ending abruptly over the void.
Distant above these, on the other side of an immense glacier-gouged valley, towered the triple pinnacles of the Berner Oberland: Jungfrau, Monch and the Eiger.
Wolfing down a massive buffet breakfast, we could barely keep our eyes off the view out the window and we were soon leaving Murren below us on the restored Allmendhubel funicular.
It's a legacy of British father and son duo Henry and Arnold Lunn, whose ski exploits arguably started the tradition of downhill skiing as we know it.
The latter Lunn founded the infamous Kandahar Ski Club in 1924, thus opening the sleepy farming village to a pack of mad Brits who liked the idea of careening downhill on skis so much that they eventually hosted the first world championships there in 1931.
• With our fingers still crossed for fresh snow, we decided to attempt the traditional Swiss pastime of sledding.
Anyone who bases their expectations of sledding on the learners slope of Coronet Peak needs to seriously re-evaluate these in Europe.
Here, it is a serious affair - you will pick up speed, you will end up half-buried in a snowdrift, and you will almost maim people as you hurtle back into the village back streets.
After five runs, it was only the thick snowflakes beginning to sting our faces that made us retire for the day.
We retreated to the restaurant overlooking the village, warming our frigid fingers up with a fiery Kafi Luz, an alpine reviver made of fruit brandy, coffee and sugar cubes.
Night fell with utter silence as snow continued to blanket the village and December 25 came to an end in the hotel's wood-panelled sauna (strip down, don a towel and stand the heat as long as possible before dashing to the balcony for a snow-cooled beer).
Morning arrived bathed in hues of blue, courtesy of the still-falling snow.
With Murren's ski lifts closed by the snowstorm, we took a day trip down into the valley via the two cable cars that zig and zag down the cliffs.
In Lauterbrunnen, holidaymakers from all points of the compass were arriving for the start of the ski season, clad in gaudy winter wear, and we joined the masses to make a jaunt across and up to the village of Grindelwald.
Grindelwald - popular with skiers and as the starting point for Europe's highest rail journey (the 3454m Jungfraujochbahn) - absolutely yodelled tourist-trap, but was clad in plyboard and scaffolding in the middle of an ugly transport infrastructure upgrade.
With poor visibility making it not worth the Jungfrau trip, we returned to Murren with increased appreciation for the lesser-known resort.
Although it has 350 permanent inhabitants and a total of 2000 hotel and lodge beds, we were among just a handful tossing snowballs in the half-foot of fresh powder snow that had settled on Boxing Day, occasionally greeted by jolly, Kafi Luzed passers-by.
Still, there was a palpable sense of excitement as Murren slowly began to fill - the next day would bring bluebird skies and we had something special in mind.
Murren sits at the lofty height of 1600m, but the cable cars don't stop there; they carry on all the way upwards to the towering peak of Schilthorn.
Racing against dawn, we found ourselves rising breathlessly even further up the valley until Murren seemed like a tiny collection of over-zealously iced gingerbread houses.
Looking up and beyond, we could see the mountain-top Schilthorn centre, a formidable feat of engineering made famous by ... Bond, James Bond.
The guitar riff from Dr No sounded from a hidden alcove of the gondola as we arrived at Piz Gloria, the mountain-top research facility of villain Ernst Stavro Blofeld, from whom 007 escapes on skis down a breakneck black run.
Piz Gloria lives on in the name of the revolving restaurant, Bond museum and viewing platform that stands isolated atop this landscape of superlatives.
Bacon and eggs, it can be said, taste better at 2970m while you watch a sunrise panorama of 200 mountain peaks and 40 glaciers pass on by.
With the Bond theme still trumpeting in our helmets, we strapped on snowboards and skis, looked down his famous black route, and, taking a deep breath, opted to take the gondola a bit further down.
After carving and tumbling down our share of 52km of powder snow, all that was left to do was to recline on the balcony and look down over now-bustling lodges lining the glistening, moonlit valley.
Given the joy of realising a 25-year dream, perhaps I have grounds to forgive our misguided music importers.
---
Murren at a glance
• Summer is the peak season for hiking and extreme sports and winter for snow sports.
• 52km of ski runs, including 10km of black trails and 6km of toboggan runs.
• Currency: Swiss francs ($NZ10 is worth 7.6 Swiss francs).
• Language: Swiss German, English, High German and French are widely spoken.
• Host of the Inferno Race, the world's largest amateur ski race, and the Inferno Triathlon, with an overall altitude change of 5500m.
• Car-less village with a population of 350 people and 2000 tourist beds.
---
If you go
Regional rail transfers from Zurich, Bern, Basel and Geneva to Interlaken Ost, then hourly trains to Lauterbrunnen. From Lauterbrunnen take either the mountain train to the base of Murren village, or transfer by bus to the cable car terminal at Stechelburg and take the Schilthornbahn cable car. For those planning to travel extensively in the region, a Swiss Pass covers the vast majority of trains, boats, buses and cablecars: www.swiss-pass.ch/.
---