Covid-19 has killed nine people in New Zealand and the devastating effect it can have on the elderly is growing more apparent.
Director-general of health Ashley Bloomfield yesterday announced four new deaths due to the disease, the most in one day to date.
All four deaths were of those aged 70 or older and included three people from the Christchurch Rosewood Rest Home cluster, as the death toll in that outbreak climbed to six.
Dr Bloomfield and Prime Minister Jacinda Ardern both underlined the importance of the requirement for all district health boards to audit aged-care facilities' compliance with Covid-19 protocols yesterday, and announced a review into aged-care facilities where Covid-19 had already been identified as present — despite Covid-19 being present in less than 1% of New Zealand aged-care facilities.
Aged Care Association Otago Southland board member Malcolm Hendry warned against bringing additional people into already "heavily audited" aged-care facilities for the purposes of an external audit, arguing instead yesterday for a re-prioritisation of testing — including increased testing for aged-care facility staff and testing of all incoming residents.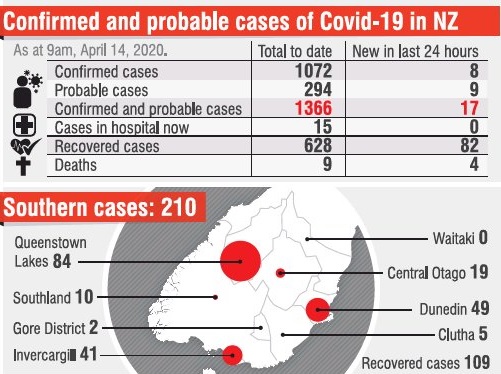 "No-one is surprised that as this evolves that the rules need to change," Mr Hendry said.
"As you learn things you change your rules. And we are still hopeful that there will be a change to the rules ... it's not a guarantee by any stretch that testing residents will prevent it [the novel coronavirus that causes Covid-19] coming in, but it's certainly another line of defence for us.
"The Aged Care Association is strongly against site visits for audits, because that's just another mechanism for the bubble to be broken basically ... "We're not saying that that's not appropriate, to check that everyone's doing the right things, but it shouldn't be done by sending teams of people on site to do that, because that just brings a whole bunch of inherent risks as well."
Otago Daily Times reporters spoke to rest-home providers across the South yesterday and found facilities had enacted a range of measures — including creating separate entrances for staff at different wards, temperature-testing of staff, staff being asked to sign disclosures that no-one in their household was symptomatic, and restricted visitor access from before the national lockdown — to keep residents and staff safe.
Ms Ardern warned yesterday this could be the country's most difficult week as New Zealanders saw success in terms of the number of new cases of the virus coming down, alongside an increase in the number of deaths.
In addition to the four deaths, there were 17 new cases nationally yesterday, as the number of cases in New Zealand increased to 1366.
But as the number of cases in the South inched one higher, to 210 — with one new case in the Queenstown-Lakes district (now up to 84 cases) — Ministry of Health figures show of the 210 people who have contracted the virus in the South, only seven — three women and four men — fall into the 70-plus age bracket.
The Southern District Health Board announced 109 people had recovered from the disease in the Southern region.
There were about 3000 people in 65 aged residential care facilities in the South and the health board had "significantly increased support and communications in recent months".
Roadshows in March were bolstered by bi-weekly online meetings to provide up-to-date advice from the ministry and the Health Quality & Safety Commission.
"More site visits are planned for this week and next, some will be face to face while many will be by video conferencing," a statement last night said.
The latest director-general of health request for the "readiness status of each facility" was not unexpected and would be built into current checks and reporting.
"A self-audit tool will be sent to every facility soon and we expect the results to reflect the high standard of care and preparedness we have observed to date."
Yesterday, the Bluff wedding cluster remained at 86, with no new cases.
There were 15 people in hospital, including three people in ICU – one each in Middlemore, North Shore and Dunedin Hospitals where the patient remained in a critical condition.
From yesterday, "suspect case definition" was changed and now any acute respiratory infection with at least one of the following symptoms: cough, sore throat, shortness of breath, head cold (runny nose, sneezing, post-nasal drip) or loss of sense of smell with or without fever should be tested.