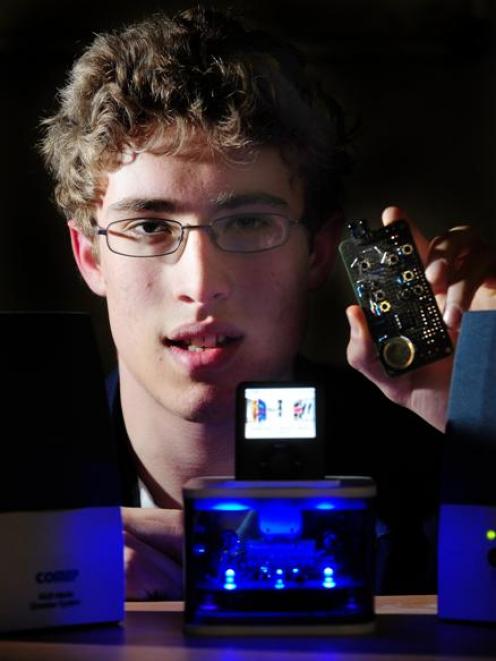 When electronic technology fails to keep pace with the needs and pockets of modern-day teenagers like Ben Mulholland, frustration sets in, and he builds his own equipment.
The 16-year-old Taieri College pupil spent the past seven months creating his own iPod Super Dock - a remote-controlled gadget about the size of a coffee cup which allows him to connect his iPod to large sound systems or computers - all because there was no affordable equivalent in electronics stores.
He began building the Super Dock in his garage, little knowing that his "project of personal need" would win him first-equal place in the 2008 New Zealand Bright Sparks HiTech Competition.
While he was pleased with the achievement, the Super Dock was nothing more than a means to an end, he said.
"I wanted something that I could hook up to a sound system, have a remote control, and look cool.
"I wanted it to leave a small footprint - something that could sit on my bookcase and not take up too much room.
"The only products which had some of my requirements were all over-priced. So I built my own."
The dock cost about $110 to make, but after completing the prototype, Ben believed it could be built for $40-$50.
The panel of independent industry judges for the competition said Ben's invention was "a complex, full design-and-build project" and, because it was cheap and simple to use, had good commercial potential.
Ben was confident his Super Dock would one day be developed for commercial production.
However, his school studies would take higher priority in the meantime, he said.
"NCEA level 1 has to take precedence at this stage."
ETITO Bright Sparks manager Ross Petersen said the quality of entries in the competition continued to rise because young inventors like Ben demonstrated "dogged problem-solving skills" and highly effective approach to project management.
"He developed the systems that made up the project in parallel with each other, just as a team of engineers might do in the hi-tech industry.
"Although Ben already had software skills, his knowledge of electronics has grown during the project from practically nothing at the beginning."
This year's Bright Sparks Awards will be held on November 7 at the Christchurch Convention Centre, and will be an opportunity for Ben and other competitors to display their talents and connect with key members of the technology industry.