Otago University student Hannah Morgan has succeeded in her bid to swim across the treacherous waters of Foveaux Strait to raise awareness about mental health.
The student from Southland started her swim from Stewart Island at 6.20am today and completed the swim shortly after 3pm. A webtracker showed an unofficial time of 8 hours 53 minutes for the roughly 32km crossing. 
The "Swim Strait for Life" Facebook page listed a time of 8 hours 46 minutes.
Hannah's mother, who was waiting at the Bluff ferry terminal, said she had witnessed her daughter run up the beach.
"I thought she would be crawling."
Mrs Morgan said she followed her daughter's progress for the last hour aboard the accompanying coast guard boat.
She praised the support crew, and said she had been informed that during the swim that her daughter's progress had been followed online by some 5,200 people.
Hannah, a former James Hargest College pupil and a national swimming champion, made the solo swim from Stewart Island to Bluff in a bid to raise funds for the Mental Health Foundation and Otago University Students' Association.
The Givealittle page set up for the swim showed around 4pm that more than $21,000 had been raised. 
According to the "Swim Strait for Life" Facebook page, Morgan was being fed " a mixture of Replace and Leppin, or flat Coke and Element which is a potato starch carbohydrate" mixed with hot water to keep her body temperature at a stable level.
The 21-year-old Otago University law and politics student was driven to raise awareness about mental health after a good friend of hers died two years ago as a result of mental health issues, she said.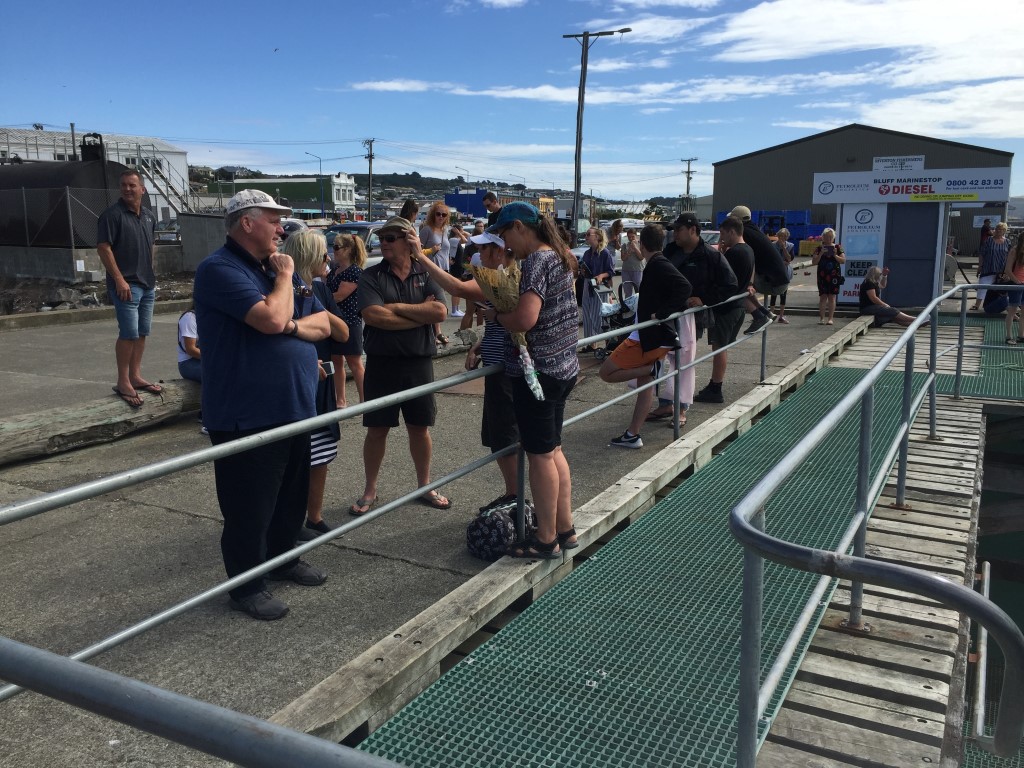 "When I originally came to uni I was absolutely taken aback by how many people were struggling with mental health issues."
Oreti Lifesaving Club members and her swim coach Lisa Pankhurst manned an Inflatable Rescue Boat and travelled alongside her.
A second boat skippered by Peter Leask had two paramedics and her "cheering squad" on board, and two swimmers who were to alternate swimming with her for company.
To date, eight swimmers have conquered Foveaux Strait.
Chloe Harris set the record in 2016, making the estimated 30km crossing in eight and a-half hours.
Hannah told the Southland Express earlier this week she was not focused on breaking the record, but rather completing the swim within 11 hours.
"Any longer than that and I think I will be getting pretty cold."
John van Leeuwen was the first person to cross the strait in 1963 in a time of 13 hours, 36 minutes. It took him two attempts. On his first attempt on January 16, 1963, he had been swimming for 10 hours, 45 minutes and was within a kilometre of Stewart Island when he was forced to stop. 
Need help?
Counselling: 1737 NEED TO TALK? Call or text 1737
Healthline: 0800 611 116
Lifeline Aotearoa: 0800 543 354
Suicide Crisis Helpline: 0508 828 865 (0508 TAUTOKO)
Samaritans: 0800 726 666
Alcohol Drug Helpline: 0800 787 797
General mental health inquiries: 0800 443 366
The Depression Helpline: 0800 111 757
Youthline: 0800 376 633, txt 234 or talk@youthline.co.nz
What's Up (for 5-18 year olds; 1pm-11pm): 0800 942 8787
Kidsline (aimed at children up to age 14; 4pm-6pm weekdays): 0800 54 37
54 (0800 kidsline)
- by Petrina Wright and Giordano Stolley