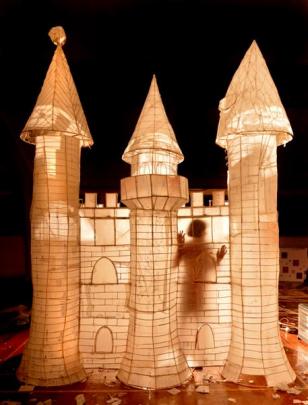 Rachel Blackburn smooths the covering of a castle-inspired lantern that will be part of tonight's Dunedin Midwinter Carnival.
The largest lanterns in the event's history will be on show tonight.
Artistic director Juliet Novena Sorrel said that the two new artists - Motoko Kikkawa and Ali Bramwell - hired to make the lanterns this year had put in days of ''painstaking'' work to make the lanterns.
It was an ambitious project for the two artists, who had never made giant lanterns before.
''We are really lucky to have these great artists ... they have just come up with such beautiful images,'' she said''Everything is handmade and it is very painstaking.''