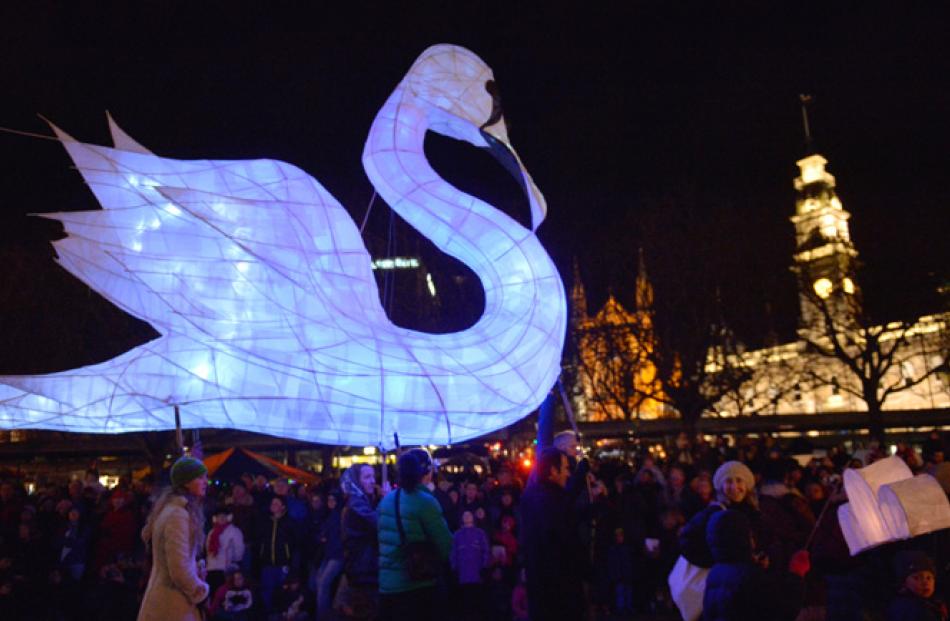 A surprise swirling wind stopped fireworks soaring on Saturday but the Dunedin Midwinter Carnival attracted a large crowd.
Carnival spokeswoman Lena Plaksina said about 10,000 people watched the carnival.
''It was absolutely packed. There was no place for an apple to fall.''
Another 1000 people, including 125 performers, marched around the Octagon anti-clockwise twice.
When the wind picked up, the organisers were ''terrified'' for the performers, she said.
As the performers walked up Stuart St, a swirling wind gusted towards the Dunedin Railway Station and caught the layered dress of Little Bo Peep on stilts.
The crowd and her surrounding flock gasped as she made large steadying steps, balancing with her shepherd's crook.
The wind ripped two enormous eyeball lanterns that were forced to retire before the first circuit.
The wind settled and children on kerbs cocooned in woollen blankets watched wide-eyed as dark mystical creatures crawled.
Event manager Paul Smith helped steady the giant castle lantern and cursed the unpredicted wind as he made the final call to cancel the fireworks display from the Civic Centre.
The announcement made the crowd groan with disappointment, but the halt to the fireworks could not stop most walking away enchanted.
Peta Ericsson (8) said her favourite part of the carnival was the large unicorn flanked by beautiful fairies.
Her brother, Glenn Ericsson (6), said the highlights of the parade included the large scary spider and high-fiving monkey.
Their mother, Pene Williams, said the cancellation of the fireworks was understandable for safety reasons and hoped twice as many fireworks would illuminate the winter sky next year.