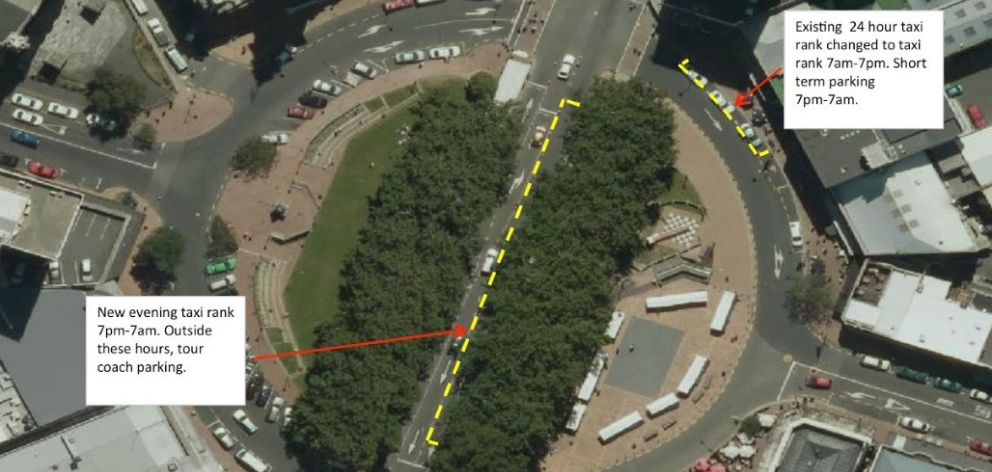 Change is afoot for Dunedin's night-time taxi users as a rank is trialled in the centre of the Octagon starting  this week.
The Dunedin City Council today announced a trial of an evening taxi rank operating from the central lane of the Octagon, where tour bus parking has been provided.  
The taxi rank will move from outside the Municipal Chambers and Civic Centre for the trial, which starts tomorrow.
The rank will operate from 7pm to 7am. During the day, the taxi rank will operate from the current location. 
DCC Acting Group Manager Transport Richard Saunders says the covered walkway will provide shelter for people waiting for taxis.
He said there would also be a sign to show where the taxi stand is, in an area which is monitored by CCTV.
"This proposal has been discussed with taxi companies, local businesses and the police, and there is a lot of support for the trial,'' he said.
"The trial site has several advantages over the current site and we expect it to be popular with the public too."
DCC staff have talked with the mobile traders who use that space during the day and the trial will not affect their use of the area.
Mr Saunders says at the end of the trial, staff will discuss the results with taxi companies, police and local businesses before deciding whether to make it a permanent move.