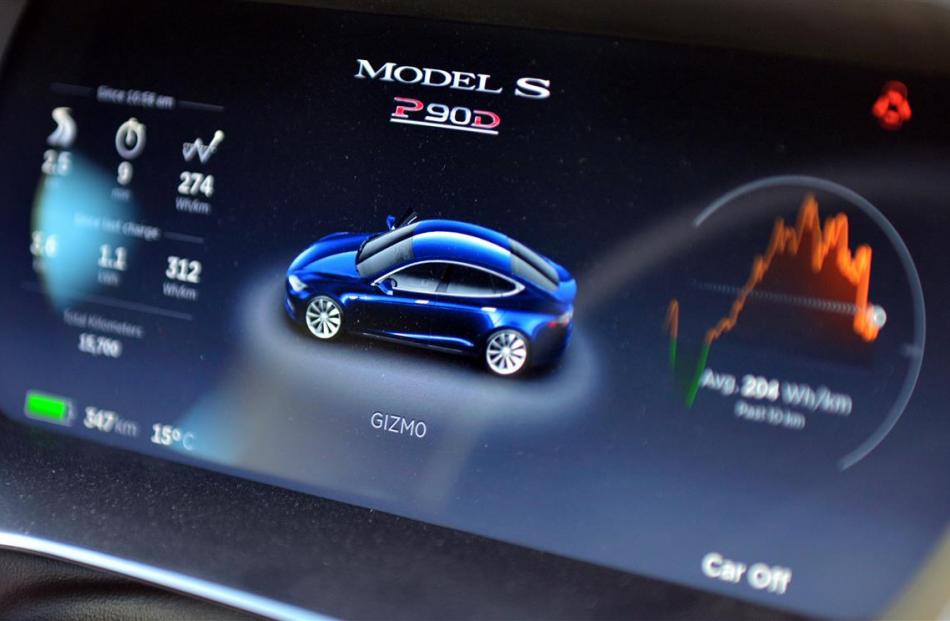 I only have one issue.
If a supercar is accelerating from zero to 100kmh in less than 3 seconds, you typically expect to hear a highly tuned V8 or V12 engine trying to make your ears bleed.
But the Tesla S P90D electric supercar makes the white-knuckle advance with little more than a dull whistle.
Having said that, many people around the globe will now be screaming at me: "Ya better get used to it Johnny - this is the future''.
Granted, if this is the future, there is little else to complain about.
A Tesla was among a group of electric cars which visited the Octagon yesterday, as part of the Leading The Charge nationwide tour, promoting electric vehicles for the sake of the environment.
We were taken for a drive in the supercar around Dunedin, and petrol-head or not, you can't help but be impressed.
I kid you not, my sunglasses actually flew off my head when the car's owner, Sean Dick, floored the accelerator.
It was violent.
The American-built car has two electric motors - one in the front producing 193kW and one in the rear producing 375kW - which digitally and independently control the 967Nm of torque to the front and rear wheels.
"The result,'' the designers say, "is unparalleled traction control in all conditions''.
Conventional all-wheel-drive cars employ complex mechanical linkages to distribute power from a single engine to all four wheels, which in essence, sacrifices efficiency in favour of all-weather traction.
In contrast, Tesla S motors are lighter, smaller and more efficient than those of their rear-wheel-drive counterparts, providing both improved range and faster acceleration.
That is, it will go from zero to 100kmh in less than 3 seconds; it has a top speed of 250kmh; and under optimum road and atmospheric conditions it will travel up to 520km on a single charge.
Perhaps one of the most futuristic things about this car is that it has an "autopilot'' function.
It won't drive you to work while you drink your coffee and read the morning paper, but it will steer itself within a lane, change lanes with the simple tap of a turn signal, and manage speed by using active traffic-aware cruise control.
Digital control of motors, brakes, and steering helps avoid collisions from the front and sides, and prevents the car from wandering off the road.
The autopilot function also enables the car to scan for a parking space and parallel park on command.
And because the car is fully computerised, owners can download free software updates to improve its performance.
One mind-boggling update to be released soon is a "summon'' feature which lets you call your car from your phone so it can greet you at the front door in the morning.
I wouldn't be surprised if future updates also teach the car to bring the newspaper and hot coffee to the door for you.
Apart from the sound of a high-performance engine, nothing seems to be missing in the $220,000 car.
There's still plenty of power to run all the mod-cons found in most other late-model cars, like daytime running lights, automatic high/low beam headlights, parking camera and sensors, a 17-inch capacitive touch-screen with digital instrument cluster, onboard maps and navigation with free updates for seven years, automatic keyless entry, WiFi and internet connectivity, mobile app remote control, voice-activated controls - the list goes on.
The big question is, how long does it take to recharge?
Answer: Between 40 minutes and 75 minutes - about the right amount of time to stop and enjoy another coffee and a doughnut.
● Reuters reported yesterday Tesla Motors had received almost 400,000 orders for its latest car, the model 3 sedan, according to its CEO.
"We are now almost at 400,000 orders for the model 3,'' Elon Musk told a conference held in the Norwegian capital, Oslo.
He said interest in the model had "surprised even us''.
On April 7, the Palo Alto, California company had said it had received more than 325,000 reservations for the model 3.