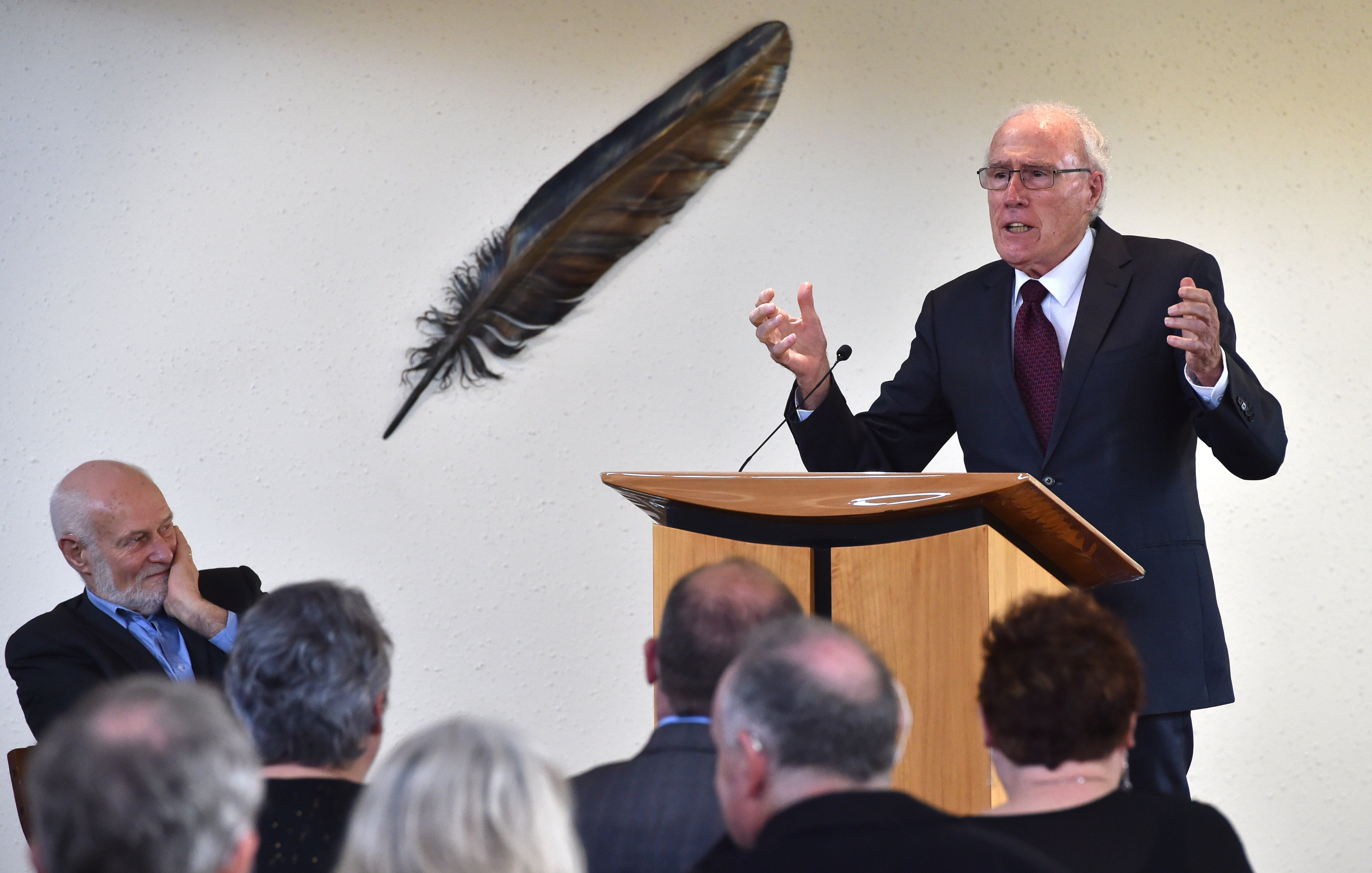 Former cabinet minister and Dunedin North Labour MP Stan Rodger was remembered yesterday as a dedicated constituency MP with an insatiable appetite for hard work.
Mr Rodger, who died on May 29 aged 82, was a meticulous planner and had organised almost every detail of his service years before.
Speakers included Speaker Trevor Mallard, former prime minister Sir Geoffrey Palmer and Mr Rodger's successor as Dunedin North MP, Pete Hodgson, who called the memorial "a celebration of a great man's good life".
Mr Mallard said Mr Rodger had been a mentor of his for 38 years, and as recently as Budget day, May 19, had called him to offer advice.
"He called irregularly but frequently and his calls were substantive, they were long and they were always wise."
Sir Geoffrey said Mr Rodger was often underestimated, but not by the colleagues with whom he worked.
"He was a formidable opposition whip and knew the Labour Party like the back of [his] hand ... and no-one else in the cabinet understood the public service like he did.
"He knew where all the bodies were buried and what levers you had to work," Sir Geoffrey said.
Mr Rodger's former press secretary, Debbie Hannan, said her old boss ran an office which embraced family, despite the term "workplace culture" not as yet being in vogue.
She also highlighted the lengths to which Mr Rodger would go to help a constituent, notably a woman who was convinced she was under surveillance by the Security Intelligence Service.
"Stan placated her by saying he would write to the minister in charge, Rob Muldoon, but he couched the letter in such a way that Rob Muldoon would understand what was happening.
"Sure enough Muldoon replied, personally assuring her that there was no such surveillance of her personally, or her home. The woman was very happy to receive the letter and Stan never heard from her again."
Mr Rodger, a former senior figure in the Public Service Association, was MP for Dunedin North from 1978 to 1990, and served as a cabinet minister under David Lange and Sir Geoffrey.
After deciding to leave politics under his own terms, Mr Rodger worked for the University of Otago for several years, and also served on the boards of several companies, government organisations and local charities.
Fellow trustee Geoff Thomas and University of Otago deputy vice-chancellor research and enterprise Richard Blaikie both paid tribute to Mr Rodger's dedication as a board member and dedication to serving the community.
Daughter Gillian said life as a politician's child meant her father went to work before she was awake and did not come home until after she had gone to sleep.
"As a teenager I went through a 'Dad can do nothing right' phase ... At about 17, I popped out the other side and saw what many people have said in the lovely cards that we have been sent: that my father had a great sense of humour."
Son Craig said his father had a full and complex life, and took on his many work roles with the aim of making New Zealand a better place.
"He also had a strong love for Dunedin and many of his roles reflected a desire to make the city a better place for its people."