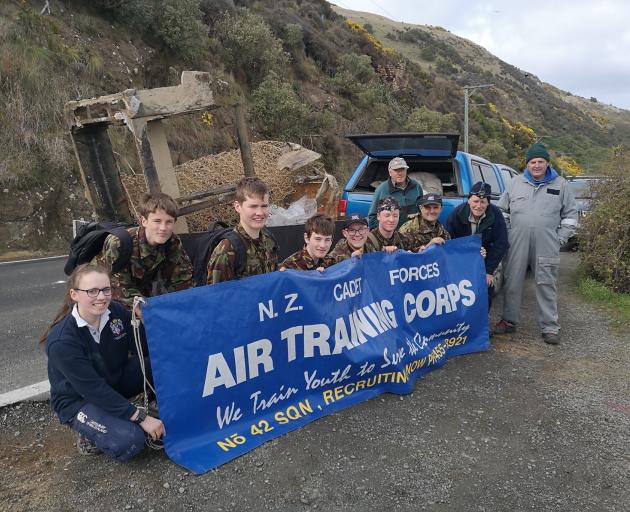 The first steps have been taken towards restoring the historic Harington Point gun emplacements on Otago Peninsula.
Led by Southern Heritage Trust military historian Peter Trevathan, a group of about 20 people, including cadets from the No 42 (City of Dunedin) Squadron Air Training Corps, community volunteers, and Peninsula Community Board chairman Paul Pope, cleaned up the site last weekend.
They hauled away rubbish including two 44-gallon drums and many spray paint cans.
Keep Dunedin Beautiful co-ordinator Allison Wallace said the clean-up was "the first step towards creating greater public access and interpretation for the Harington Point Battery site''.
"This is the first physical work to gradually recover the many interesting and historic military features of the battery.''
A working group was set up last year to work with iwi and look at a long-term management plan for the historic site, which is on private land.
The group is made up of representatives from the DCC, Heritage New Zealand, the Otago Peninsula Community Board and the Southern Heritage Trust.
The project received $1100 in funding from the Peninsula Community Board.
The eventual aim is to provide site interpretation to help visitors understand the heritage of the battery site from its Maori origins through to its European military development.
Military historian Peter Trevathan said the Harington Point Battery was an important historic site, dating back to the 1890s.
"It was one of the last Russian scare batteries constructed in Dunedin, due to the threat of a Russian invasion,''he said.
Mr Trevathan was keen to make contact with anyone with family members who served at Harington Pt, Tomahawk, and Lawyers Head, to help build up a picture of Dunedin's coastal defences from the 1890s to World War 2.
BRENDA.HARWOOD @thestar.co.nz