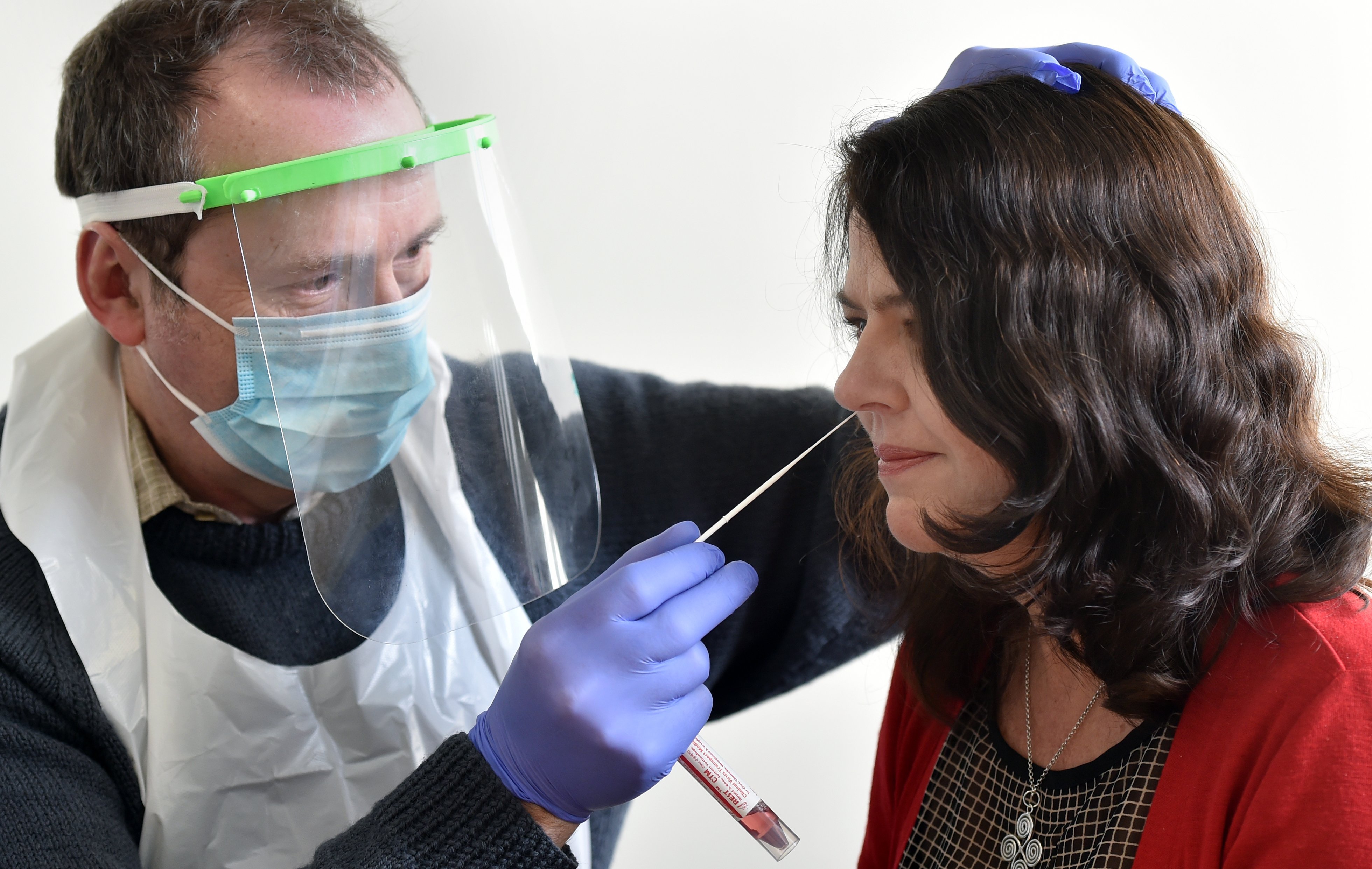 Covid-19 has, to date, been a success story for the southern health system, but it could have been much, much worse. Mike Houlahan talks to local health officials about the scale of the challenge Covid-19 posed them.
Joyce Finlayson was tired and had developed a cough.Roy Rose thought he had a mild dose of the flu.
Health worker Mrs B felt fatigued and lost her appetite, before she, too, started coughing.
They are just three of the 216 reported southern cases of Covid-19, although health officials believe there could have been more cases which fizzled out undetected after New Zealanders discovered on March 26 that they had such a thing as a protective bubble and retreated into it.
The global pandemic arrived in the South swiftly and, thanks to heroic efforts from the region's health workforce, was reined in within weeks, but not without the loss of two lives.
the past nine months, life has been relatively normal in Otago and Southland, but a global death toll still galloping grimly forward at a rate of more than 10,000 a day is a stark reminder of how the region's Covid-19 story could have played out very differently.
Between March 28-30, the South recorded 34 new cases and a nurse at Lakes District Hospital also tested positive for Covid-19.
But, somehow, just as Covid-19 looked like it was out of control, southern case numbers started to fall and the region - formerly with the most cases per capita in New Zealand - dropped back down from that desperate, unwanted position of prominence.
Covid-19 first appeared in the southern region after a crew member on a visiting Danish TV show fell ill in Queenstown in early March.
While that caused understandable concern, health officials really had to increase their Covid-19 preparations a week later, after a pupil at Logan Park High School tested positive.
Just that morning, primary health organisation WellSouth was training Covid-19 testers; by the afternoon, they were doing it for real.
"We knew internally that we were going to have to do some of this stuff and likely very soon," WellSouth medical director Stephen Graham said.
"When we got the call, we didn't have to be psychologically convinced of it. We were able to move quickly and, perhaps fortuitously, we already had a whole lot of people ready to go."
After a host of negative tests, anxiety levels dropped slightly, only to rise again a few days later, as people who had attended the World Hereford Conference started to fall ill.
Hard on their heels, people who had attended a wedding in Bluff also began to become seriously unwell.
Emotions are still running high about the Hereford conference: "I've had a bloody gutsful of coronavirus, if I'm honest with you," one conference attendee said when approached.
Conference organisers Scott and Bea Bellingham, whose event management company was an early economic casualty of the pandemic, declined to comment.
NZ Hereford Association president Colin Corney, likewise, said the event was "behind us now and it's time to move forward".
For some, however, moving on is not so simple.
Betty and Manoli Tzanoudakis followed all the rules at the time when they married, but still had to deal with the fact so many people contracted Covid-19 at their wedding - including Mr Tzanoudakis' father, who later died.
The couple blamed the virus, an attribution health officials have consistently agreed with, stressing that no-one invites Covid-19 into their lives.
In just a few short days in mid-March, the number of cases in Southern doubled then doubled again.
On March 26 — the day New Zealand moved to Alert Level 4 - 22 new cases were identified in the region.
"For a while there, we were going absolutely full tilt," Southern District Health Board medical officer of health Susan Jack said.
"Many people probably felt that [it was getting out of control] but that was absolutely one thing that I was determined would not happen ... we knew what the consequences would be if we did not get on top of it, so we threw all our energy and resources into it."
In earlier pandemic planning meetings, SDHB chief medical officer Nigel Millar had made several gloomy predictions, and they appeared to be coming true.
"We were staring down the barrel, and I was quite overt about it," Dr Millar said.
"Then people sprang into action and we did a great job, so it all looks like it was unnecessary and it would be very easy to be dismissive.
"But, to be honest, if people think about it and see what they see on the TV from wherever in the world, I think that most people realise, just like the song, that you don't know how lucky you are.
"If we had known at the start that we were going to have 216 cases in Southern, we would have thought 'Oh my God', but we managed it, and that was through the efforts of public health who established contact tracing, community testing and things like that, which was an extraordinary piece of work."
Dr Jack's determination that the South would not be swamped by Covid-19 was transmitted to the region's health workers, who worked tirelessly to make that a reality.
"Our staff really were outstanding in their commitment and effort to make sure that Covid did not get out of control," she said.
"People worked extremely long hours, many days in a row, to keep the response going, and we were learning about it as we went, with guidelines changing frequently."
Dr Graham said one of the unsung stories of the pandemic was how efficient IT support had been for health workers, who needed, and were able to get, easy access to information in the field.
"That meant we could monitor test rates and increase resources where needed.
"It could have gone very pear-shaped ... but our community across Otago and Southland was very good at going along with the lockdown."
Dr Millar agreed, recalling an Alert Level 4 drive to Invercargill when he did not see a single car on the road.
"The lockdown was strict, as it should have it been, and it was a game-breaker."
Alert Level 4 was the key to Covid-19 not spreading further than it did, Dr Jack said.
"Before lockdown, some of our early cases had huge numbers of contacts, like the Logan Park pupil had 150, others had 90, often it was 20-30 close contacts.
"Post lockdown it was usually just the household, which made a huge difference for our contact tracing ability."
The South has not seen a new case of Covid-19 since April 18, and the first doses of the long-awaited coronavirus vaccine are about to arrive in the region.
Dr Graham expects few issues with the vaccine roll-out and says southern medical centres and staff are well-prepared to begin inoculating people.
That optimism comes tinged with a word of warning ,though, especially timely given the weekend's shift in alert levels.
"Covid-19 is not finished. It's very easy for us to think that it's finished, but it's not."