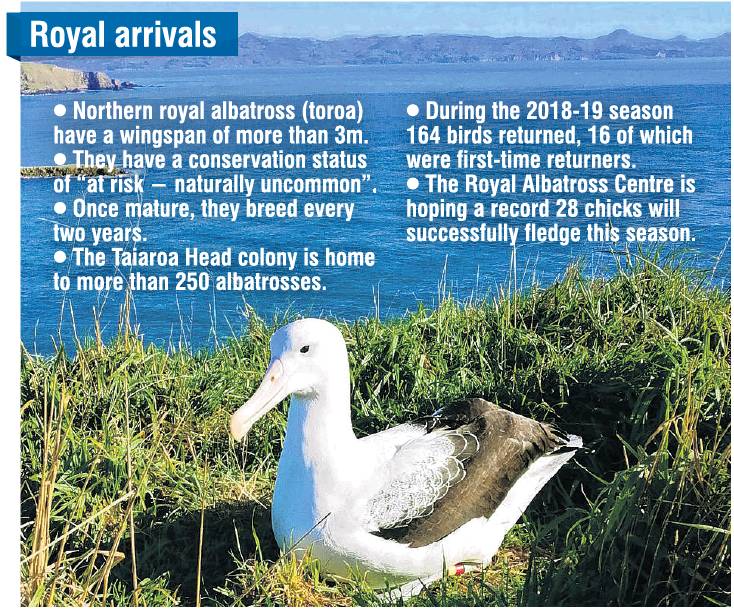 Beach cleaning will accompany bell ringing to welcome albatross returning to Dunedin this year as Taiaroa Head's webcam chick regurgitates human rubbish.
An 8-year-old male who hatched during the 2010-11 season, identified by his lime, red and yellow tags, was the season's first arrival when it landed at the colony on Sunday.
Otago Peninsula Trust marketing manager Sophie Barker said the bird was "very keen for love''.
"The female that he's been keeping company with will arrive soon and hopefully they will breed this year.''
Last year, 164 birds returned and another big season was expected, she said.
"We're expecting the failed breeders from last season to show up.''
Today, churches and schools - not only in Dunedin but also internationally - will continue the tradition of ringing bells to welcome the arrival of the birds.
A "welcome back'' flag will fly outside Dunedin Mayor Dave Cull's office, and fans are encouraged to set bell chimes on their mobile phones to ring at 1pm.
"Around the world, people send in videos ringing their bells. Some of them are crying.''
This year, the trust is also encouraging people to pick up rubbish to "do their thing'' for the species.
The problem of litter was highlighted last week before Royal Webcam chick Karere took flight.
The birds vomit a clump of food and saliva called a bolus to make themselves lighter before taking off.
It usually contains squid beaks, but Karere had swallowed a plastic bottle cap fed to her by her parents.
"It's really heartbreaking, so we're encouraging people to get out there and do a bit of a beach clean-up and pick up their rubbish.''
Department of Conservation ranger Jim Watts said the colony recently farewelled the first chick to fledge from the headland this season, wishing it well for the next 4 to 10 years at sea.
"It's an exciting time of year for the staff at Pukekura/Taiaroa Head as one season comes to an end and the new season kicks off.''