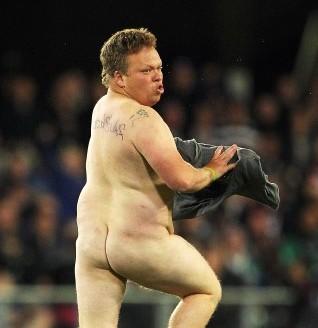 A 25-year-old Cobden man will appear in the Dunedin District Court this week for disorderly behaviour after streaking the length of the field during the Kiwis v England rugby league test in the city on Saturday night.
The red-headed, red-faced, red-cheeked streaker was set upon by security guards soon after running to score an imaginary try at Forsyth Barr Stadium.
The man jumped the fence during the altercation between New Zealand scrumhalf Kieran Foran and English fullback Sam Tomkins, with 12 minutes remaining in the match.
Dunedin police said apart from the exhibitionist, the crowd was well-behaved.