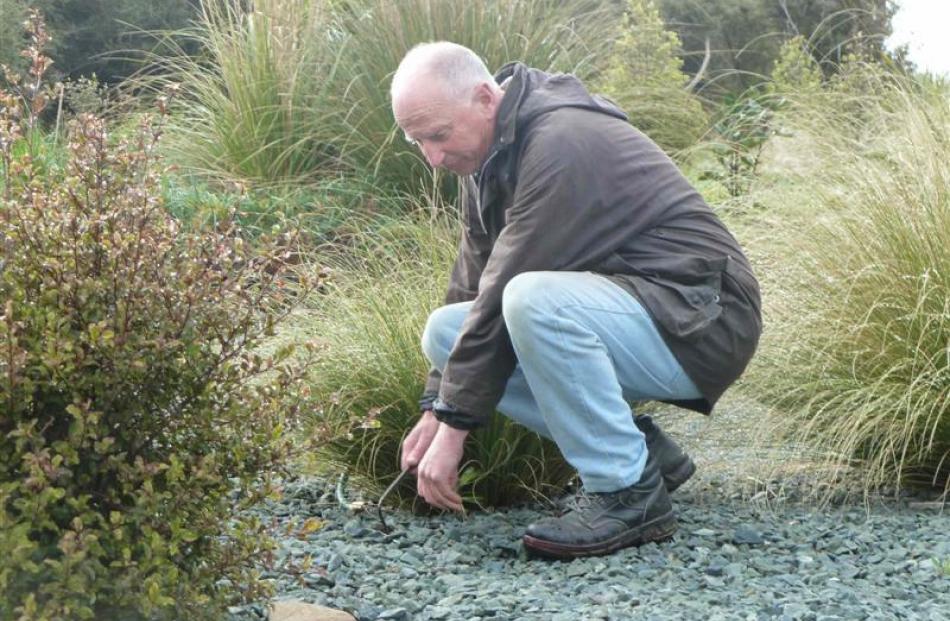 A sanctuary for wildlife, Orokonui Ecosanctuary is rapidly becoming a haven for our rare native plants too, writes Alyth Grant.
"What are those big daisies doing in our ecosanctuary? Don't they belong in Fiordland, or in the mountains?"
Well might a visitor ask, on seeing unexpected plants while walking along the Kaka track in search of birds. Fuchsia, five-finger, mahoe, lemonwood we know to expect in our region, but celmisias?
"Yes indeed, these ones, Celmisia hookeri, belong in East Otago," plant expert and Orokonui Ecosanctuary trustee Kelvin Lloyd said. He was keen that the park should be a place for plant advocacy as well as for birds and reptiles.
The rare plants garden sets out to showcase the special plants that have been lost from our environment, or struggle to survive due to competition from introduced species or the munchings of browsing stock.
You will find it on the left of the main path, soon after entering the ecosanctuary, and if you stop to read the labels you can learn just how rare each is in national terms. But here they are flourishing.
Getting rare plants established has taken a remarkable amount of teamwork. The trustees may have had the idea, but it is volunteers who have taken the task in hand, Lloyd says. He is full of praise for their efforts.
The "before" pictures show how unprepossessing the area was to begin with - a rough, rock-littered paddock with more gorse than anything native. The most promising thing was the view to the Silverpeaks, which now can be enjoyed from the inviting seat placed by the garden.
Graeme Cook answered the call for volunteers to take on responsibility for certain areas of the ecosanctuary. He carried out the heavy labour of creating a structure and shape to the garden.
First he built a rock wall to make a raised bed, then laid out paths around the designated area, installed an irrigation system, and finally back-filled with soil.
He and wife Judy have since taken on the responsibility of maintaining the garden, which will grow weeds like any other - but will offer surprises as well.
Valerie Fay, who has sourced seeds and propagated plants donated by helpful Dunedin botanists and organisations, was delighted recently to spot a native orchid (Gastrodia cunninghamii) that had unexpectedly popped up in the rare plants garden.
Fay keeps careful records of all the plants she has acquired - how many there were, where they have been planted, any failures, or restrictions on their propagation - in order to avoid accidental hybridisation.
In future, Orokonui may in its turn become a source for other restoration projects, and it is just as important to know the provenance of a plant as it is to know the pedigree of a bull for breeding.
From just two plants of Carex inopinata (a grassy mat sedge), Fay was given, she has successfully propagated 200 plants for Orokonui, and still has the originals from which to collect further seed.
It has all taken time, and change will continue as plants multiply and are added. Cook has already had to remove some kanuka that were getting too big, having performed their task of providing shelter for smaller plantings.
Many of the plants already look very much established.
The celmisias, for instance, have flowered most of the winter and have now set seed, as have the Euphorbia glauca - the latter almost to excess, says Fay, who constantly has her eye on seedlings she has nurtured.
Perhaps this summer the Gingidia, and the delicately intertwined branchlets of Olearia fragrantissima (to the left of the path round the garden) will flower for the first time. The fragrantissima is a more delicate, perfumed relative of the Olearia paniculata hedge you may have in your garden.
Keep your eye on them.
- Alyth Grant is a volunteer worker at Orokonui Ecosanctuary and a member of the ONHT Trustboard.
Wild Ways appears on the first Saturday on the month.