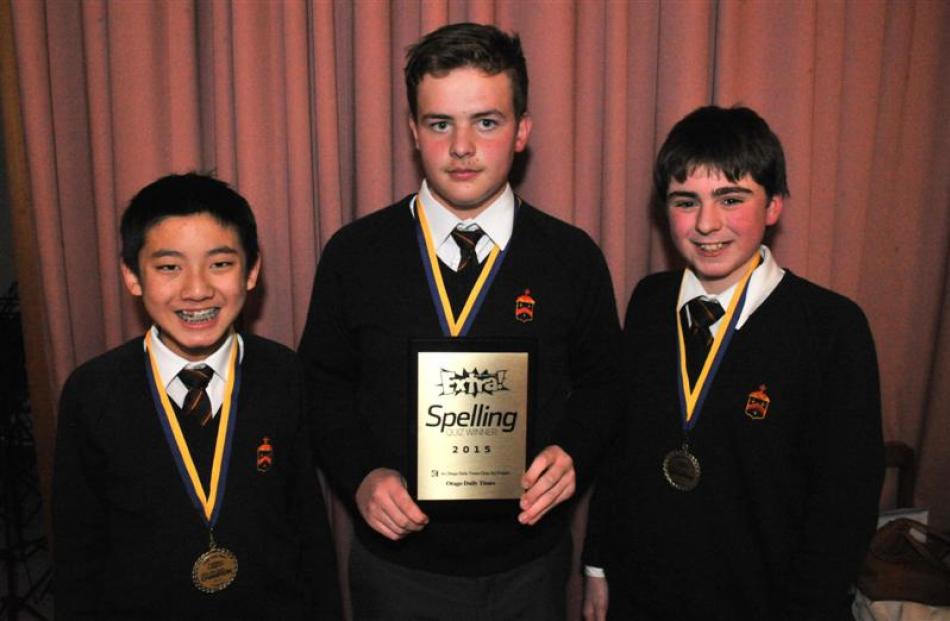 There is no substitute for reading if you want to be an ace speller.
That was the message from the winners of the years 9 and 10 Otago Daily Times Extra! Spelling Quiz held at Otago Girls' High School last night.
The quiz, which involved 58 teams from 12 Dunedin secondary schools, was won by John McGlashan College trio Jaiden Tucker, Alex Leckie-Zaharic and Boen Deng.
Alex, who was third in the national individual spelling competition in Wellington in October last year, said there was no secret to becoming a good speller.
''Just read lots,'' he said.
But that was not the only thing which had advanced Alex's spelling.
The self-confessed Scrabble addict spent many hours playing the game on his laptop, sometimes getting himself in trouble with teachers.
The investment had probably paid off now though, he said.
The team recorded 95 points out of 100 in the 10-round quiz, finishing ahead of teams from Columba College (92) and Bayfield High School (90).
The team won the event last year with a perfect score.
Quiz organiser Ivan Behrnes said last night's event was one of the biggest he had seen.
The years 5 and 6 and years 7 and 8 quizzes will be held at Tahuna Normal Intermediate School today.
Alex will attend the regional individual finals later this year after recording a perfect score in the Dunedin area quiz.
He planned to win this year.