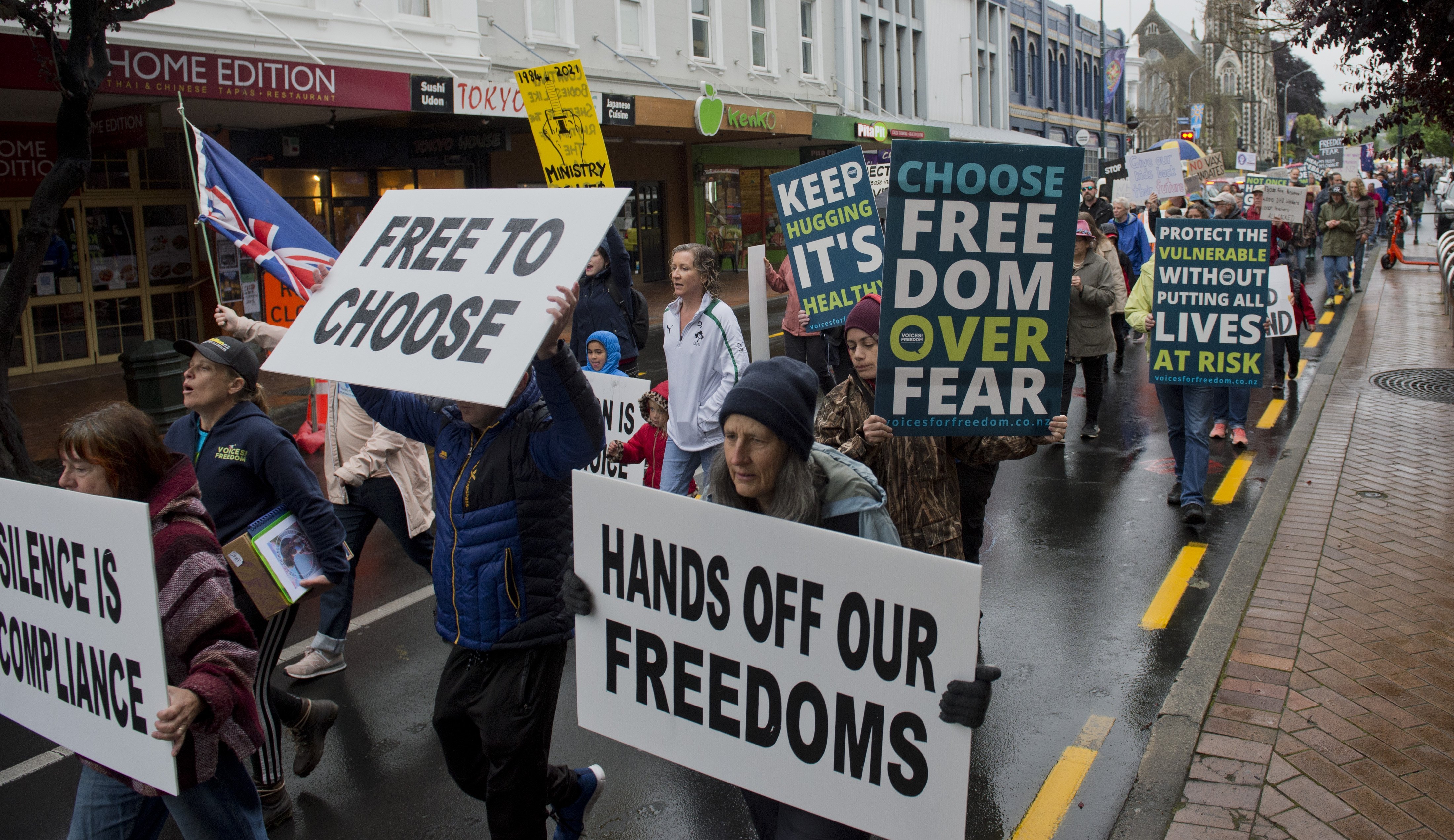 Vaccine mandates will come into effect today, amid nationwide protests and hundreds of new Covid-19 cases.
The Ministry of Health yesterday announced a record 207 cases, and the death of a woman in her 90s in North Shore Hospital.
The woman had various underlying health conditions, as well as Covid-19.
There were 175 cases on Saturday.
As the Delta outbreak continues to spread, with four new cases in Rotorua and Tararua announced yesterday, protesters around the country took to the streets to decry vaccination mandates.
As of today, teachers and other education staff, as well as those in the health and disability sectors, must have had at least one dose. They must be fully vaccinated by January 1.
When the new traffic light system starts, businesses will also be able to introduce mandates and require staff to be vaccinated.
Ministry data shows 92% of eligible people in the Southern District Health Board area have had their first vaccination and 82% their second dose.
In Dunedin, more than 260 people protesting vaccine mandates marched along George St to the Octagon on Saturday.
Event co-organiser Audrie Addison said they were a collective of like-minded people who were supporting those who would lose their jobs today as a result of the "no jab, no job" mandate.
"I'm supporting this because I don't like what the Government is doing to the people. We should have freedom of choice."
While some drivers tooted in support of the protesters, others shouted at them from their vehicles.
A passing pedestrian, who declined to be named, said he was concerned about the gathering.
"I think the vaccination is quite necessary for New Zealand going forward, especially for teachers and those working in health.
"There's a lot of fear of the vaccination, which is very unjust because if people actually look at the science, it's quite clear.
"It's definitely concerning having a large gathering like this at this time, especially the number of people not wearing masks. It's quite bad."
It would be even more concerning if protests continued if the virus arrived in Dunedin, he said.
A small protest was also held in Cromwell.
The Health Ministry says vaccination is a vital measure for reducing infection and transmission.
Multiple scientists and experts have verified and backed the safety and effectiveness of the Pfizer vaccine.