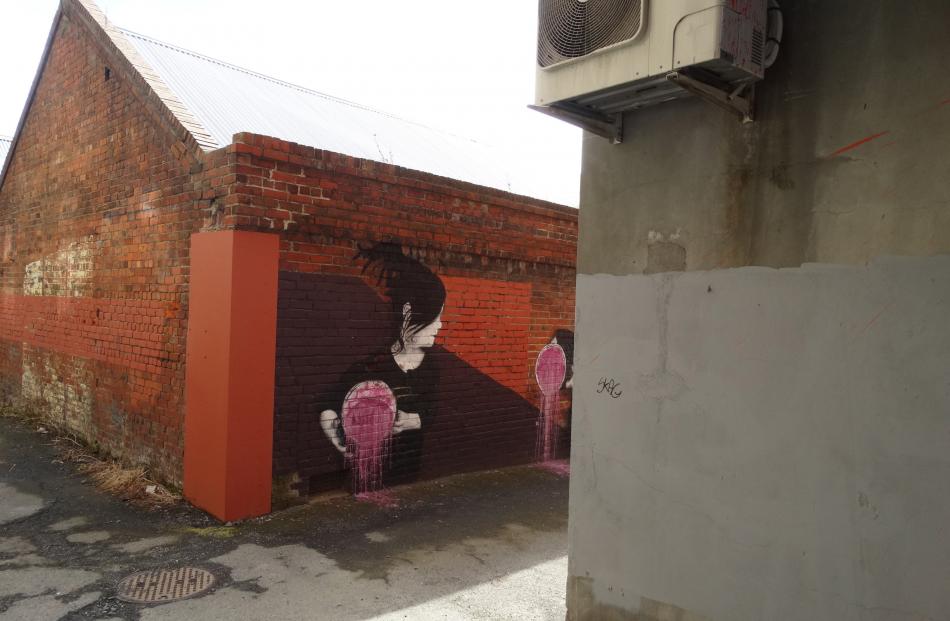 To paint or not to paint is the question.
Or rather, what to paint and what not to paint is the question.
We have recently had a flowering of new and often highly successful murals on city walls.
It really is very striking and I rejoice in it.
A close relation, who hasn't been in Dunedin for a while, visited last Monday. She drove, I directed.
We did a swift tour of some of the most visually striking.
She lived in Dunedin as a student and was both surprised and generally admiring.
She was rating them and I was generally in agreement.
James Dignan penned a short overview in last Thursday's ODT, and he, too, was pretty enthusiastic. (There was a misprint and the Belgian artist ROA's Ouroboros is actually in Bath St, near the Octagon, not Bank St, near the Botanic Garden.)
One has to say the recent crop, many by overseas artists, is a distinct improvement on much of what we had before.
It's also the case that the distinction between what may be dignified as street art and what is really just tagging can get a bit fine.
There are legal distinctions, too, because some work of aesthetic merit has not been consented and property owners have a right to be consulted.
All of that apart, while I welcome the new development I'd like to draw a line and say there are some building surfaces which should be left free, because their bare, textured surfaces are beautiful and inspiring just as they are.
To give you some examples I'll take you on a tour of some of our yards and alleys, built closed spaces which are magnificent as they stand.
It will have to be a mostly verbal tour because while these spaces deserve a photo essay, this column doesn't have scope for that.
So far as I know none of these spaces have names.
I am uncertain what their legal status is as between private and public but I have never had anyone tell me to clear off when diving around looking and enjoying.
Because they don't have names, I've made some up, for the purpose of reference.
There's a magnificent one I call Moray Yard which you get to by going down a steep tunnel off Moray Pl opposite the Rialto.
The sides of the tunnel are brick, long since painted and now adorned by some of the new murals.
One impressive one I think is by Phlegm.
Another shows Botticelli's Venus as an hermaphrodite and is less successful but amusing.
Beyond the tunnel is a closed space, open to the sky, surrounded by soaring walls of raw brick.
It is irregular and there are many intriguing views.
Some of the lower brick on the Princes Street side has been painted white - a pity.
But the great majority is unpainted and should stay that way.
Generally, I think walls already painted are fair game for murals, particularly if they are exposed to people going along the public streets.
Enclosed spaces formed wholly or largely of brick or stone are not good sites for murals because their texture and air of asperity would be spoiled by such treatment.
Another great space I call Carnegie Court is enclosed by the Carnegie Centre and the terrace houses in Stuart St and Moray Pl, the Forsyth Barr building and the Moray Pl car park building.
You can see into the space from the latter and it has grass and shrubs and a delightful vignette of St Paul's Cathedral.
Further round Moray Pl, there are spaces either side of Bracken Court (number 480) the first, nearer Princes St, I call Bracken Tunnel.
It mostly is a tunnel and there's graffiti on the brick which doesn't do it any favours.
The next I call Bracken Close and you enter it by an alley from Moray Pl between Bracken Court and Investment House.
The brickwork at the entrance to the basement of Bracken Court is so powerful it's simply amazing.
It would be a crime to paint any of the majestic masonry here in the alley or the open space beyond.
An old favourite of mine is nearby off Burlington St so I call it Burlington Yard.
To get to it you you go through a tunnel to access Milford House, formerly the Hallenstein factory.
The tunnel itself is great and the yard beyond is brilliant.
One feels it must be in Europe. Murals wouldn't improve it.
Off Police St, heading north between Princes and Bond is Nameless Lane, which is blocked by the Chipmunks building but has two side lanes off it.
The first has had a new mural which I think is not well placed.
It has merit but the pristine brick was better.
Peter Entwisle is a Dunedin curator, historian and writer.