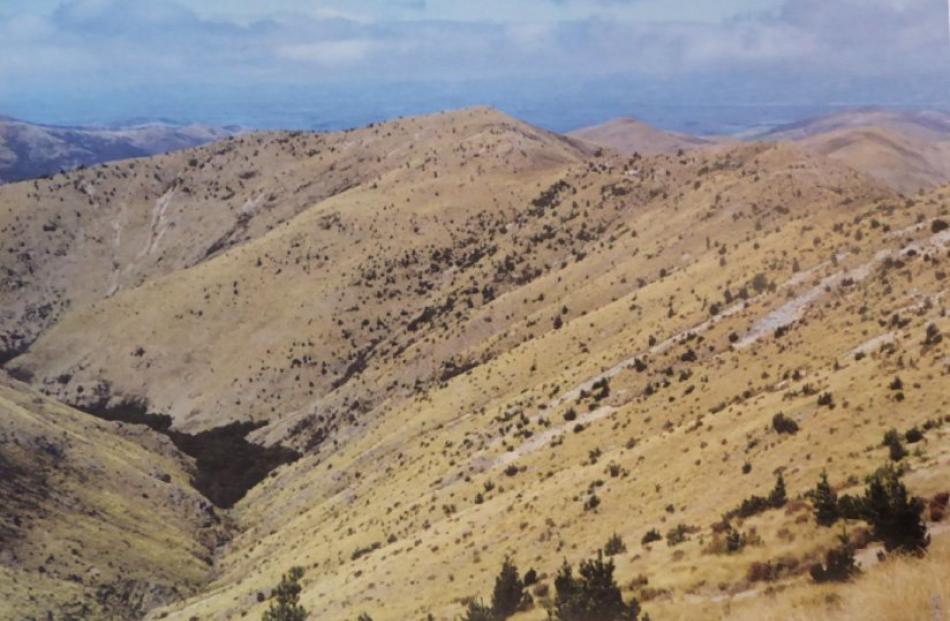 The failed attempt to plant Pinus contorta to stabilise erosion at Mid Dome is a case study on why we should not depend on pines to solve erosion issues, Richard Reeve writes.
As recent correspondence in this newspaper shows, after decades of neglect, wilding tree weeds are finally the hot topic they ought to be.
Proliferating widely, wilding conifers threaten to transform parts of Strath Taieri, Silverpeaks, Maungatua, the Lammermoor and Lammerlaw ranges, and the Kakanui, Hawkdun, Garvie, Old Man, Eyre and Hector mountains, among other uplands in Otago.
Left unchecked, in 15-30 years erstwhile sporadic outliers (isolated trees, perhaps located on an inaccessible slope or ridge) can disperse seed that will rapidly transform biodiverse indigenous-vegetation landscapes into tangled, non-productive, exotic monocultures.
Doubters of this thesis should consider the conifer-choked landscapes of Kawarau Gorge, Queenstown or Mid Dome, then apply the lesson to nearby at-risk areas such as the Kakanui mountains, Maungatua, Mihiwaka or Lake Onslow.
Pinus contorta, Pinus radiata and Pseudotsuga menzesii (Douglas fir), the usual suspects, are highly adaptive, resilient species, capable of withstanding drought and deep freeze alike.
Their seeds are dispersed by wind, water, animals and humans. Cut stumps sometimes regenerate from single remnant needles.
The winged seeds of Douglas fir can result in new trees surfacing many kilometres from the seed source. Contorta disperse in seedling clusters and groups of seedlings often emerge simultaneously from nearby seed sources.
In three to seven years, these 5cm-high seedlings mature into small trees. It is sometimes difficult or impossible to pin the responsibility for wilding trees on a specific party.
Seed sources for the wilding trees may be shelter belts, exotic forestry, homestead trees or even isolated firewood resources for remote huts. As the trees spread and grow, the conifer canopies overshadow the previous tussock, scrub or native bush cover.
This suffocated vegetation does not typically recover from the seed bed, even if the formed exotic forest is later felled.
While contorta appears in the Otago Regional Council Pest Management Strategy, the economic value of Pinus radiata and Douglas fir forestry makes any policy maker's decision to place those species alongside contorta in the PMS a difficult one.
Such a move would be politically contentious. Nevertheless, this is what is necessary. In a recent opinion piece (9.03.16), ex-All Black and retired geologist Peter Whiting, of Wanaka, has offered well-intentioned advice as to our need to accept that the landscape is ever-changing.
In his words: ''The best weapon we have in the battle against wilding 'weeds' is to bow to the knowledge that trees, not tussock, are the natural 'climax species' in these areas''.
Applying Mr Whiting's logic, perhaps we should also give up on the war in this country against mustelids, rodents, cats and marsupials, which are likewise ''natural 'climax species''' in a changing world.
Indeed, in the longer term, we might dismantle the Department of Conservation, redirecting human resources to climax activities like forestry and mining.
In Mr Whiting's words: ''public bodies are both wasting scarce resources and ultimately harming the environment through the destruction of some potentially beneficial tree species''.
In suggesting that we need to look at Douglas fir, the most noxious of tree weeds, as a potential wilding wood resource, Mr Whiting hopes for a practical solution in the face of the unpalatable fact that conservation is a giant struggle for diminishing gains.
Unfortunately, to date there has been no wood rush to support his aspiration. This is for the simple reason that planned forests have the infrastructure and site-specifics required to make forestry economic. Harvesting wilding trees is uneconomic.
As a now well-known 1980 study of paired catchments in the Waipori area showed, snow tussock is likely to be more water-productive than any other vegetation, including conifers.
Conversely, in that study, water production from the catchment in which the radiata forest had been planted declined over time and the rate of decline increased as the trees grew.
Not only do wilding conifers impact adversely on hydrology, both by sucking water out of the ground and by altering the existing water-shedding cover, they can also exacerbate erosion, depleting ground cover that hitherto held the topsoil of unstable slopes together.
The Government's failed attempt to plant contorta to stabilise erosion at Mid Dome is a case study on why we should not depend on pines to solve erosion issues.
Inevitably, Mr Whiting cites climate change as a further justification for allowing tree-weeds to take over the land.
In his words: ''Forests absorb CO2 and of course this helps mitigate global warming''.
In fact, the wilding-tree epidemic is just like man-made climate change. With their devastating ecological effects, both phenomena are entirely the result of our moral failure as a species to take responsibility for our actions.
Those of us who spend weekends on hilltops attending to tree weeds persist not because we are winning but due to a shared conviction that to do nothing is morally wrong. It is challenging, exasperating work.
Once the serious risk posed by single outliers is properly understood, it is impossible to think of lone pines on a hill in the same way again.
Challenging and exasperating, wilding-tree culling can also be rewarding and even fun. We urgently need it now as a national pastime.
●Richard Reeve is a Warrington poet, Forest and Bird Dunedin Branch co-chairman and its wilding tree subcommittee convener.