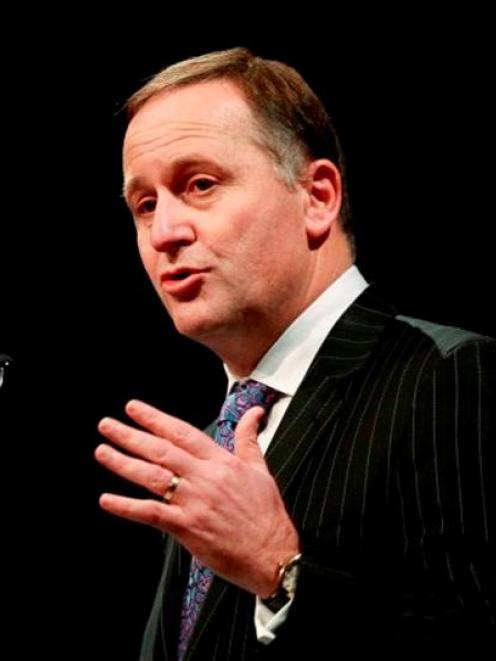 The instincts of Prime Minister John Key have to be respected on matters large and matters not so important - even if you disagree with him and his policies.
His comments this week about plans for a referendum on a new flag for New Zealand were Mr Key in his element.
The prime minister gave his views clearly - he favours a new flag and the silver fern on a black background - but left plenty of room for other opinions. Mr Key must be aware most polls actually favour retaining the current flag, although this does vary from survey to survey. Mr Key, however, mollifies opposition to his personal attitude by saying there would be consultation on possible new designs and then voters would have their say.
Mr Key also spikes the guns of much of the opposition by appearing ''modern'' and by saying the time was ripe for ''one more step in the evolution of modern New Zealand''. ''It's my belief, and I think one increasingly shared by many New Zealanders, that the design of the New Zealand flag symbolises a colonial and post-colonial era whose time has passed.'' This is coming from the supposed right-of-centre party and, in typical Key fashion, leaves parties to the left little scope to object or to move.
Mr Key had earlier hinted a referendum on the flag could be held in conjunction with the election later this year. Mindful that he would be criticised, with justification, for focusing on the relatively trivial and for rushing the issue, he cleverly pushed the discussion into next year and beyond.
Yet, the flag debate will take up lots of energy whenever it takes place. Just imagine the process of trying to sort all the designs the public and the vexillologists will submit. Consider, as well, the debate about whether black is too grim or whether the silver fern looks too much like a white feather. Then would come the selection of the finalists and how they would be compared with the status quo. Some sort of preferential voting system could well be needed.
There are also Maori issues and possible Maori objections. While a flag for all New Zealanders should not be overtly nationalistic Maori (although the incorporation of a koru design might be an option), Maori interests are likely to have as wide a range of views as non-Maori. There might also be, given the Treaty of Waitangi, a determination to retain the conspicuous link with the Crown as displayed in the Union Jack in the present flag.
It seems, too, Mr Key, often so dismissive of referendums and their results, is happy to change his views on their efficacy when it suits.
Whenever the flag debate is held, it is likely to be a massive distraction from fundamental issues facing the nation. One has to wonder what will be achieved by the whole process.
Bell tolls for factory
Perhaps staff saw it coming in their tea leaves. Perhaps there was a sense of inevitability. Whatever the reasons, the decision by New Zealand's oldest tea company, Bell Tea, to shut its Dunedin factory next month is sad.
Bell has been producing tea in Dunedin since 1898, and at its present site in the city since 1924.
It has 10 Dunedin staff, compared with 180 at its East Tamaki factory in Auckland.
This must have played a major part in the company's thinking, although we are told earthquake strengthening and other required work in Dunedin would cost the company more than $1 million and therefore carrying on in the city was no longer viable.
The decision is undoubtedly another blow to the city's workforce. Whatever the hopes for high-tech jobs, every factory job is extremely valuable, including those at Bell Tea, and every slice of job diversity is to be treasured.
In this instance, lost, too, will be another link to Dunedin's glory days as the industrial centre of New Zealand.
And what will happen to the distinctive grand building? The full impact of post Christchurch earthquake standards and sensitivities will be felt more and more in the years ahead.