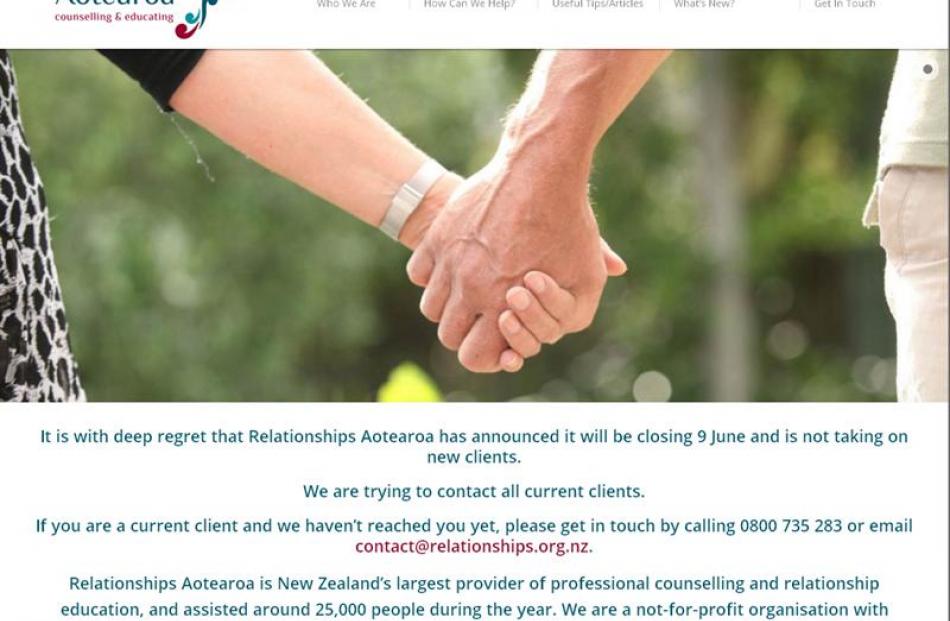 Marianne Quinn, of Dunedin, describes the decisions that led to the closure of Relationships Aotearoa as reflecting a ''careless disregard of human distress''.
Relationships Aotearoa, formerly Marriage Guidance, was mainly funded to provide counselling for couples in distress.
For a long time, its staff were volunteers.
Three years ago, the Government withdrew funding that had been available via the Family Court for six sessions of counselling.
While this counselling was ''edge of cliff'' stuff, it also assisted a great many couples to sort out their difficulties and build a stronger relationship.
''Back in the day'', it's said ''going to Marriage Guidance was what you did instead of just separating''.
However, as local MP Michael Woodhouse made clear when I and colleagues met with him to discuss these then-proposed cuts, this Government does not see the point of investing in ''private pain''.
He was unwilling to see that couples in distress have an impact on their children; that those unhappy children's schooling is impacted; that unhappiness at home impacts on productivity in the workplace, and so on.
He was unwilling to acknowledge couples in need often don't have the funds to pay for help for themselves.
As the funding model tightened, Relationships Aotearoa took on contracts linked to family violence; to counselling those affected by earthquakes in Christchurch, etc.
Quite possibly, they spread too thin; quite possibly the terms of those contracts were difficult or even impossible to meet.
Ministers like to trumpet things like, ''We will achieve a 25% reduction in recidivism for family violence'', apparently forgetting that where people and their family histories are involved, changing patterns of behaviour takes time - sometimes it requires a generational change.
With the demise of serious news programmes, sadly, it seems no-one is around to ask the right questions; to seek the real causes.
Ann Tolley, the latest minister involved in gutting one of the few low-cost services available, says the clients will be ''referred to other providers''.
I note that one of these is Lifeline, a largely volunteer organisation, which apparently ''provides face-to-face counselling in Northland, Auckland and Waikato''.
That's rather a long way from Otago.
This also misses the point: people in pain are not at their best.
Couples in pain need specialist help; they need skilled professionals with postbasic training.
The tragedy here is that as one low-cost service after another is lost, those in need have fewer and fewer resources.
They suffer; their children suffer; workplaces suffer.
Those who can fund their own therapy will do so, seeking referrals through the Yellow Pages and online.
Those who can't, will miss out. In the long term, our country will pay the price for this careless disregard of human distress.
• Disclaimer: I have no direct connection to Relationships Aotearoa. I provided counselling through the Family Court and am chair of Imago Aotearoa NZ, an organisation that promotes training and certification of couples therapists.