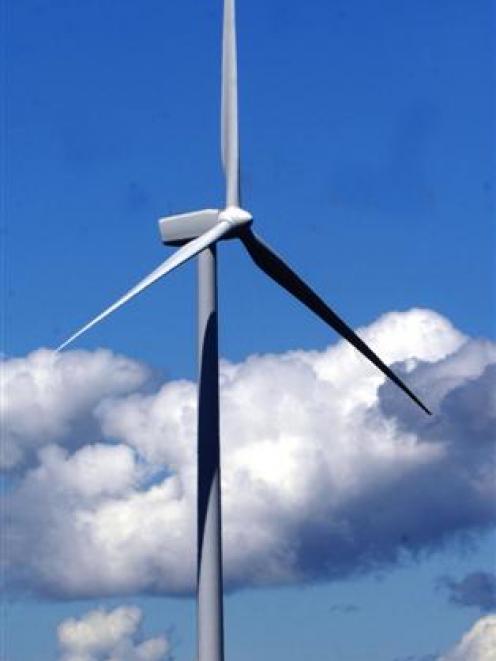 Comments by artist Grahame Sydney on the merits of wind generation (ODT June 5, 2008) confirm the old adage - a little knowledge is a dangerous thing.
Parts of Central Otago, such as Alexandra, are regularly calm.
However, the places in Otago and Southland where TrustPower is planning to build wind generation are not, and wind-monitoring data gathered over close to two years from sites at Mahinerangi (which is not "Central Otago" anyway) and Kaiwera Downs (near Gore), clearly show that had the planned wind generation at those sites been available in the past year, the South Island would not be facing the supply difficulties it is now.
In fact, for the week ending May 25 quoted by Mr Sydney, the sites would have been producing significantly greater than their projected average annual output of more than 40% of rated capacity, and last week, they would have been producing almost flat out.
Only last week, Mr Sydney was on radio telling us "there is no wind resource in Central Otago.
It is stupid to build wind farms there, and the only reason companies want to do so is corporate greed".
Excuse me? Corporate greed? How does the investment of hundreds of millions of dollars into something that Mr Sydney believes won't work equate to corporate greed? Corporate lunacy maybe, if Mr Sydney's claims about the wind resource 80m above ground level at the proposed sites was correct - which they are not.
In an environment where natural gas supplies are running out (and are non-existent in the South Island anyway), and ships are arriving at the Port of Tauranga carrying coal from Indonesia and Australia to be carted by rail and truck to the Huntly power station, it appears that Mr Sydney would prefer New Zealand to increasingly rely on generation using imported gas, coal or nuclear fuels.
That would result in electricity prices climbing skyward at the same rate as petrol, driven by international fuel prices.
In contrast, the actual cost of New Zealand's water, wind and geothermal energy, which are not driven by international energy prices, remains unchanged, and the key driver of electricity price increases is an increasing shortage of supply - to which Mr Sydney's objection to new generation contributes.
New Zealand continues to have electricity prices that are among the cheapest in the world, and it is not in our best interests to create an environment where our electricity prices are at the mercy of international markets.
Wind and hydro generation are perfect partners - when the wind is blowing, hydro-dam water can be stored for use when it is not.
TrustPower's Lake Mahinerangi is now at the bottom of its operating range, but if planned wind generation had been available over the past year, it would have been closer to full, as it should be going into winter.
The same scenario can be applied to the Waitaki system, which would simply not be suffering the low lake levels it is now had Project Hayes been available to supplement it.
It is fascinating that Mr Sydney on the one hand desires "localised and smaller-scale solutions", yet on the other is content to stonewall developments that would overcome the need for the Cook Strait cable to be flat out carrying expensive thermally-generated power from the North Island, to keep his South Island lights aglow during winter.
In contrast to the "think big" scenario Mr Sydney refers to, it seems his preference is to "think expensive", "think cold" and "think dark".
Fortunately, recent research into the acceptability of wind generation to mainstream New Zealanders shows that most "thinking Kiwis" do not agree with him.
Graeme Purches is community relations manager for TrustPower.