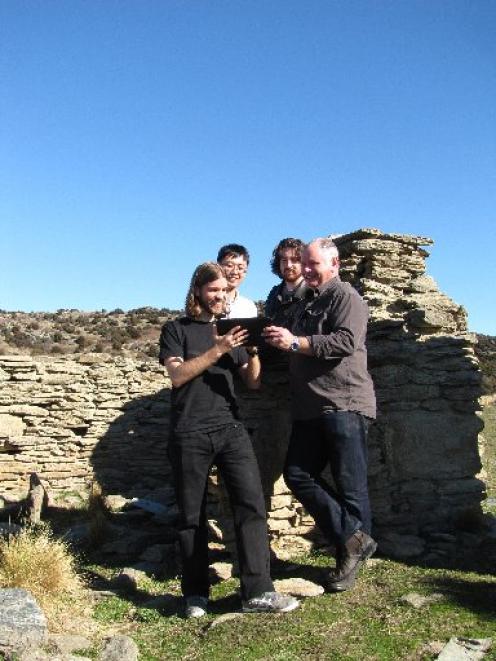 For the first time in almost 100 years, people yesterday walked inside the old, original Bendigo School.
All that remains of the school is an old chimney but these people used specially developed technology to see inside what was once there.
Goldfields historian Lloyd Carpenter and a team of technology experts from the University of Canterbury have developed an app for mobile devices such as tablet computers and smartphones that it is hoped will breathe new life into Central Otago's historic goldfields.
He and his team were at Bendigo this week to test the app. With the app running, users can point their device at any site within the historic area and receive information, including old photographs of that site.
Using the device's camera, the user can see the present day scene overlaid with pictures of how it once was.
Dr Carpenter is passionate about the goldfields and has been studying Bendigo for 20 years.
He said now that he knows the background of specific sites, such as individual houses, he no longer sees them as houses.
He now sees them as stories and wants others to see that too.
Interpretation panels can only provide so much information but the app is able to show not only photos but old letters and class rolls, for example.
It is hoped there might be an audio option - someone reading out the old letters, for example.
For two days, Dr Carpenter and a team from the university's Human Interface Technology Laboratory (HIT Lab) walked the trails of the Bendigo historic area to calibrate their app.
GPS, which the app relies on, had a margin of error of about 2-3m so that needed to be worked out.
Other issues included buildings, the old school for example, appearing to float just above the ground.
It is hoped the app will be available for free download in November.
The app they were testing was for Android operating systems but it was hoped it would be available for iOS too.
The technology will be rolled out to other historical sites such as Old Cromwell in the future.
The Otago Goldfields Heritage Trust was a partner in the project.
The Central Lakes Trust provided funding of $50,000.