You would have to be mad to run seven back-country runs totalling 360km in seven days wouldn't you? Or utterly dedicated to a good cause.
Marjorie Cook follows the trail of marathon charity runner Mal Laws and details the lengths - and heights - he will go to in the name of combating leukaemia.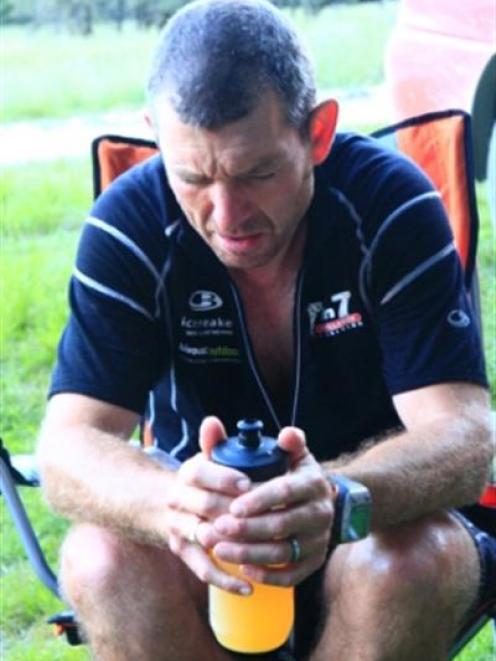 1 - HOT TO TROT
At 32degC the 42.2km Twin Lakes Marathon from Lake Hawea to Lake Wanaka was almost too hot to tackle on the trot. But Law completed it in 5hr 15min, later saying he possibly went too fast but wanted to finish and jump in the lake.
"The scenery, huge amount of support from marshals and such a great atmosphere were the highlights of my run. There are talks of this becoming a yearly event and I believe we have created something really special that will outlive the 7in7 dream year in, year out."
2 - HARD YAKKA
The hard 55km Young Wilkin circuit, at Makarora, was completed in 11hr 45min. A dehydrated Law was in a grim, dark mood and supporting runner Dr Andrew McLeod, of Wanaka, put him on an intravenous drip at the end of the day.
"Once at the highest point (1700m) at Gillespie Pass things started to thankfully improve for me and the highlight of the day presented itself as a large snowfield for us to all play [on]! Sliding down it like children laughing and whooping was a fantastic way to turn things around. The runners' spirits helped me to this point and then onwards to the finish."
3 - BOX OF BIRDS
The 49km Motatapu Gold stage from Wanaka to Arrowtown was completed in 14hr 10 min. In a complete reversal of fortunes, Law felt like a "box of birds" all day and particularly relished the 35 cold river crossings.
"Spirits were high and legs OK as we headed to the final descent from Big Hill that offered a 10km single-track forest run to the finish where family and support crew were once again waiting. The kids who met us holding the 7in7 flags was an experience I'll cherish."
4 - WAKATIPU WONDERLAND
Wakatipu wonderland, Frankton beach to Wilson Bay, 38km completed in 9hr and this time it was Law's turn, with others, to help some less experienced runners who were struggling with the heat and distance.
"That is the spirit of the thing. That was the idea, to involve lesser experienced people and they came through it well. It was partly my fault. I had estimated it was 38km but it was 42.2km."
5 - DOG TIRED
The 61km Rees Dart circuit was completed in 13 hours and Law felt shattered. "I was overtired ... dog tired ... I just wanted to sit down and cry." Law later learned he had reached his $150,000 target.
6 - END IN SIGHT
Law was feeling good last night when he finished his sixth challenge, the 54km Greenstone Mavora walkway, with four other runners. Temperatures reached the high 20s during the 10 hour run.
7 - HOLD YOUR BREATH
Last, but not least ... all going well Law finishes his 7in7 Challenge with the 60km Kepler Challenge, in Te Anau, today.
---
TOP MOMENTS
1: The bag carriers ... Richard Ussher (day two) and Dave Bolger (day five) unburdened Law during his darkest hours.
2: Getting wet ... 35 crossings of the Motatapu River.
3: Play time ... snowball fights at Gillespie Pass and on the Rees Saddle.
4: What's for dinner ... fresh salmon at Glenorchy.
5: Nature ... fabulous views at the Dart Hut.
6: The hugs ... from wife Sally and friends at the end of every day.
7: Inspiring others ..."See you on the other side and don't forget there are a lot of people thinking of and supporting you along the windy, hilly, way," blogger Gerald Taylor.
---