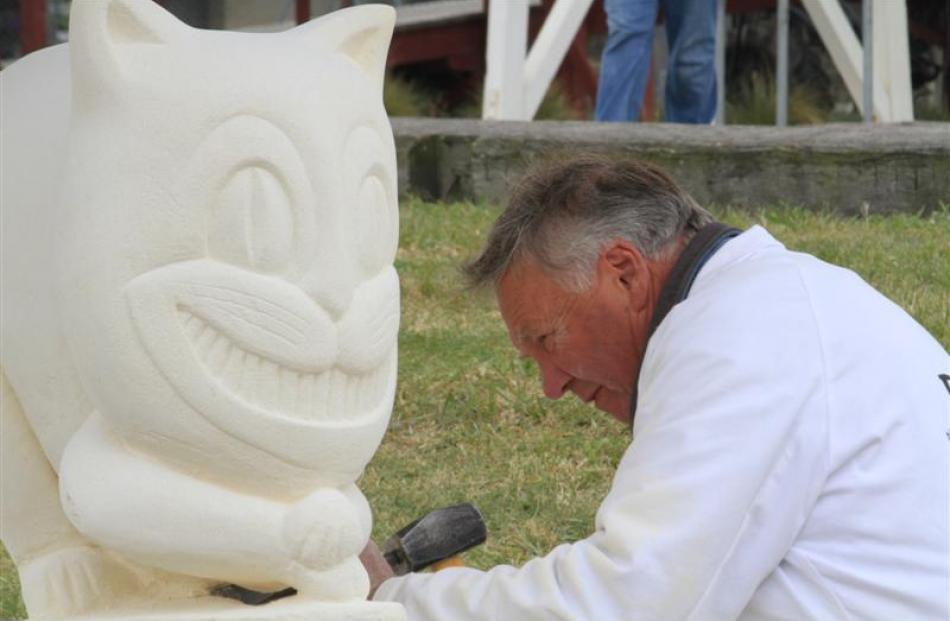 The 10th Oamaru Stone Symposium has produced the best work the town has seen since the spring carving celebration began, the symposium's chairman Matt King says.
Mr King said this year the right mix of artists and a few standout works had created something special at Friendly Bay.
''I think we've had such a good group of people,'' Mr King said.
''I think everyone's really excelled.
''I think it's the best ever. All around. I mean, we've had a couple of really outstanding highlights, but generally the quality all over is way up there.''
From October 24, 12 carvers had chiseled, filed, drilled, chopped and sawed their way into the region's white limestone blocks and drawn out some spectacular pieces, many this year in line with the theme of the Victorian Heritage Celebrations, Alice in Wonderland.
''I think the theme has pushed it a wee bit,'' he said.
As had the contribution from Christchurch sculptor Paul Deans - a relief of Alice's face that had stopped most who had visited Friendly Bay.
But there were a number of standouts along the Alice and Wonderland theme: Craig McLanachan's playful Cheshire Cat; Ruth Killoran's abstract Alice and the Caterpillar; and Jackie Margaret's studied collection of Alice in Wonderland characters were all examples of the high standard of work this year.
With ''easily'' 20 sculptures produced when carving officially finished on Saturday, there were a lot of sculptures to choose from when selecting a favourite. But, he said, the people's choice voting had seen two sculptures take a clear lead thus far.
Mr Dean and Tongan born Oamaru sculptor Silivenusi Funaki, whose sculptures of humpback whales had captured visitors' imaginations, had established an early lead in the voting by donation.
When the voting concluded on November 15, the donations would be pooled to help to secure a piece of the winning artist's work to remain on display in town, Mr King said.
With the carving completed, the pieces would remain on display at Friendly Bay this week. Mr King would remain on site to take expressions of interest in the artists' work and to continue taking donations in the people's choice voting.