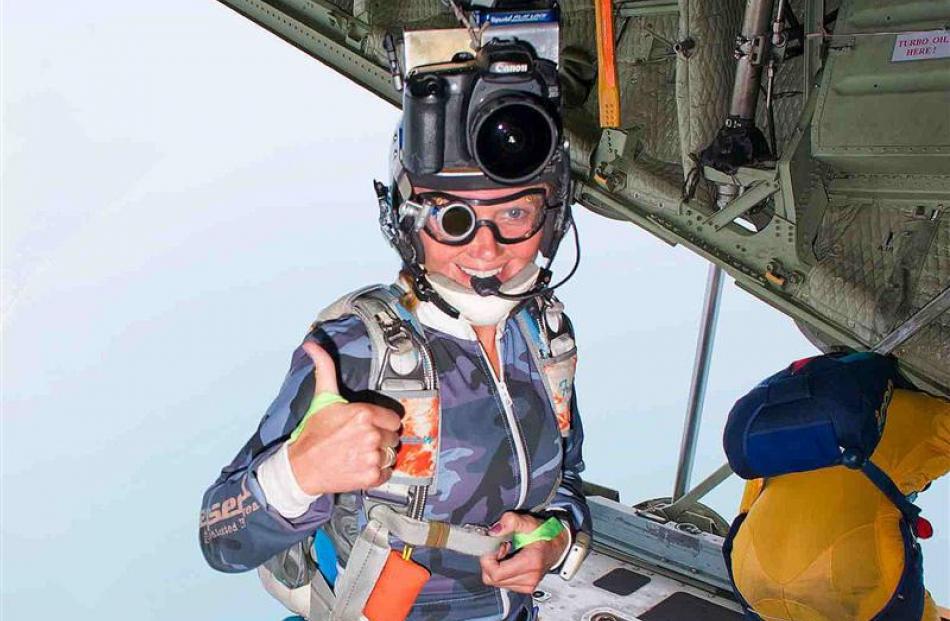 Wendy Smith has always been a high-flier - literally. Skydive Wanaka's new operations manager has almost 20,000 parachute jumps under her wings. Mark Price reports.
Wendy Smith is one of those names pub-quiz fanatics might like to quietly file away in the backs of their minds - if they have not already - because it is the answer to the obscure New Zealand history question: Who was the third person to skydive from above Mt Everest?
One of New Zealand's most experienced skydivers - with 19,875 jumps under her chute - Ms Smith has just taken over as operations manager at Skydive Lake Wanaka.
Brought up on a back blocks farm in the Kaimanawa Ranges in the central North Island (she really did ride a horse to school), Ms Smith was flying from a very early age aboard the helicopters and ag-planes her father employed.
''So I wasn't afraid of aircraft, and ... jumping out was just the next natural step really.''
Her first jump, at Waipukurau in 1985, was with a round, army surplus parachute of World War 2 design.
She had seen many technological changes since then as aerospace engineers designed equipment as good as anything used by astronauts, she said.
''Our technology is wonderful. We have computers in our parachutes that will open the parachute at pre-set altitudes if we do not.
''We have very accurate canopies these days.
''We've learnt a lot more about the way you can fly the canopy.
''So it's very exciting.''
As well as her new Wanaka job, Ms Smith is engaged in a string of other high-altitude pursuits.
She is not far off gaining her commercial helicopter licence, she is learning to climb mountains with a view to conquering a Himalayan peak, she has ongoing work as a skydiving photographer and Emmy award-winning film-maker and, each October, Ms Smith heads back to Everest to repeat that 2008 jump.
The difference now is she takes paying clients (from $25,000 to $35,000 per head) on foot to base camp and then to 9000m on board a Pilatus PC-6 aircraft.
Ms Smith said being the jump master on the very first trip over Everest ''opened the door'' for her. She was approached by Nepalese operators who wanted to turn a ''one-off'' event into a business.
Now she is in charge of logistics where getting anything wrong can have serious consequences.
Bigger-than-normal parachutes are needed, as are on-board and individual oxygen systems.
''We leave the aircraft with our full bail-out halo systems on - bottles, face masks, reservoirs etc.''
Above about 5000m sky divers are at risk of hypoxia or altitude sickness.
''This can set in within 30 seconds.
''It's not like you want to put down your [on-board] oxygen mask and waltz to the door and spend a minute getting out because you will be hypoxic.''
Waiting below are helicopters and Sherpa guides with a yak and yak man, ready to pick up anyone who lands too far from the drop zone.
Ms Smith recalls her first jump over Everest as a ''very, very emotional jump'' over ''awesome terrain'' - landing on an airstrip at 3800m that Sir Edmund Hillary was instrumental in creating.
''The Himalaya is just absolutely amazing ... to be at the top of the world seeing that - it was very, very exciting.''
Ms Smith said her highest jump was from 9204m, also in the Himalayas, but she did not envy Austrian Felix Baumgartner who last year became the first skydiver to go faster than the speed of sound, jumping out of a balloon at 39km above New Mexico.
''I don't think I really want to go through the sound barrier and [wonder] if I am going to burn up or not.''
But, on her horizon is one target that might make Wendy Smith the answer to another New Zealand pub quiz history question: Name a New Zealand skydiver who has completed 20,000 jumps.