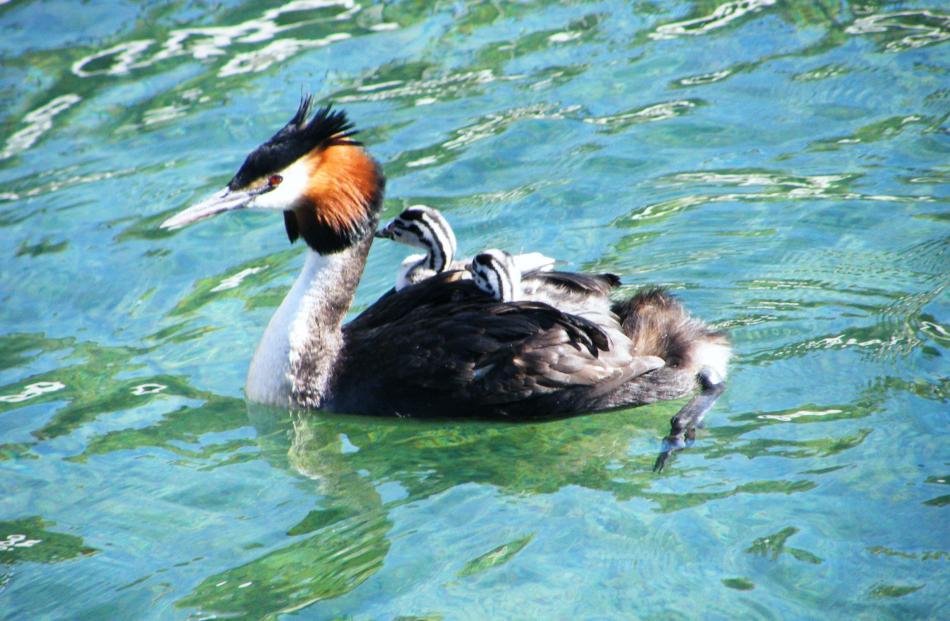 A grebe raft installed on Lake Wakatipu has sparked early feathery interest.
Minutes after it was tethered between two unused moorings in Queenstown Bay on Saturday, a grebe appeared nearby, delighting a bird-loving Queenstown businessman.
Last December, Max Perkins, who owns Perky's Floating Bar and Coffee Shop, tried unsuccessfully to save a pair of nesting young grebes which had built a nest in the bay, near his jetty.
``I couldn't sit there and watch it get washed away.''
Authorities suggested the birds needed to learn that was not the right place for a nest and the rising lake eventually claimed it.
Earlier this year, Department of Conservation community ranger Nicole Kunzmann contacted Mr Perkins about helping to install a floating plastic raft - made by prisoners - in the bay.
On Saturday that conversation converted to action.
Mr Perkins hired a boat and the pair installed the raft on the Queenstown Gardens side of the bay.
``I'm hoping that it doesn't get too rough for it,'' Mr Perkins said.
``The grebes look amazing. They've got the lovely red plumage and they've got the little punk-rocker-style haircuts, so they do look quite cool.
``They're not just any old seagull, or something like that.''
There are thought to be 600 southern crested grebes.
The Southern Lakes - in particular, Lakes Hayes, Wakatipu and Wanaka - are a stronghold for the species, which is listed as nationally vulnerable.
Grebes feed, sleep and build their nests on water.
Plastic rafts have already been used successfully on Lakes Wanaka and Te Anau.
The birds start nesting in August or September.
Ms Kunzmann: ``This just gives them a month and a bit to figure out that the raft is there and hopefully start using it.
``We're basically just using this as a trial and then we'll get the second [raft] out.''
Mr Perkins regularly skippers the Million Dollar Cruise, owned by his parents Wayne and Betty, so he can keep an eye on the Queenstown Bay raft.
``It is nice to do things for the community.''