Thousands of people from throughout Otago and Southland have commemorated Anzac Day at services, remembering those who served and died in past wars and the current conflict in Ukraine.
Queenstown
Young and old rugged up against a chilly morning to pay their respects at the dawn service under the Queenstown Memorial Arch - which marks its centenary this year.
The service, attended by hundreds, began with a reading led by Queenstown Returned and Services' Association president Phil Wiel, followed by a prayer.
Queenstown Lakes District Mayor Jim Boult said he was impressed by the numbers and said the crowd looked bigger than last year.
''I'm particularly pleased to see all the young people go to the Dawn Parade.
''Over the time I've been mayor I've seen bigger and bigger crowds come through,'' Mr Boult said.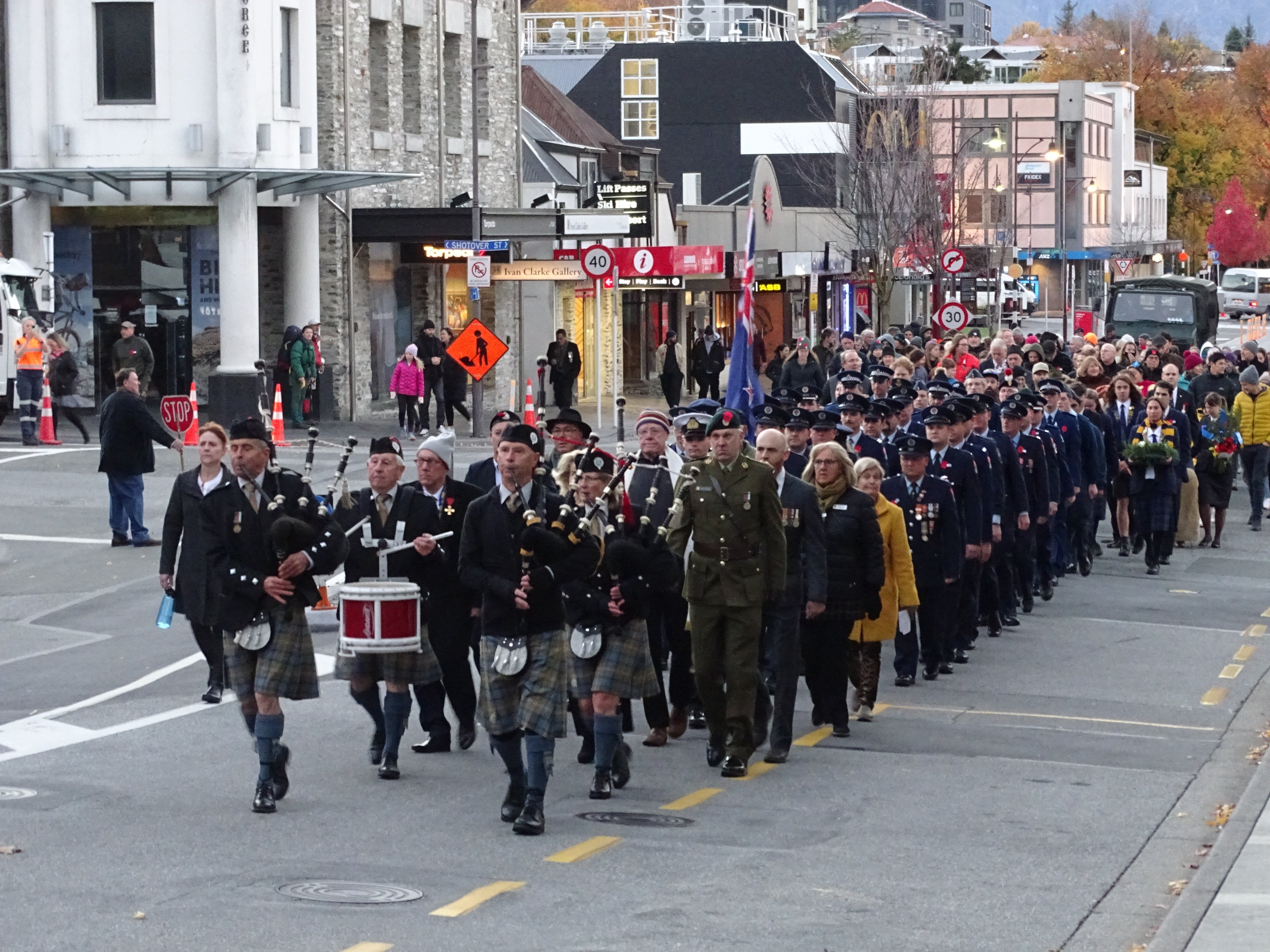 Following the dawn service, the crowd marched straight to Queenstown Memorial Centre for the laying of wreaths.
The Civic Service was cancelled due to uncertainty around the Covid-19 traffic light system at the time of planning.
In attendance among locals were members of the RSA, armed forces, police, fire and emergency services and the Mayor and Mayoress.
- By Cass Marrett
North Otago
A crowd of about 1000 lined Oamaru's Thames St for this year's commemoration. 
Former Royal New Zealand Air Force Flight Lieutenant Kelli Williams led the dawn service at the Cenotaph outside the Waitaki District Council headquarters.
Waitaki Boys' High School head boy Ethan Reille shared a powerful story about former Waitaki Boys' prefect Gus Ongley, who was killed by a German snipers at Baupaume, Northern France, in August 1918.
The service included the Last Post, the Australian and New Zealand national anthems, followed by the three rounds shot into the air, and a performance by the pipe band.
Meanwhile, about 200 people attended a service in Alma, south of Oamaru.
Waitaki district councillor Jim Hopkins gave an inspiring speech about Donald Brown, of Totara, who was awarded the Victorian Cross for his actions at the World War 1 battle of Flers Courcelette in September 1916, before being killed that month.
Cr Hopkins also touched on Russia's invasion of Ukraine, which began in February.
''Peace is a precious thing but history tells us it can also be lost,'' he said. 
In Maheno, about 250 people walked with pride from Maheno School to the Cenotaph.
Archdeacon Bernard Wilkinson led the service sharing stories about the horses who also died at war.
Wreaths were laid by Cr Hopkins, Maheno School pupils and members of the community.
A memorial to the SS Maheno will be unveiled at the Maheno Tavern at 6pm tonight.
- By Kayla Hodge
Central Otago
The commemorations may have been pared back from those pre-pandemic in Central Otago, but that did not deter the crowds today.
Between 700 and 800 people gathered in both Alexandra and Cromwell as some towns opted to dispense with traditional dawn services in favour of ceremonies later as Anzac Day made a tentative return across the district.
In Clyde, about 500 people attended a wreath laying service at the the Clyde memorial from 8am, which was followed by a similar service at the Alexandra Memorial at 9.30am.
Alexandra-Clyde Returned Services Association's Paul Galloway said "stunning Central Otago weather'', coupled with the two-year absence of services, had combined to produce the bumper crowds.
"It's been a long time between drinks - and I think that was reflected in the turnout.''
In Cromwell, Catholic Father Martin Flannery closed the service at the Cenotaph outside the Cromwell Memorial Hall with a prayer for Ukraine in tacit acknowledgment that conflicts, regardless of the sacrifice made by previous generations, still occur.
Not all towns did away with dawn services, with large crowds reported at the Ranfurly Cenotaph at 6.30am.
Maniototo commemorations continued at the Kyeburn Cenotaph at 10.30am. A service at the Omakau Memorial Hall at 10am attracted about 200 people.
In the Teviot Valley, services at the Millers Flat Cenotaph at 7.30am and the Roxburgh Cenotaph at  9am were also well attended.
- By Jared Morgan
Lake Hawea 
More than 800 people attended the 7am Anzac Day Service at Lake Hawea.
Sergeant Lorne Capell of Lake Hawea, an Army reservist, led the ceremony.
Vietnam veteran Staff Sergeant Dave Wardell, who served for Australia, described a little of his service and asked people to remember the people of Ukraine.
"Each Anzac Day we renew our commitment to never forgetting,'' he said.
Alexandra Pipe Band piper Vern Affleck of Cromwell and pupils from Hawea Flat School were among dozens of musicians who took part in the event.
Bella Sarginson read Lake Hawea's roll of honour, while children placed crosses in the grass, and Rev Aaron Johnston led the prayers before both New Zealand and Australian national anthems were performed.
- By Marjorie Cook 
South Otago
About 400 attended a dawn parade and service in Balclutha this morning.
In a break from recent years, the traditional Anzac Day parade left from the Clutha District RSA on Clyde St, rather than the Balclutha War Memorial Hall, which has recently been demolished to build a replacement.
Retired Lieutenant Colonel Kevin Baff led a service of remembrance at the Balclutha Cenotaph on Renfrew St, during which he and others gave thanks for the sacrifices of Anzac servicemen and women through the ages.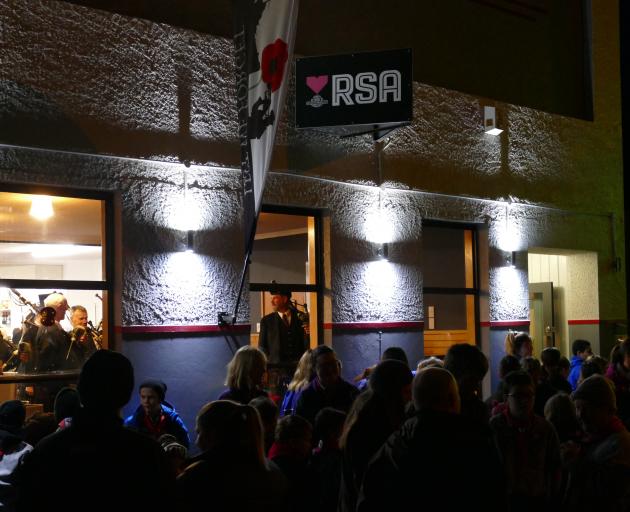 In cool, breezy conditions, Clutha Mayor Bryan Cadogan said peace was "not a given".
"Right now in Ukraine we can see the bitter reality when diplomacy and detente fail. The treasure of peace should never be taken for granted. Let us thank our lucky stars we're Kiwis," he said.
The service concluded with the laying of wreaths and poppies to the strains of the Balclutha Brass Group.
- By Richard Davison
Gore
About 500 people gathered at Gore's Centotaph for the 103rd Anzac Day service and a parade was led by the Hokonui Celtic Pipe Band.
Ashleigh and Brian Butterfield and family attended the service for the first time together.
Mrs Butterfield said she had attended the service as a child but it was nice to be able to come as a family.
"It was absolutely beautiful."
Attending the event was one way to teach their children about the sacrifices their forebears made, they said.
''It's even more important than ever to honour the values and the sacrifices made,'' Mr Butterfield said. 
- By Sandy Eggleston
Southland
Members of Bluff Returned and Services' Association and the coastal community gathered at RSA memorial grove this morning to remember those who fought in war.
The community also held a minute's silence to honour the lives of four teenagers who died in a car crash in Invercargill on Friday.
Bluff RSA secretary Father Hamesh​ Wyatt and president Phil Dickens said it was paramount to commemorate this day, especially considering the war in Ukraine.
"We need peace and mercy,"  Father Wyatt said.
- By Luisa Girao