Timaru District Council has declared a state of emergency for the Pleasant Point-Temuka ward because of a risk of flooding.
About 15 people at Pleasant Point were evacuated with help from police, and security was put in place, the council said.
Environment Canterbury river manager Leigh Griffiths said a stopbank at the south end of the Opihi River had been damaged following heavy rain.
Most left last night but one or two "needed a bit more encouragement" to leave, Griffiths said.
"Until we can assess that stop bank this morning and carry out necessary repairs it's possible they won't be allowed back, so the Timaru District Council made the decision to declare an emergency just to have additional powers for themselves and police."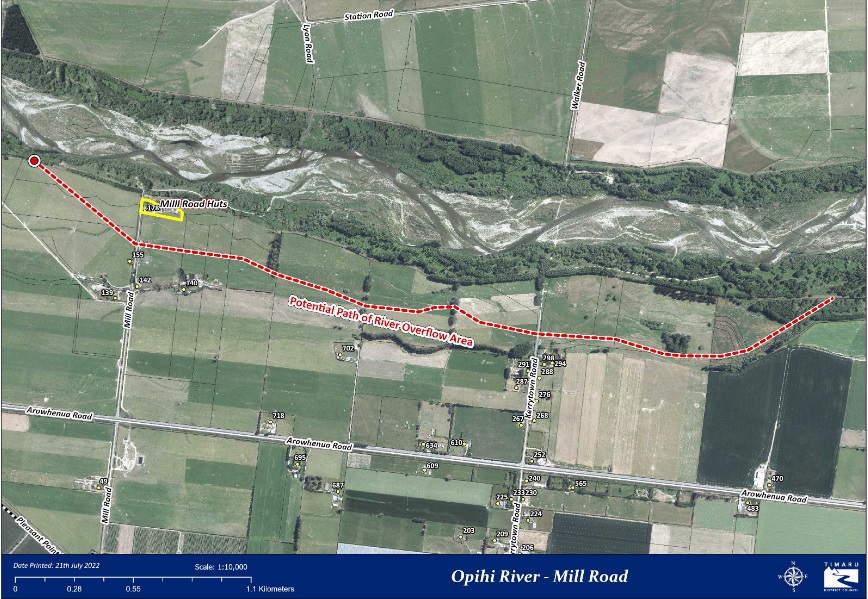 Extensive scouring of the stopbank posed a flooding risk with potential to be a threat to life and property, the council said.
The river level was dropping, but as it fell the water could change direction and break through the gap in the stopbank, Griffiths said.
"It's not as I understand it a significant flood path but it obviously does affect some people in their homes."
Responding to questions from locals on its Facebook page, the council said there was no issue with the Opuha dam, and that only the properties immediately adjacent to the stopbank on Mill Rd were affected. 
Timaru deputy mayor Steve Willis said the state of emergency was to ensure residents didn't re-enter their properties unsafely, and that other people didn't breach the cordon.
It may be another day or two until the stopbank could be fully assessed, he said.
"Everyone's followed the directions given to them, but we had some concerns about people breaching the cordon and that also puts at risk our other emergency personnel and volunteers. So what we're trying to do at the moment is encourage people to stay away from the area just to make sure everyone's kept safe."
Stopbanks had taken a bit of a hammering with flooding over the past few years, Willis said.
Heavy rain and strong wind watches are in place for the region until this afternoon.
Further north there had been erosion damage to stop banks on the Ashburton River as well, but it was not threatening any homes and the water level had dropped, Griffiths said.
Heavy rain was also causing flooding around Christchurch and several streets had been closed.
Drivers were being encouraged to drive slowly through ponded water so as not to push water onto people's property and cause damage.
 - additional reporting ODT Online