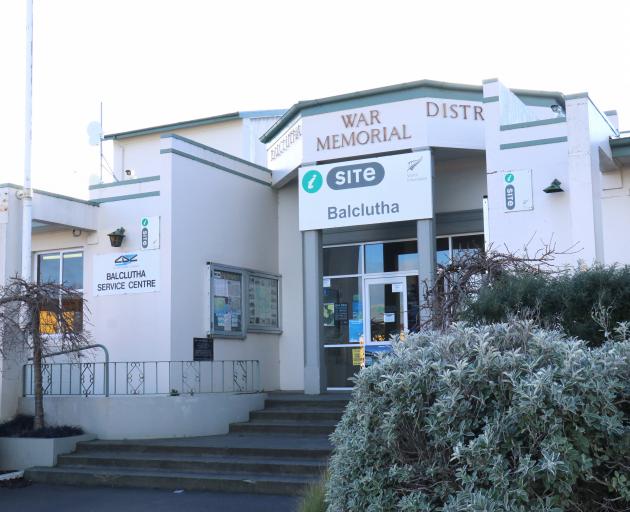 Final options for a new "community hub" in Balclutha have been released by the Clutha District Council.
As part of its 2020-21 annual plan consultation process, ratepayers are asked to consider two options to upgrade the town's War Memorial Hall in Clyde St.
Option 1 is a "patch-up", at an estimated cost of $4million-$5million; option 2 is a new, multipurpose "hub", costing $15million, $7.5million of which would be ratepayer-funded.
A third option to remodel the existing hall and increase its footprint to cater for more activities was ruled out, as its costs were similar to option 2.
Option 1 would entail a $12-$15 a year increase for all ratepayers, and an additional $28-$35 in the Lower Clutha community facilities rating area ($40-$48 total).
Option 2 would come in at $22 district-wide, and an additional $53 for Lower Clutha ($75 total).
The hall was earmarked for an upgrade during community planning in 2017, after having been described by the council as no longer meeting the needs of "21st-century community life".
Earlier estimates put the cost of replacing the 58-year-old hall at $20million.
The council favoured a rebuild, as option 1 "doesn't address issues of low usage and income, and longer-term sustainability of the hall".
Option 2, the balance of whose capital costs of $7.5million would be raised through "trusts, Government, corporate sponsorship and public donations", would aim to become "financially sustainable" once operational.
It would do this in part by leasing business space, the document said.
"[I]t would provide a centrally located business hub ... with essential infrastructure to deliver a modern business environment that is currently missing in the Clutha district."
Construction, including design elements to ensure it remained "focused" as a war memorial hall, would begin in 2022.
The deadline for submissions on the annual plan is March 25; they will be heard on April 16.