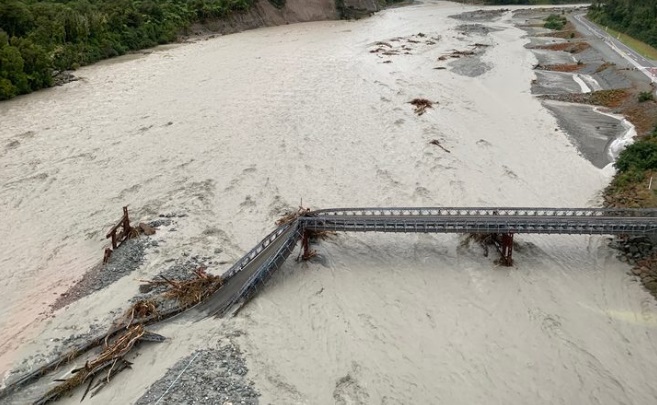 A compensation package of more than $25 million is one option being considered for farmers and other property owners on the flood-ravaged south bank of the Waiho (Waiau) River.
The Waiho Flat area - home to the Franz Josef aerodrome, dairy farms and about 60 residents - was inundated last week when the river broke through the stopbank.
The area was evacuated again on Sunday night as more heavy rain was forecast, although temporary works by the West Coast Regional Council to reroute the river channels kept the water at bay.
Regional council chief executive Mike Meehan met affected property owners yesterday to discuss a more permanent fix.
Two options were rebuilding the stopbank or buying out the farms and letting the flood-prone river flow freely.
Mr Meehan said a realistic compensation figure could be $25 million to $30 million.
Long-term, that would be cheaper than losing another bridge or critical infrastructure, he said.
With the bridge knocked out and State Highway 6 closed, the tourism resort was losing a ''couple of million dollars a day''.
A compensation package proposal was not new, as stakeholders, including the Government, had looked at ways to deal with the river for years.
''In the past, it has always been about finding the money ... but we've got a willing government that is up for the conversation now,'' Mr Meehan said.
West Coast-Tasman MP and Minister for Rural Communities Damien O'Connor
would not be drawn on specifics of possible compensation.
''The options for the south side are very limited and clearly, the continued build-up of the river means that holding it back from the lower river flat is almost getting impossible.
''I can't speak for all my colleagues but I'll certainly be battling to make sure we get the best outcome for landowners.''
A south side preservation group has been formed by those directly affected by the flooding.
Spokesman Peter Dennehy said a mixed response to the options proposed was likely.
Farmer Richard Molloy told RNZ he wanted the stopbank fixed.
''It is a fast-flowing river and it does create problems but the stopbank that was there lasted for 37 years, so why not build another one for 37 years?''
However, river experts believe stopbanks are adding to the problem.
Mr Meehan said the river wanted to follow its natural fan.
It had also broken out at the Tatare River, just past the Westland District Council's sewage ponds.
Prof Tim Davies, of the University of Canterbury department of geological sciences, said the gravel build-up in the Waiho had been exacerbated by stopbanks on both sides of the river since the 1970s.
''The Waiho is the only major West Coast river to experience this problem, but it only takes one bridge failure to halt all West Coast tourist traffic,'' Prof Davies said.
- By Janna Sherman
- From the Hokitika Guardian