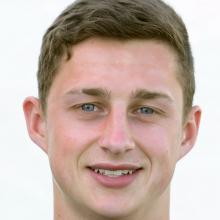 Joel Stevens is coming home.
The attacking midfielder has been unveiled as Southern United's latest signing for the upcoming national football premiership.
It rates among the club's most significant signings in recent years.
A Dunedin product, Stevens moved north following the 2013 season with Southern.
He has spent time with the Wellington Phoenix, had a stint in Sweden and made three appearances for the All Whites.
The 24-year-old's return south is a massive boost for the club's reputation.
It has proven difficult to lure top southern products back as they chase opportunities further north.
However, Stevens is excited to be back and thinks Southern can push for a top four spot.
He will add a lethal threat to the attacking line-up, both in his goal scoring ability and his ability to create chances.
"The South Island is a different world altogether. I love it," he said in a press release.
"I don't think many people give Dunedin the respect it deserves.
"It is one of the most amazing places in the world for me and gave me some of my best memories.
"I think the team are really good, maybe just missing some pieces, some good Kiwis who can really stand out at the club.
"It's hard to get local players down to Dunedin, but it's worth it.
"I'm extremely hopeful we will make the top four."
Stevens attended Otago Boys' High School and signed with Otago United in 2011, returning for the renamed Southern a year later. He moved to Wellington for the 2013-14 season and linked with Team Wellington, before a stint with Waitakere United.
In September 2014 he debuted for the All Whites and after returning to Wellington with the Phoenix, he made five A League appearances.
He played 21 games for Husqvarna in Sweden. However, that turned into a mess in the second half of the season and he returned to New Zealand and played the end of last season with Team Wellington.
It was all experience he said had made him a better player.
"Having played in different countries, gaining experience playing for the All Whites has really helped me build and get more knowledge of the game.
"I want to get back to how I was playing before. I think having my family and my roots around me will really help."