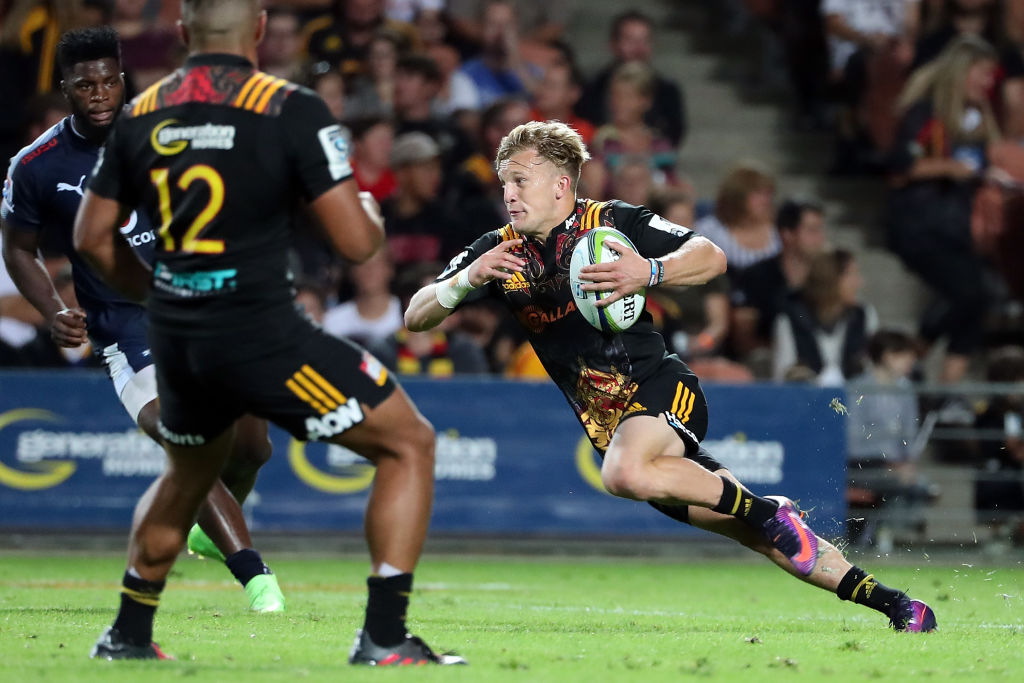 Aaron Cruden's departure from the Chiefs has opened the door for someone to make the No 10 jersey their own.
Damian McKenzie intends to fill that opening quickly.
The 22-year-old made a name for himself at fullback for the Chiefs and his performances in the No 15 jersey earned him a debut for the All Blacks last year.
Now he wants to show what he's capable of in his preferred position.
"Obviously 10's where I'd like to be playing," McKenzie told the Herald while in Auckland filming the new Super Rugby commercial.
"Being able to cover 15 would be good too, but I'm looking forward to the year ahead and trying to cement a spot at 10.
"It's a bit different to 15, you're a bit closer to the action and you play a bit of a different role in leading the team around the park. It's an exciting challenge that I'm looking forward to."
The potential move to first five-eighths at Super Rugby level comes at an interesting time for McKenzie, who could find himself filling the hole in the All Blacks left by Lima Sopoaga's impending departure to England.
He's proven himself as a world-class, versatile back - if sometimes error-prone - and with Sopoaga now unable to be selected for the All Blacks, he could make a play for the spot vacated by the Highlanders No 10.
But McKenzie wasn't looking that far ahead.
"There's a lot of depth in the outside backs with the All Blacks even at 10 with the young guys coming through. If I can be able to cover a versatile position of 10 or 15 it'd be great, but it's going to take a big year at the Chiefs from me for a start and hopefully I have a good season there and we'll see what happens after that."
McKenzie will have the opportunity to form a combination with his brother Marty, who is one of a number of new additions to the team this year under new coach Colin Cooper.
Marty has shown himself to be a capable No10 option at the provincial level, playing for Cooper at Taranaki, and might challenge his brother for the vacant starting spot.
With outside back James Lowe and halfback Tawera Kerr-Barlow also departing the franchise, there were a number of spots up for grabs.
"Losing a couple of key guys, it's a big shadow to fill. It's exciting as well - we've got a few new combinations we're going to try out and hopefully we can do a good job there.
"There's some good youth coming through and there's some good experience too so I think it's a good balance. Obviously Super Rugby is a great competition so it's going to take a good year. It's exciting, I think we're capable of having a good season."
The Chiefs begin their 2018 campaign on February 24 against the Crusaders in Christchurch.