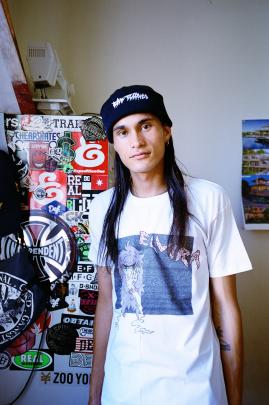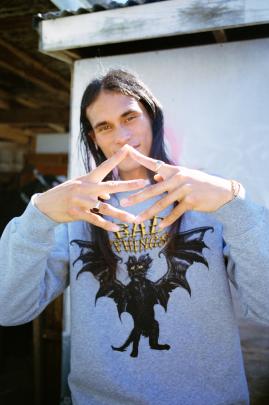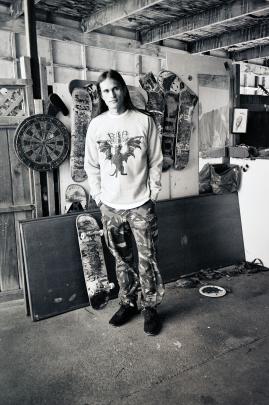 I discovered the label Bad Things on the platform where all shiny new things are found-Instagram, and was immediately enamoured by the brand, who amongst other things create the coolest graphic t-shirts and customised vintage jackets. 
Who's behind bad things?
Bad Things is a super small team of three: Mala Brajkovic, Vinnie Woolston and Maki Nishiyama
Do you guys have backgrounds in fashion?
Mala and Vinnie (who are also partners) have backgrounds in fashion. Mala is a fashion designer and had her eponymous label Mala Brajkovic back in the early 2000's, her label had quite a big following at the time. Before she had her own brand, Mala was Karen Walker's design assistant. She closed up shop when she had her first daughter and has been working for other brands since.
How'd the label come about?
Mala always wanted to start her own label again so when she moved to Raglan she collaborated with me (Maki) because of my background in media and marketing. We decided to take a streetwear approach to Bad Things.
When did you launch?
December 2014
How would you describe the label, what's the inspiration behind it?
We're mainly influenced by heavy metal, skate culture and horror/comic-gore aesthetics. It sounds like a cliche but we started because other than vintage tees there's not a lot of brands doing cool graphics on tees.
What kind of stuff do you make?
Mainly streetwear. Tees, crews, hoodies and knits etc. we also do one-off custom vintage pieces.
Do you do seasonal collections or make as you go?
We started off on our own schedule, but we will be starting to do more seasonal stuff this year.
If you could see one person wearing your clothing, who would it be and why?
I guess Slash is our ultimate brand ambassador, just everything about his style and personality represents what we're about as a brand. Other than that just rad people with attitude! 
Follow Femme Hysterique here and here or email femmehysterique@gmail.com