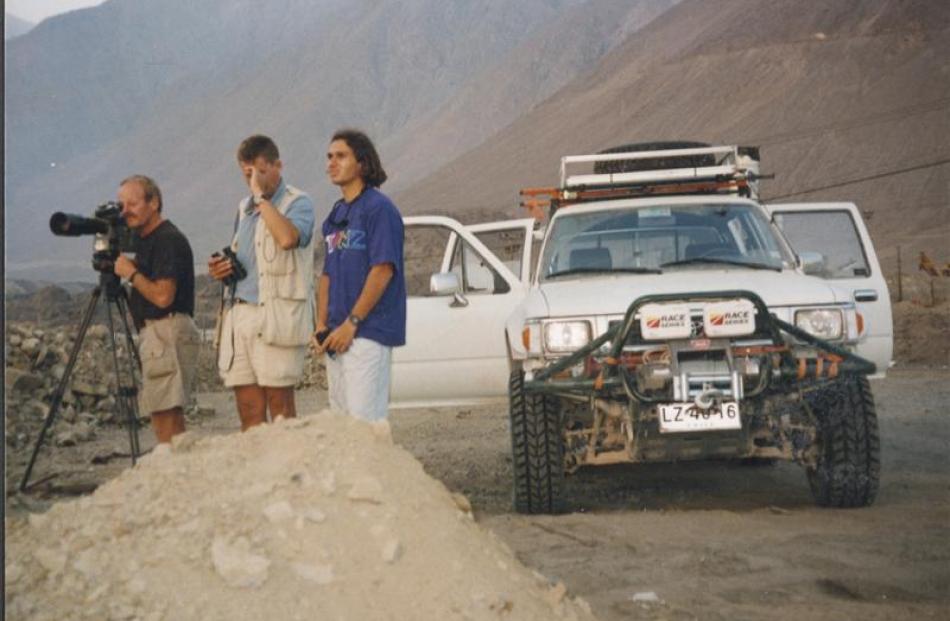 Robert Brown has made a successful career combining his love of animals and art. He talks to Agribusiness reporter Sally Rae about both his passions.
When Robert Brown was at secondary school and expressed an interest in a career involving animals and art, he was told to "jack his ideas up".
Undeterred, he forged a career combining his two passions and became one of the world's top natural history cameramen.
His work has taken him all over the world, from the Arctic and the Antarctic to India, South America, United Kingdom, Papua New Guinea, Sri Lanka and throughout the Pacific.
He has filmed polar bears and elephants, rare birds and crocodiles, yet he still gets a thrill from filming albatrosses on the Otago Peninsula, near his Broad Bay home.
Being a successful wildlife cameraman was all about being able to read the animals, he said. As a child, he learnt a lot from his grandfather, who was a farmer on the Taieri and was "amazing with animals".
"He just taught me so much - looking for little things, as to whether their ears were back or up, or whether their pupils were enlarged, the flicking of the tail and body posture.
"You really learnt to understand animals, know what they are going to do before they do it."
His father was a keen hunter and so the young Robert developed his hunting skills at an early age.
When he was about 10, he trapped possums and sold the skins, using the funds to purchase his first movie camera. By 16, he had won awards in New Zealand and overseas. After leaving school, he worked in an advertising agency, alternating work with going hunting for meat.
Describing it as a "real Jekyll and Hyde existence", he would swap his sports car for a Land Rover and his pinstripe suit for a black singlet and shorts.
It got to the stage where he was leaving his rifle at home more often, preferring to take his camera out. Eventually, he put the rifle aside permanently.
Mr Brown later worked in the art department of the Otago Daily Times and then got a job at Television New Zealand.
He had been turned down several times, even though he had been successful as an amateur cameraman.
Describing himself as quite pig-headed, he sold his E-type Jaguar and bought his own camera and equipment, setting himself up as a stringer, before being offered a job.
TVNZ proved to be an excellent training ground, particularly given the work was so varied, from magazine-style programmes to current affairs.
"A big plus when filming news, [you] learnt to think on your feet with the camera.
"You really learn very quickly what's going to work and what's not. I just covered the field, did absolutely everything," Mr Brown said.
In the 1970s, he and television journalist Neil Harraway gained approval from the New Zealand Wildlife Service to film a documentary on the endangered takahe. At that stage, the takahe had never been successfully filmed.
The pair had both grown up fishing and hunting and knew how to live in the mountains, which proved to be a "huge plus". After a couple of days, they got close enough to capture a chick being fed.
The expedition was a success and the Wildlife Service was very happy with the footage.
They were also asked to film the kakapo for the first time.
The idea of creating a film unit specialising in natural history was then discussed over a few beers. In 1977, the TVNZ Natural History Unit was established with Mr Brown as cameraman.
His work was seen by the head of the BBC's Natural History Unit and he was offered a bursary to spend time with the unit in Bristol in the UK.
He was also awarded a grant from the QEII Arts Council and, in 1981, he received a Feltex television award for excellence in allied craft.
After working for the BBC for a few months, he was offered a permanent job but turned it down. "I really couldn't see myself living over there full-time."
He alternated spending six months with the BBC and six months in New Zealand for a few years, before going freelance and setting up Wildfilm New Zealand, while still working for Natural History New Zealand, National Geographic, Discovery and the BBC.
He worked extensively for the BBC, particularly on Sir David Attenborough's documentaries The Trials of Life, The Living Planet and The Life of Birds.
In an endorsement on Wildfilm New Zealand's website, Sir David said he greatly admired Mr Brown's enthusiasm, temperament and wildlife camera skills.
While there were people with good camera skills, they did not necessarily understand animals and the combination was very hard to find, Mr Brown said.
When he was filming, he was so focused that he became "amazingly antisocial".
"Nothing else exists," he said.
A highlight was filming an animal without interfering with its natural behaviour. The last thing a cameraman wanted was for it to come up for food or race away.
It was also a high pressure job.
"People have backed you and invested large amounts of money in you. You have to come up with the goods. Once you push the button on the camera, you can't make any excuses at all."
Mr Brown was often asked his favourite animal but he did not have one - he came away from all jobs with an admiration for what he filmed, whether it was a warthog or a skunk.
"You realise they are all out there battling for survival. Sometimes you really have sad moments. You've got to sit there watching the weakest one getting picked on, beaten up and even dying.
"Or you're filming whatever it is and a predator comes along and takes it right from under your nose and there's nothing you can do about that," he said.
People also often asked about "scary moments" with animals but the only scary moments had been people-related.
That included an encounter with the crocodile people in Papua New Guinea - where he had been dispatched to film an initiation ceremony - and some tense negotiations followed. He came as close to "believing he was a goner" as he ever has.
Mr Brown said his career had never seemed like work, while his wife Christine, who does the sound recording, said it was "unbelievably magic" to work alongside her husband and they had met some "wonderful" people.
"We do pinch ourselves and say we are blessed," she said.
They were fortunate now they were able to "pick and choose" the projects with which they became involved.
Mr Brown was also happy to pass on his knowledge and he enjoyed tutoring students at the University of Otago.