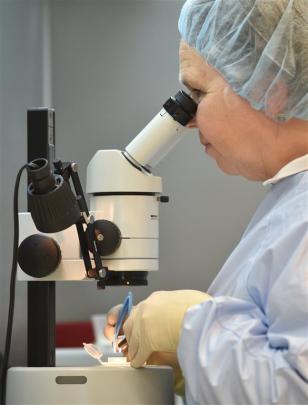 A little-known Dunedin medical company celebrated the 50th anniversary of the invention of the Molteno glaucoma drainage implant this month, an implant which has changed thousands of lives worldwide since the mid-1960s. ODT former health reporter and now senior business reporter Simon Hartley profiles the family company Molteno Ophthalmic Ltd.
Glaucoma is commonly known as "the thief of sight'', a buildup of pressure in the fluid of the eyeball, which if left unchecked leads to blindness.
For some sufferers the pain can be excruciating.
Treatments, albeit not always hugely successful, have been around since the late-1800s.
To say that Emeritus Prof Anthony Molteno has "flown under the radar'' for the past half-century is a huge understatement, unless you are a follower of the art of ophthalmology or a Molteno implant has saved your eyesight.
Much of this has been going on from a Dunedin address during the past 39 years.
Between 1966 and 2016, Prof Molteno (78) and wife Tess, as company managing director, pioneered, developed, refined and marketed their implant to save eyes from the devastating effects of glaucoma by draining off the excess fluid.
Their business, which exports to markets around the world, is now being handed over to daughter, and GP, Nina Molteno (52) who has just taken up the reins.
Dr Molteno, who graduated from University of Otago and was until recently practising in Auckland, credits her father's thirst for knowledge in general, with enabling him to develop the drainage device.
"He has been, and still is, an extremely productive researcher, with a lot of collaboration which has included physicists, biologists and even zoologists,'' she said.
Cape Town born and educated, Prof Molteno took an early interest in ophthalmology, working around the poorer areas of Cape Town as a student, where he first came across severe cases of glaucoma.
"Africans have a naturally high incidence of glaucoma. Conventional operations of the day were not always successful. It just seemed ridiculous they couldn't be fixed,'' Prof Molteno said.
While still a trainee ophthalmologist, he become acting supervisor in a 64-bed eye hospital with 30,000 outpatients annually.
There was plenty of scope to help older patients, but initially helping youngsters was not as successful.
"We took on hopeless glaucoma cases, starting then to develop an implant,'' he said.
While tubes of various materials had been trialled since the 1900s, they often failed by forming a tough cap of scar tissue over the tube's outflow end.
Prof Molteno decided to design a new implant, in an era where the starting point was using plastic tubes from inside a ballpoint pen, heated and stretched to make the ultra-fine drainage tube required.
His breakthrough idea was to use a small plate for the fluid to drain on to, so that if scar tissue formed it would be spread out over a wider area.
After the implant was tried successfully in rabbits, he inserted the first new-style glaucoma implant into a human patient in July 1966, a toddler in South Africa with bilateralbuphthalmos, a congenital glaucoma causing enlargement of the eyes due to high pressure.
By 1969, he was able to publish the encouraging results of the first 47 surgeries in 42 patients with very severe glaucoma.
After a failed attempt to outsource to a manufacturer in 1973, Prof Molteno and his family manufactured all the implants to meet growing demand for the devices from his colleagues.
During that time he achieved an Ophthalmology Fellowship of the Royal College of Surgeons of Edinburgh, then worked at Stellenbosch University for eight years.
The family came to New Zealand in 1977, when Prof Molteno took up a position as a consultant ophthalmologist, tackling a backlog of glaucoma cases.
"There were major advances in drugs at that time and new man-made compounds were coming along,'' he said.
At Dunedin Hospital he was involved in setting up the Otago Glaucoma Surgery Outcomes Study.
It was to be a combination of emerging drugs, new materials and the public-spirited patients in Otago and Southland who participated in the research which led to improvements in the implant design and surgical techniques, which in turn continued to improve success rates and reduce complications.
"We improved the outcomes by using [then new] dissolving sutures to tie off the tube, which made it [the glaucoma implant] a very safe operation,'' he said.
There are now more than 2000 cases in the Otago Glaucoma Surgery Outcomes Study, making it one of the largest studies of glaucoma surgery in the world.
More than 1000 cases with Molteno implants have the longest follow-up data of any glaucoma implant.
Successful recipients over the years have included a 4-day-old baby with congenital glaucoma through to a woman of 92, which lasted her beyond 105.
Collaborative research between Prof Molteno, colleagues at the University of Otago, Southern Community Laboratories and several international centres has helped work out why some surgeries are successful and some fail.
Prof Molteno is visibly moved when he recounts the generosity of many recipients and their families, when after death, the eye is donated for further study.
Prof Molteno, whose family origins go back to Italy, had since operated or overseen surgeries around the world, including in New York, Buenos Aires, Sydney, Turkey, Rome and Uppsala.
In 1992 Molteno Ophthalmic custom-built a factory with a Class 350 "cleanroom'' in Dunedin, and brought the entire production process in-house, where the company still manufactures the implants, with six employees.
Molteno exports 85% of the glaucoma implants manufactured each year.
While a Molteno drainage device can be inserted shortly after diagnosis, each device can take four to six weeks to make, under strict manufacturing conditions and with multiple checks throughout the process to meet international standards.
Once inserted alongside the eyeball, it is virtually invisible and can be expected to last for the rest of the patient's lifetime.
While in most cases "one size fits all'', some drainage devices have been designed for particularly large adult eyes, or for children with abnormally small eyes.
Dr Molteno said sales at present were "modest'' but she hoped to double that by 2018. When the Molteno technique was understood and had gone global, other companies replicated the technology and Molteno subsequently lost some market share, she said.
However, Dr Molteno said the company was focusing on spreading the word about the high success rates of Molteno glaucoma implants.
The company would continue to support glaucoma research, while also working on new research and development projects in complementary areas, such as developing bone grafting material, which could also have applications beyond ophthalmology, in dentistry or orthopaedic surgeries.
---
About glaucoma
• Glaucoma is a group of blinding conditions where there is a build-up of pressure in the eye.
• Congenital glaucoma in children may cause enlargement, pain, extreme light sensitivity and eventually the eye can turn opaque.
• Patients with glaucoma can go blind if left untreated.
• Causes include eye trauma, age or family disposition.
• Some populations have higher or more aggressive types of glaucoma.
---
The implants
Molteno glaucoma drainage implants are made of a polymer plate about the size of a thumbnail and have a fine silicon tube attached. Inserted into the front part of the eye near the iris, the tube drains excess fluid away to the plate, which forms a cavity which naturally disperses the fluid into the body's tissues.
---
The beginning
Emeritus Prof Anthony Molteno began his career by implanting the first effective glaucoma implant into a toddler with buphthalmos (congenital glaucoma) in 1966, in South Africa.
He published the results of his first Molteno glaucoma implant surgeries in 47 eyes of 42 patients in September 1969 in the British Journal of Ophthalmology.
Eye implants are now the most common surgical treatment for severe and complex glaucoma in some countries, such as the US.
From the early 1970s, Prof Molteno manufactured the implants himself, then in 1982 he and his wife established Optomat Supplies Ltd in Dunedin (since renamed Molteno Ophthalmic Ltd). In 1992, Molteno Ophthalmic custom built a factory with a Class 350 ''cleanroom'' in Dunedin, and brought the entire production process in-house from where the company still manufactures the implants and trades, with six employees. Molteno exports 85% of the glaucoma implant devices manufactured each year. The major export markets are America, Europe, the Middle East, Russia, Australia, with a presence in South Africa. New markets are opening up in South America, distributors recently picking up the product in Argentina and Bolivia. Molteno Ophthalmic was one of New Zealand's first medical implant exporters.
---
Prof Molteno's awards
● American Glaucoma Society's innovator of the year award in 2015.
• International Society of Glaucoma Surgery's medal for outstanding achievement in 2014.
● Emeritus Membership of the Glaucoma Research Society in 2011.
● Royal Australian and New Zealand College of Ophthalmologist' distinguished service award in 2009.
● Lion Clubs International Foundation's Melvin Jones Fellowship in 2008.
● Awarded an Officer of the New Zealand Order of Merit in the 2006 New Year's Honours.
● Received the Goldmann Medal from the International Glaucoma Association in 1998, for his significant contribution to understanding and treatment of glaucoma.
---