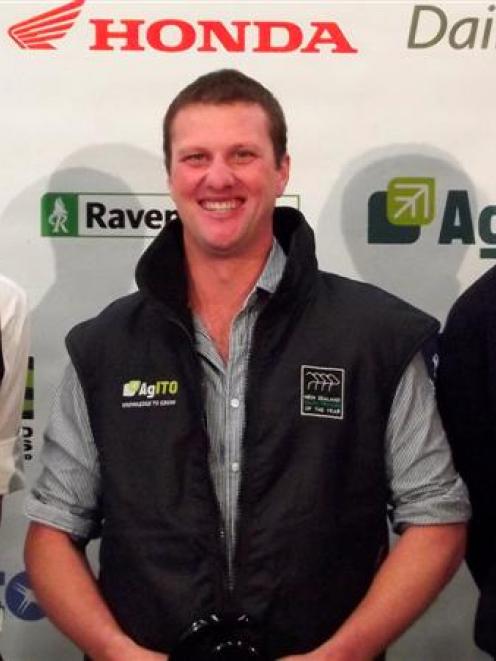 Clinton herd manager Ben Sanders will be Otago's sole representative at the New Zealand Dairy Industry Awards in Wellington next month.Mr Sanders (25) won the Otago dairy trainee of the year title at the Otago Dairy Industry Awards dinner in Balclutha on Saturday night.
A lack of entries in the regional competition forced a revamp of the contest format, and only the dairy trainee winner has progressed to the national final.
Mr Sanders, who works for Brendan and Kate Anderson, wanted to achieve farm ownership by the age of 40.
After graduating from Lincoln University, he worked on a large cattle station in Western Australia and also spent time working on a cropping farm and drystock farm.
He then decided it was time to return home ''and change the cowboy hat for a pair of redbands and an apron''.
Mr Sanders received prizes valued at $8400. Tapanui farm assistants Scott Stiven and Sean Culling were second and third.
Shaun Thomas, who 50% sharemilks 470 cows for David and Christine Benny at Balclutha, received the highly commended Otago sharemilker/equity farmer of the year award.
Mr Thomas (26), who wanted to be a dairy farmer since he was a young boy growing up in Rangitikei, said his goals were to position himself to buy into a farm within six years and to help others in the industry.
Neil Molina, who manages a 2300-cow operation Concept Holdings in the Maniototo for Greg and Kelly Kirkwood, was named Otago farm manager of the year.
Mr Molina (40) has worked for Mr and Mrs Kirkwood since 2003, firstly in North Otago before shifting to the Maniototo.
He said the couple had ''superb'' financial management skills and ran an efficient business operation, while staff were empowered and happy.
Merit awards.-Sharemilker/equity farmer: Westpac business performance award, Chris and Kathryn Peat.
Farm manager: AgITO human resource management award, Neil Molina; Fonterra best practice award, Thomas and Martina Jaeger.
Dairy trainee: DairyNZ practical skills award, Scott Stiven; The Dairy Exporter farming knowledge award, Ben Sanders.