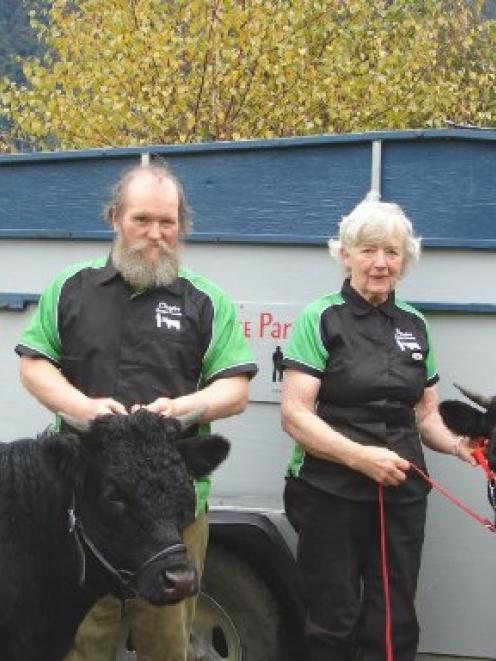 It's a long way from Turiwhati to Fairlie.
But Dexter cattle enthusiasts Richard and Angela Stevens made the journey from their West Coast home with their two heifers, Silk and Viyella, to the 114th Mackenzie Highland Show on Easter Monday.
The Dexter breed is the smallest and also one of the oldest types of British cattle. It was the feature breed in the beef cattle section at the show.
It was only the second time Mr and Mrs Stevens had exhibited their cattle. They also took them to the South Westland A and P Show at Whataroa, which was dominated by dairy cattle, for experience.
"We're not too professional. We muddle along," Mrs Stevens said.
It was Mrs Stevens who saw Dexter cattle in southern England. Having always had a passion for small cattle, she wanted to have her own one day.
The couple have owned Dexters for about five years and the cattle graze on their lifestyle property near Kumara, along with some sheep and poultry.
Mr Stevens described them as a dual-purpose breed, which were ideal as milking cows on lifestyle blocks.
"We just want people to realise as far as smallholdings are concerned, they are really ideal," his wife added.
She described the Dexter cattle fraternity as "just lovely", saying they had been welcomed into the fold.
They were looking forward to taking their cattle to the Canterbury A and P Show in Christchurch in November.
Stewart and Julia Eden, who made the trip north from Riversdale, won the supreme champion Dexter, which was "pretty awesome", Mrs Eden said.
They took eight animals to the show and it was a great opportunity to showcase the breed, she said.
The profile of the breed was lifting, with a lot more people starting to use them commercially. She believed over time that commercial aspect would grow.
The supreme beef exhibit was won by an Angus cow with a calf at foot, exhibited by the Hayward family from Albury. Young Thomas Hayward was the fifth-generation to exhibit cattle at the show.