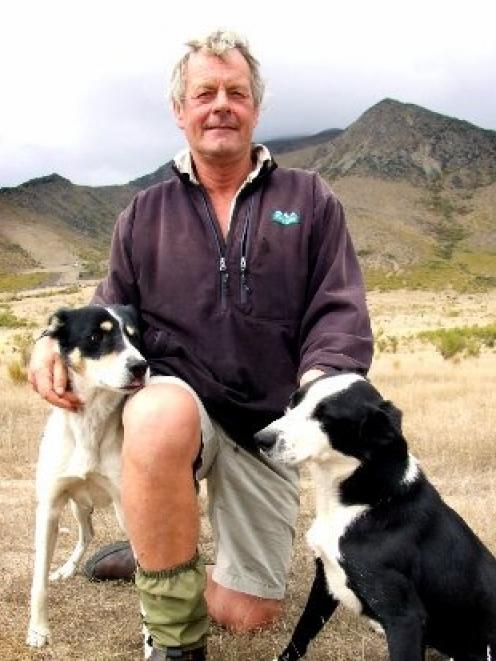 Ask Rick Aubrey why he keeps dog trialling and the answer is succinct: ''Too old to play footy, aren't I?''
On a more serious note, it was the camaraderie involved and the ''buzz'' he got from a good run that kept him involved in the sport.
Mr Aubrey (61) is a life member and former president of the Omarama Collie Dog Club, which celebrated its centennial last week with its annual trials at Omarama Station.
The Aubrey family has been involved with the club since its inception, with the interest in the sport passing down from Mr Aubrey's grandfather, Bill, to his father, Jack, and now his son, Edward (32).
The Aubreys were among four families who had played major parts in the history of the club, along with the Anderson, McAughtrie and Waldron families, a booklet compiled to mark the centennial said.
Mr Aubrey and his wife Terre, who farmed Dalrachney Station on the Lindis Pass near Omarama, now live in Wanaka, with Edward running the property, but Mr Aubrey still ''commuted'' and helped out.
He has five dogs and has been campaigning two at dog trials - Sky and Toby. Sky has already qualified for this year's New Zealand championships at Moawhango, near Taihape, in May, while Toby needed several more points. Mr Aubrey has been in three New Zealand finals and two island championships but a title still eluded him. It was every triallist's ambition to win a title, he said.
He had been trialling ''full-time'' since 1985, although he had been to a few trials before that. He usually attended about 12 or 15 trials each season, as well as centre championships, anywhere from Canterbury to Southland. He had also judged at trials, including a New Zealand championship, which was a privilege, he said.
Even after 30 years, Mr Aubrey still got enjoyment from competing. There was always the challenge of getting a new dog out ''and I think our wives like us getting away a bit, too'', he quipped.
Next year, Omarama will host the New Zealand championships for the third time; it also hosted the event in 1996, when Mr Aubrey was president, and again in 2006.
It was probably one of the ''best set-ups'' in the country because of its locality, with accommodation so close and accessible courses, which also were a ''good test'' for competitors, he said.
The centennial booklet said the club was the result of an impromptu meeting of enthusiasts at Omarama immediately following the Hakataramea trials in May 1914.
At that meeting, it was decided to form the Omarama Collie Club and it was hoped to conduct trials that year. However, for various administrative reasons, the first trials were not held until May the following year. The trials were held on the present grounds and the open huntaway course was almost identical.
To mark the club's centennial, maiden winners received a dog trial stick, donated by the Aubrey family, while the winners of the open events received a special celebratory plate, donated by the Anderson family, of Ben Omar Station.
The Anderson name is synonymous with sheep dog trials in New Zealand and Ginger Anderson, the Omarama club's patron, is third generation, following in the footsteps of his father and grandfather.
He has been in 41 island run-offs, of which he has won 10, 17 New Zealand run-offs, of which he has won three New Zealand titles and come second five times. He has also been in the New Zealand sheep dog trial team eight times.
Club secretary Lisa Anderson said a new trophy was presented this year to mark the centennial. It was for a ''north v south'' challenge, in which two teams of local competitors from each side of the Ahuriri River competed against each other. The aim was to encourage young people in the sport.
A community dinner would be held in June to celebrate the club's milestone, Mrs Anderson said.