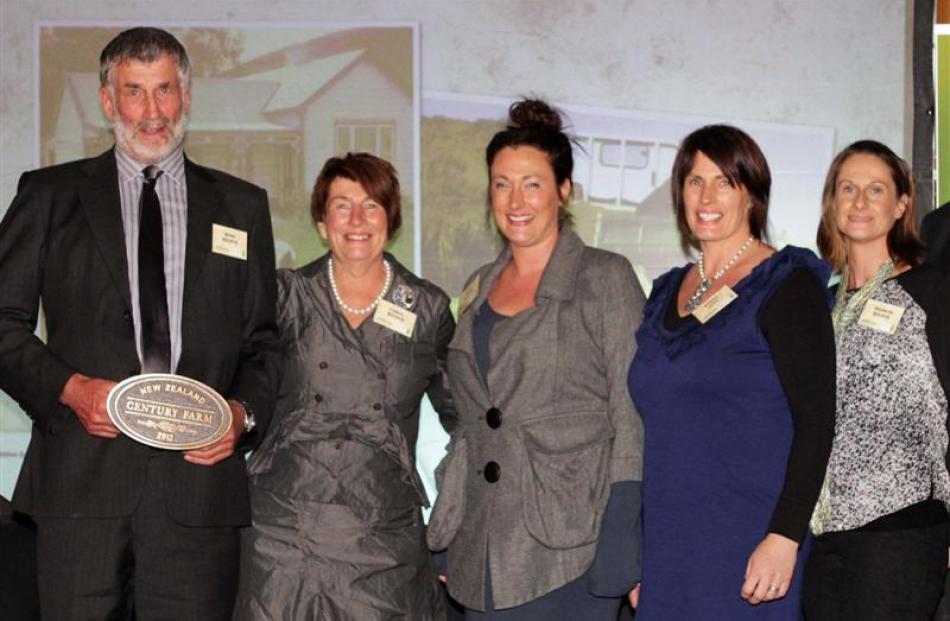 Since 1905, successive generations of the Simpson family have farmed Springside at Tokarahi in North Otago.
From draught horses to large, modern tractors and combine harvesters, each generation has kept up with new farming practices.
The Simpson family was among 42 families to attend the recent New Zealand Century Farm and Station Awards in Lawrence, for families who have farmed the same land for 100 years or more.
It was the highest number of families to be recognised for their commitment since the awards were first held in 2006.
Seven families were recognised for 150 years ownership, while the Raine family, from Oaklands, at Nelson, has been on the same land since 1844.
The Simpson, Conlan, Wilson and Duff families, who farm in close proximity to each other, travelled to the awards together.
Successive generations of Simpsons have grown a variety of grain and grass and small seed crops.
Marketing pasture seeds direct to farmers has become an important part of their farming business in the past 20 years.
The Duff family, who have been on their land since 1901, has also continued with grain and seed production, marketing a range of pasture, brassica and cereal seed under the Duff Farm brand around New Zealand.
Terry and Fiona Conlan farm Innisfree, at Island Cliff, where they are cropping and rearing bull calves on land first settled by John and Edward Conlan in 1872.
Craigburn, a sheep farm run by Ross and Carol Wilson, is situated around the township of Tokarahi, and is now in its 101st year of family ownership.
The original 26ha farm was purchased by Hugh and Isabella (nee Wilson) Oliver on August 4, 1913. It now encompasses 220ha.
Other southern families to be recognised at the function were. -
The Johnson family from Wangaloa (first settled in 1862); the Thomas family, Castlerock Station, Lumsden (1862), the Henderson family, Forest Hill, Winton (1863); the Beckingsale family, Dunblane, North Otago (1869); the MacGregor family, Forest Hill, Winton (1875); the McKenzie family, Invercargill (1891); the Currie family, Smithfield, Gore (1892); the Hardiman family, Pyramid, Gore (1894); the Miller family, Glenlee, Waimumu (1910); the Agnew family, Tayburn, Balclutha (1912) the McIlraith family, Glenmac, Hakataramea (1912); the Sutherland family, Kildonan, Gore (1912); the Kerin family, Matapuna, Enfield (1913) the Marshall family, Paretai, South Otago (1913).