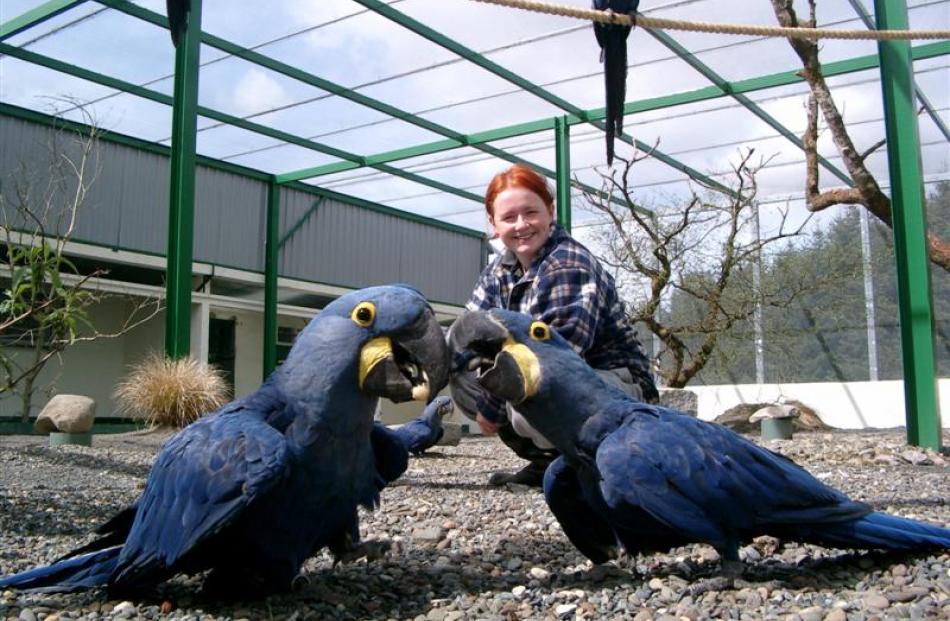 Murray and Heidi Rixon get a real buzz from sharing their love of bees.
The couple have launched a business, offering a beehive rental and management service to clients with domestic gardens, lifestyle blocks or rural land.
It was a business they described as having a ''massive feel-good factor'' as they provided a hands-on teaching environment and actively encouraged clients to get involved with their new residents.
Brought up in Mosgiel, Mr Rixon has returned to his roots after years away following an interesting career path; horticulture to aviculture and now apiculture.
Horticulture was his first profession and he worked at the Dunedin Botanic Garden for 10 years before moving to the United Kingdom in 1991.
What was originally intended to be a stint overseas for a couple of years, maybe four or five, was extended to 20.
After working at the Royal Botanic Garden, in Edinburgh, he settled in southwest Scotland, where he met his future wife, Heidi, who has a degree in drama, specialising in set design.
The couple were involved in creating a ''huge'' breeding facility for the rare hyacinth macaw, the world's largest, and one of the most expensive, parrots.
The facility had the second largest collection in the world and the couple were responsible for 85 parrots, each worth between $25,000 and $30,000.
It was ''pretty demanding'' work year-round, with particularly long days during the breeding season, Mr Rixon recalled.
The couple, who have two children, Jasmine (9) and Oliver (7), then decided to ''opt for semi-retirement status'', kick back and do some of the things they wanted to do.
They moved to Mosgiel in 2011 but soon started to ''twiddle their thumbs'' and were looking for a new challenge.
Mr Rixon had always wanted to have bees but the work with parrots was not conducive to it, nor was the climate suitable.
They started with one beehive and have increased numbers, now running a small, commercial beekeeping operation.
It was while they were living in the middle of Mosgiel, that a class of children came to visit. They went into the garage and looked through the window, as Mr Rixon took a hive apart and ''held it up to their noses'', and they were captivated by it.
The couple were both very keen on working with young children and educating them about nature.
They have ''kid-sized'' bee suits, with the youngest wearer being 3, and the children loved being involved. It was a great way of getting them keen on bees, and not being fearful of them, they said.
Mr and Mrs Rixon discovered there was a niche market for supplying a rentable product into domestic environments.
They thought that was ''kind of cool'' as they got to talk to families and offer education. It was also timely given there were a lot of people concerned about the various plights that bees were facing.
After visiting a potential customer and assessing whether the location was suitable, while also making sure there were no issues with neighbours, they then registered the site.
Customers could be ''as much or as little'' as they would like to be involved but they usually found that they wanted to be very involved.
They put the customers into bee suits and they aimed to visit each hive about six times a year with the client, although they found they were there ''quite a lot more often'' because of the ''feel-good factor'' of meeting up with customers.
''It's just a pleasurable thing,'' Mr Rixon said.
At honey-extracting time, the customer got to ''jar-up'' and have their own honey from their own garden.
They tried to keep a hive in a garden for an annual period and they expected that some clients would eventually buy their own suits and ''do it themselves''.
While Mr Rixon, who is an AsureQuality-approved beekeeper, said they would not claim to have ''hit on something that's new'', they believed their business was different because they encouraged their customers to get involved.
There was a ''massive feel-good factor'' and they did not have to do a big sales pitch. People contacted them because they loved bees, Mrs Rixon added.
The business was launched at Christmas and was slowly growing but they believed there was huge potential. It was better than ''people randomly doing what the heck they want'', Mr Rixon said.
The hives were painted different colours and they had even had a request for a purple one. Urban honey also had an ability to be ''really unique'', which added an element of interest.
The couple were keen to do more work in schools, with Mr Rixon saying ''there's nothing quite like getting kids involved''. Their own children loved the bees.
The Rixon family now lives on a 5.6ha property on Tirohanga Rd, where they were proud of growing their own fruit and vegetables, with their aim to be semi-self-sufficient.
Beekeeping had been a big learning curve and one that was ''hugely different'' to working with parrots.
''They don't shriek at you and don't require being fed from 5am to 11pm,'' Mr Rixon said.