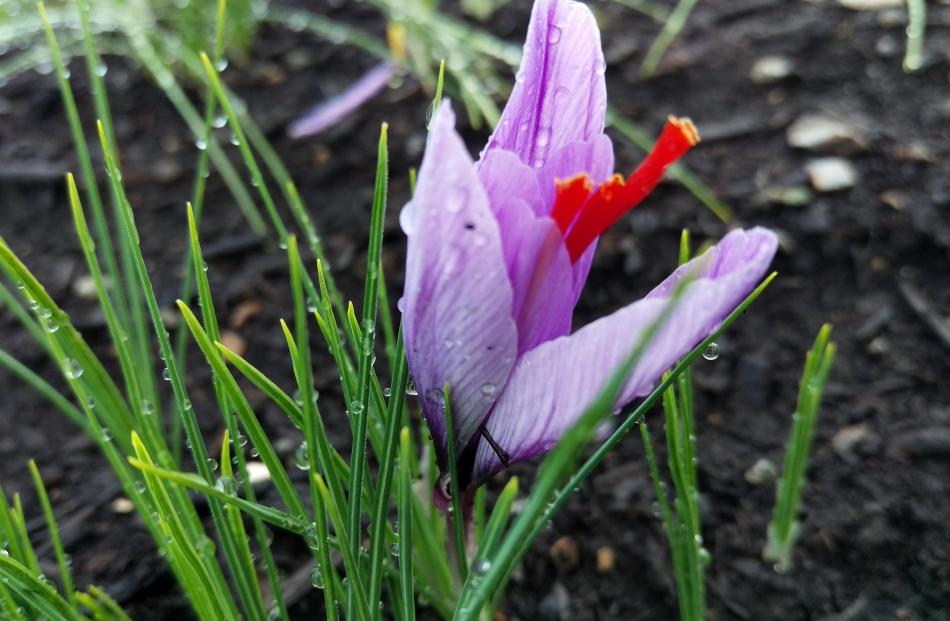 Growing saffron and Fiordland might sound an unlikely combination.
But Te Anau couple Steve and Jo Daley have big plans for their fledgling organic operation with an ambitious goal of becoming world-renowned for the costly spice.
"It's just so damn exciting, the product, and people are so interested in what we're doing," Mr Daley said.
Mr and Mrs Daley have 1.5million crocus corms on their property and their intention is to  increase that  to 50million, which would make them the biggest saffron producers in New Zealand.
With a day job as a fencing contractor, Mr Daley, while stationed behind the post driver, got thinking about other ways to make a living. 
His wife expressed an interest in growing saffron  — she was thinking around 500 corms — but he suggested they "do it properly".
It might have been an "unbelievably huge" learning curve since then, but they both enjoyed growing things.
The couple bought 40,000 certified organic corms from Saffron Valley Ltd in North Canterbury, which were planted in 2013, and they have since imported a substantial quantity of certified organic corms from Europe.
Many people recognised saffron — the world's most expensive spice — mainly for use in cooking, due to the popularity of programmes such as MasterChef.
Its other uses were only now becoming more widely known, Mrs Daley said.
With the increased popularity of natural medicines, the couple wanted to grow something they could use for their own health and wellbeing.
Traditionally, saffron had been used for everything from easing childbirth to an antidepressant and it had many medicinal benefits, she said.
Although saffron normally preferred a more arid, free-draining climate, Fiordland had proved to suit it very well.
They were likely to be the southernmost growers.
The couple sent some of their saffron for testing at a registered laboratory in Europe, to ISO 3632-V2 standard, and were "absolutely blown away" by the results.
It was tested predominantly for colour, flavour and aroma and the results "far exceeded" the minimum requirements in all categories.
Crocin levels were particularly impressive at 300, the minimum being 190. Crocin is the ingredient primarily responsible for the colour of saffron.
The score it received lifted it into a pharmaceutical grade and it also validated that it contained no additives, contaminants and dyes — something that was not the case with much of the imported saffron, Mrs Daley said.
They sourced compost from Living Earth in Christchurch which was made from green waste.
Compost was used to feed the corms and also to mulch the beds for suppression of weeds.
They attributed the health of their corms to the growing medium.
Saffron was derived from the flower of crocus sativus and the flowers had to be picked up to three times a day over a six-week period from the last week in March or early April.
Once picked, the stigma were  removed and dried in a dehydrator before being packed in an airtight container to New Zealand food safety standards.
It was an intense and busy period and the Daleys used  Willing Workers on Organic Farms (WWOOFers) to help with the harvest.
Their market was mainly Asia and recently they had an interview  with a Chinese buyer who had flown to New Zealand.
There was also interest from three other large companies.
# their own health