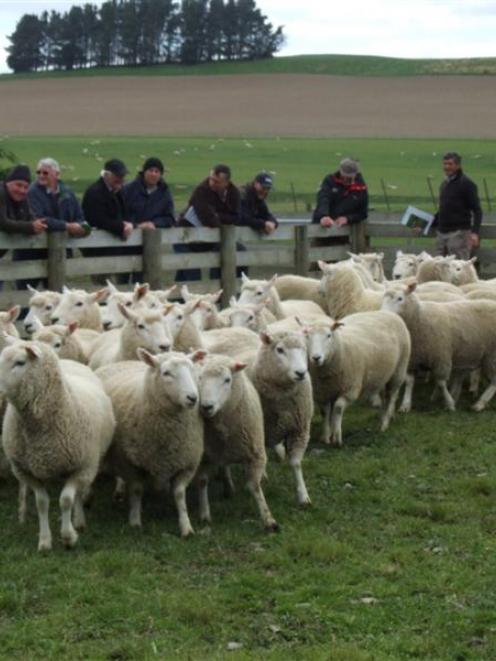 When Preston Hope arrived at his new farm 10 years ago, the snow was over the top of the fences as he drove up the driveway.
He admitted he really did not know what he was getting himself in for. But he had had a long-standing dream to be a farmer, ever since he was 5 or 6, and he and his wife Tori were determined to give it their best shot.
A decade later, the Hope family, from Deep Stream, 21km south of Middlemarch, were the named the winners of the 2012 New Zealand ewe hogget competition.
Speaking at a field day on the property last week, competition convener Stephen Rabbidge said the couple's success was due to a combination of many factors.
It had been a relatively short time since they had taken over the property which, at that stage, had very little infrastructure.
They had made good decisions and sought good advice and it was a "fantastic effort". Their sons George (13), Toby (12) and Fergus (11) were heavily involved in the business and it was a family affair.
The boys had been taught that hard work and accepting challenges brought rewards, Mr Rabbidge said.
Forest View comprises a total effective area of 1029ha, of which 586ha is cultivated, 312ha is gullies and 131ha is forestry, with an average rainfall of 538mm.
The couple's flock-breeding objectives were to produce a ewe that brought in two live lambs at weaning, having lambed unassisted.
The advantage of the Perendale breed was the ability to look for food in the gullies and forage, especially in winter, they said.
They wanted to produce good mothering, well-woolled sheep that could handle the climate.
All ewes were mated to Perendale rams and surplus ewe lambs were sold as replacements. All ewe hoggets came from ewes scanned with twins as 2-tooths.
This year, the Hopes ran 1680 mixed age ewes, 719 4-tooth ewes, 847 2-tooth ewes, 880 ewe hoggets and 34 rams, along with 47 mixed-age cows, which were used as a "grooming tool".
Lambing percentage had steadily increased every year from 116% in 2006 to 146% in 2012.
Coming from Palmerston, with a completely different climate, meant a real learning process for Mr Hope, a former contractor.
There was also lots of work to be done on the farm. "It was quite a big battle," he said.
The couple did everything themselves, from water schemes to fencing. The only things they contracted out were shearing and spraying.
They also built new sheep and cattle yards and have regrassed all the property, apart from one block.
He described it as "one thing after another".
"You see something, you try and fix it."
When they first arrived, they could go around three or four paddocks and shoot 100 hares, possums were a problem and, in the first 18 months, they shot about 300 pigs.
Those issues contributed to a lambing percentage, prior to them taking over, of less than 100%.
Good weather conditions in the past 18 months to two years meant the stock had benefited and "really showed their wares" in the last couple of seasons, which was quite heartening, he said.
The couple bought the stock on the property, which he described as " liquorice allsorts", and while they initially thought they should send them all to the freezing works and start again, they questioned where they would buy 3000 sheep.
Instead, they decided to find the best ram breeder they could and buy some top-quality stock and start creating their own.
They had brought several hundred 2-tooth ewes from their old property at Palmerston which Mr Hope thought were "pretty good", but they did not handle the new property.
While the existing stock "might not have been flash", they looked for food and were survivors.
For the past 10 years, the Hopes have been buying rams from Newhaven Perendales in North Otago.
They were seeking rams in the top 10% and while they looked at the figures, it was important also to "look at the animal" and be happy with the purchase, Mr Hope said.
Their main focus was getting lambs on the ground alive, rather than whether the lambs were sold as stores or fat.
The Hopes did not lamb hoggets. Their focus was on growing animals to get a reasonable frame size, so they could be put to the ram as a 2-tooth at a good weight.
As far as continuing to increase fertility percentage, Mr Hope said "the sky's the limit" as long as the ewe lambed unassisted and reared her lambs herself.
Ewe hogget competition judge Andrew Craw said the judges for the national final visited 28 farms and travelled 3500km in eight days.
It was a fairly difficult job, albeit one "they thoroughly enjoyed".They started in the North Island and worked their way south, seeing some "extremely good" sheep.
At Forest View, they were presented with an outstanding line, with huge fleeces of soft-handling wool, and good, bold, deep, gutsy sheep.
While they were not the highest-producing sheep judges saw, the Hopes were making steady and consistent progress.
They had a clear focus and were "quite determined to get there" and he believed they were doing an "outstanding job".
In entering the ewe hogget competition, the judging should only be part of the journey. A big part of the experience should be the entrants' own self-analysis.
Mr Craw encouraged everyone involved to "get stuck into it and try to gain as much as possible".
Newhaven Perendale stud founder David Ruddenklau, who visited Forest View shortly after Mr and Mrs Hope bought it, congratulated them on the "huge amount of work" they had done.
"When I left [after the first visit], I thought I hope they are going to make it," he recalled.
What they had achieved had involved a lot of planning and hard work.