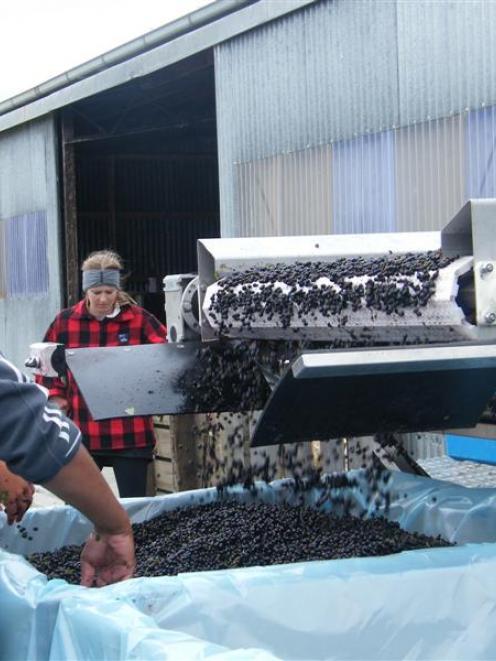 It has been an early harvest for Mid Canterbury blackcurrant growers because of favourable weather conditions.
Three huge harvesters were at work on Matamua Farm, at Winchmore, near Ashburton, bringing in the crop from the 130ha in blackcurrants.
Manager James Tavendale said the fruit was harvested in a 25-day period.
While high winds and hail had caused some isolated damage, the season had been ''pretty favourable'', he said.
''The cooler conditions over January have suited us down to the ground.''
The majority of the 8000 tonnes of blackcurrants produced in New Zealand are grown in the South Island because of the crop's preference for cold winters. The world's production is around 150,000 tonnes, mainly grown in Poland.
The Canterbury region has about 15 to 20 growers, most of the rest of the country's 40 growers being in Nelson.
Fruit can be harvested from 18-month-old bushes, while some plants on the Winchmore farm are between 15 and 30 years old.
The property trucks most of its crop to Nelson for processing into concentrate, with a smaller quantity going to Timaru and some exported directly.
The business employs three fulltime staff and up to 20 seasonal workers during harvest, many of whom have been returning for years.
Ground-breaking and ongoing research was being conducted by Plant and Food Research, Mr Tavendale said. Clinical trials have shown that eating blackcurrants can reduce muscle stiffening and fatigue, increase blood flow and improve kidney and eye function.
Other research includes studies which show the natural chemicals found in blackcurrants may help balance the impact exercise can have on the body, and blackcurrant extract can help people stay more alert and reduce mental fatigue.
Scientists are analysing New Zealand-grown berryfruit to identify and isolate the compounds that deliver additional benefits to consumers. This knowledge is being used in both the development of functional ingredients and the breeding of new varieties with optimal concentrations of healthy compounds.
''We are in the health and wellbeing industry,'' Mr Tavendale said.
''Nutraceuticals will be the growth market,'' Mr Tavendale said.
The industry had worked hard to protect its product when it was traded as a commodity, he said.
Most of the fruit is processed into drinks, the two largest buyers being the New Zealand Blackcurrant Co-operative Ltd and the makers of Ribena. Around 85% of production is exported.
Until September last year, Ribena was produced by GlaxoSmithKline, but the brand has been bought by the Japanese multinational Suntory.
The harvesters will not be idle once the crop is in as the business has contracts to harvest grapes in Marlborough and Central Otago.
- Maureen Bishop.