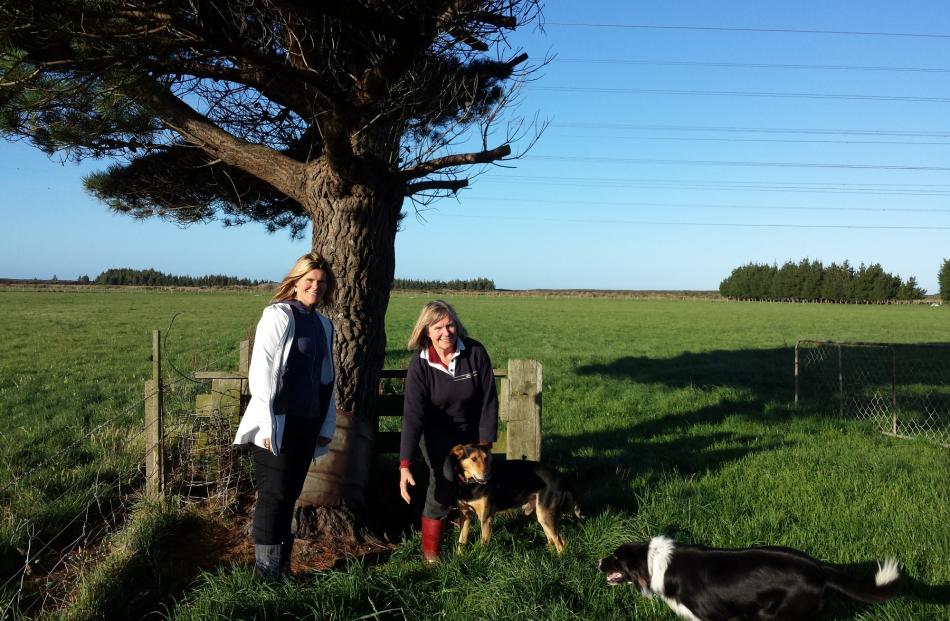 Growing up on a sheep and beef farm in Invercargill, Lucy Griffiths and her siblings were not allowed to leave home without  a woollen garment.
The many benefits of wool were drummed into them from an early age, not only as a fibre to wear but also as one to walk on and use in innovative ways.
But somewhere since then, strong wool had "lost its gloss", and Mrs Griffiths wants to play her part in re-educating consumers about those benefits.
She is one of three new appointments to the board of Wools of New Zealand, a position she felt was a "big mantle of responsibility".
From a family of pioneers in the wool industry, she was raised on a fifth-generation Southland farm and wool played a rich part in her childhood memories.
Her great-great-grandfather William Cruickshank began the family involvement in wool in 1902 when he set up a woollen mill in Invercargill, producing hosiery, blankets, tweed and yarns.
Her grandfather Reg Cruickshank was New Zealand's largest private wool exporter in the 1940s-60s.
While he died before she was born, Mrs Griffiths, who now lives in Masterton, said she understood he was a very inspirational businessman and community member.
As well as his wool-exporting business, he was involved with other ventures including processing rabbit and possum skins and canning oysters.
"He was a real entrepreneur," she said.
He spent a lot of time on ships going to the marketplace and his family, including her father, went to the UK on several occasions, where they met "all these proud, large companies" that revered New Zealand wool as being the top fibre in the world.
Mrs Griffiths' aunt, Lyndal Cruickshank, won the Miss New Zealand title in 1964 and went on to compete in the Miss World contest dressed "head to toe" in New Zealand wool, finishing fourth runner-up.
She was probably one of the most powerful marketing personalities, travelling the world wearing and promoting wool — "far more influential than a lot of things being done in the wool industry", Mrs Griffiths said.
Her father, Peter, studied wool at Massey University and worked in the wool industry for 10 years after that before becoming a rural broadcaster. He was one of the original broadcasters for Country Calendar.
After graduating from the University of Otago with a double degree in marketing and physical education, Mrs Griffiths spent seven years employed in marketing New Zealand seafood, wine, honey, meat and dairy products internationally and domestically.
She developed her own business, Innov8 Aotearoa, representing specialty New Zealand food producers, including sheep dairy products, with a focus on export development.Her business gave her an insight into the opportunity for farmers and food companies to produce and export premium products based on sheep milk.
In 2014, she travelled the world as a Nuffield New Zealand scholar. Her specialist research study looked at sheep milk from "farm to fork".
She studied the sheep dairy industry in six markets and travelled for three months meeting and working with sheep milk farmers, small ruminant experts and retailers in Israel, France, the United Kingdom, the United States, Italy and New Zealand.
The focus of her study was to understand who was milking sheep, how they were doing it, where they were selling it, and if New Zealand could be the best at it.
While New Zealanders often thought sheep milk was "peculiar", sheep had been milked for thousands of years.
Some of the world's "most exquisite and expensive" cheeses were made from sheep milk, including rocquefort (France), manchego (Spain) and pecorino (Italy).
Sheep milk was also easily digestible; the Asian constitution found it hard to digest bovine dairy but found sheep and goat very easy to process.
Everything boded well for sheep milk  being a "fabulous" milk source for the future, she said.
She produced a business plan for the New Zealand sheep dairy industry, covering 12 areas that New Zealand needed to focus on. A lot of those things were in the process of occurring, she said.
When Mrs Griffiths embarked on her Nuffield trip, there were five sheep dairies in New Zealand. Now there were 15 and the industry was growing rapidly, admittedly off a small base.
Landcorp's involvement had added "real credibility". Likewise, iwi in Taupo — a difficult environment to put cows on — had ventured into sheep milk.
Mrs Griffiths had "amazing" respect for Southland businessman and Blue River Dairy founder Keith Neylon, saying he encountered "roadblock after roadblock" to establish the business.
Sheep milk was an exciting industry and it ticked the boxes from both environmental and consumer perspectives, as well as being tasty.
"I really do believe in a tri-use animal," she said.
Mrs Griffiths believed there was a "huge future" in strong wool, citing how it was biodegradable, sustainable and environmentally friendly, and New Zealand had the "best wool in the world".
"We've got to start directing farming practices to what millennials want, and they want all these things," she said.
She would do all she could to re-educate consumers on New Zealand wool and also work strategically at industry level on "how we can play the game better".
It was sad to see the frustration among sheep farmers about the state of the industry, and sad to see how the market had lost the understanding "of why wool is so precious".
There were some "amazing things in the pipeline" and she believed there would be some very significant outcomes.
Asked what her forebears would think of her involvement with the wool industry, she said: "I think they would be terribly sad that their life work has ended the way it is at the moment."
But she also believed they would be excited to know their blood was "living on in the industry", even if it was from a different perspective. She also thought they would be fascinated to see how far governance had come in 100 years.
At the moment, Mrs Griffiths was also working on marketing manuka honey offshore, and working as a coach and mentor for food businesses.
When she set up her business, she wanted flexibility to be able to serve her community "and do interesting things". The outcome of that had been various opportunities; most had been openings where she never imagined there would be. Over the past 10 years, she has carved out a niche of directorships.
"It's diverse, it's interesting, it's a juggling act. I love it. I wake every morning and there's something new to get excited about," she said.
She sits on the Central Economic Development Agency (Ceda) board, is a director  of Trust House — a community-owned company that operates a range of hospitality businesses and owns and manages hundreds of rental homes  — and is a community-elected trustee on the Masterton Community Trust.
The other new directors on WNZ's board are retired Deloitte NZ partner Ian Marshall and New Zealand Story director Rebecca Smith.
WNZ chairman Mark Shadbolt said the appointments came as the result of a "rigorous" search and selection process to find the right directors who had the required specific skill sets and brought diversity of thinking.
"They are all well equipped to do the job we need today and, importantly, have the ability to look to the future and think globally," he said.