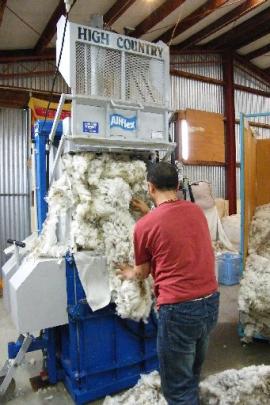 Work to harvest this season's merino wool clip is well under way in the high country.
Courier Country took the opportunity to visit the woolshed at Bog Roy Station, on the shores of Lake Benmore, near Omarama as the gang from Kurow-based Grant Murdoch Shearing began work.
Grant and Sharlene Murdoch employ about 30 to work through the main season. The merino shear runs from the end of July until mid-November.
The couple invests heavily in training, using provider Tectra.
Mr Murdoch said it was common sense to insist on best practice in the shed.
It was their job to see the harvest met consumers' expectation, he said.
At Bog Roy the gang harvested wool from 3800 merinos and 1500 merino hoggets.
Dave and Lisa Anderson are the fourth-generation occupying Bog Roy, a property that was taken upby John Anderson in 1919.
The couple are contracted through wool broking and marketing company New Zealand Merino Company to supply customers such as The Japan Wool Textile Company Ltd (NIKKE), and American outdoor clothing company Ibex.
Mr Anderson said the importance of quality was brought home to him when he attended a sale of merino wool in Melbourne.
The sale floor contained ''100s and 100s'' of boxes of wool, he said.
The buyers would walk along each of the rows at a ''good pace'' leaving less than a minute for any of the wool to make an impression.
If any fault was spotted, the lot was immediately dismissed, Mr Anderson said.
NZ Merino runs its ZQ Merino fibre accreditation programme at Bog Roy to audit and verify quality practice and standards.
''In the end, the customer is always right and [their] perception is reality,'' Mr Anderson said.