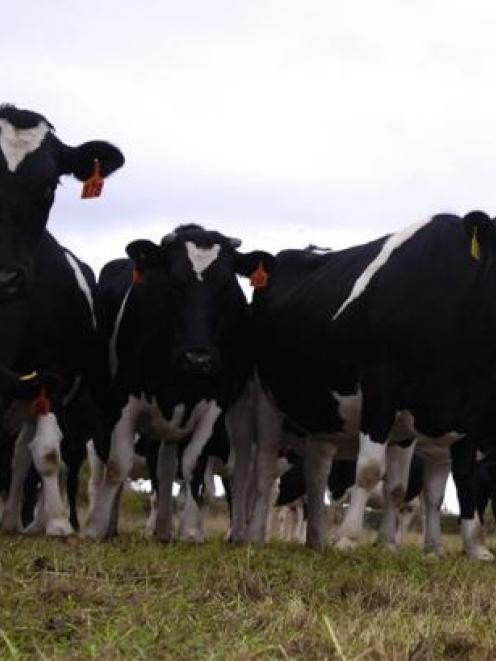 Consumers are being warned to brace themselves for more dairy-product price rises.
Hours after Fonterra announced a record forecast payout to its farmer suppliers of $7.90 a kg of milk solids, the head of Fonterra's consumer brands business said prices were being reviewed and could increase within six weeks.
The price rise has been estimated to be worth an extra $30 million to the Otago economy.
Fonterra Brands New Zealand managing director Peter McClure yesterday could not say by how much prices would rise, but did say any increase would affect common household brands Mainland, Anchor, Tip Top and Fresh'n Fruity.
It would also impact on prices charged by competing companies, he said.
"I can't rule out another price increase, because I've got another substantial hike in the price of milk," he said.
Fonterra yesterday surprised the industry with this season's payout figure, and with the bullish forecast payout for next season of $7 a kg of milk solids.
Record international commodity prices, which Fonterra said had boosted farmer incomes 70% during the past year, were also to blame for soaring consumer dairy prices, Mr McClure said.
Fonterra Brands bought its milk off its parent, Fonterra Co-operative, which based its prices on international markets.
"So, I have to compete with the overseas price or I won't get raw milk," he said.
Consumers had asked if Fonterra could subsidise the price of dairy products, something Mr McClure said it was already doing.
Prices were held when Fonterra raised the payout from $6.90 to $7.30 a kg of milk solids in April, and he said the company had also reduced margins to hold prices.
It faced falling sales of some products: cheese sales were down 12% on a year ago and butter sales were back 10%.
A two-litre container of milk has doubled from $1.99 to $3.99, but Mr McClure said competition for raw milk and the format of yoghurt, which included products other than milk, meant prices for those goods were more settled.
Despite that pressure, the value-added component of Fonterra's milk price - the amount added-value companies such as Fonterra Brands contributed - rose from 22c a kg m/s in April to 35c a kg m/s, mostly due to efficiencies.
ASB chief economist Nick Tuffley said the payout would inject $9.6 billion into the national economy, or about 6% of gross domestic product (GDP).
That was more than double the $4 billion dairy farmers contributed a year earlier.
However, he also warned the inflationary impact of the cash injection could cause the Reserve Bank to delay an easing in interest rates, which had been widely expected in September.
Fonterra chairman Henry van der Heyden said high international commodity prices, drought underpinning commodity prices and a slight easing in the exchange rate had resulted in the record forecast payout.
The board would decide in September if it would retain earnings from farmers of about 30c a kg m/s.
Meanwhile, the global credit crunch yesterday caught up with Fonterra, New Zealand's largest company, forcing a revaluation down of its share price from $6.79 to $5.57.
The good:
Fonterra announces record payout to farmers of $7.90 kg of milk solids for this season; up from $4.46 last season.
The higher payout increases by $4 billion the cash injection into the economy.
It will be worth an extra $30 million to the Otago economy and an extra $70,000 in gross income to an average Otago farmer.
2008-09 opening forecast payout $7 kg of milk solids.
The bad news: Consumer dairy-product costs will rise, putting pressure on already stretched grocery budgets.